Petitions to Australian Prime Minister Urge Action for China Human Rights
March 22, 2016 | By a Minghui correspondent in Brisbane, Australia
(Minghui.org) Falun Gong practitioners in Queensland gathered at King George Square in Brisbane in the afternoon on March 18 to raise awareness of the suppression in China. Many signatures were collected on petitions addressed to Australian Prime Minister Malcolm Turnbull, who is scheduled to visit China in April.
The petitions urge Turnbull to raise the issue of the human rights situation during his meeting with Chinese leaders. A large number of Falun Gong practitioners have been persecuted since 1999 and over 3900 are confirmed to have died due to torture while in police custody. China experts are estimating death count to be much higher, especially considering the evidence of China's state-sanctioned forced organ harvesting crimes.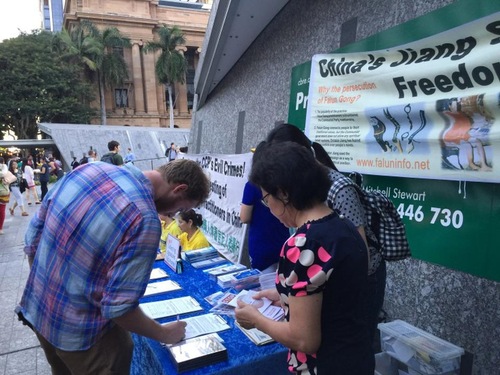 Falun Gong practitioner set up a booth at King George Square to raise awareness of the suppression.
"We Cannot Remain Silent on This"
At King George Square near the Chinese Consulate, local resident Emily Coopur stopped at the booth and talked with a practitioner for a long time.
"I did not know about this brutality before, but what's going on in China is really bad." Shocked by the severity of the suppression, especially organ harvesting from living Falun Gong practitioners, she said this suppression is relevant to everyone, "We cannot remain silent on this. The Australian government needs to do more to stop this atrocity."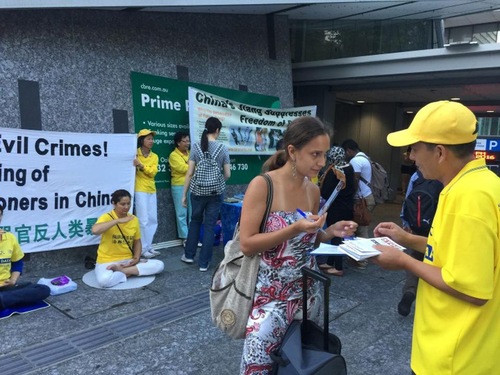 A woman learns more about the persecution as she stops to show her support.
Bradley Whitehead from New Zealand currently works in Brisbane. He said he had heard about live organ harvesting while back in New Zealand. "This is horrible and it is something we cannot tolerate." He hopes Prime Minister Turnbull will bring up this issue with Chinese leaders.
Gary Hwang from South Korea learned about the persecution in China for the first time. After signing a petition to the Prime Minister and another one supporting lawsuits against Chinese leader Jiang Zemin for persecuting Falun Gong, he thanked a practitioner for their efforts, saying, "You are doing the right thing. We support you."
Chinese Discover the Real Story Behind the Persecution
Many Chinese passed by the event were also surprised by what they saw. One young couple said they had relatives in China who were affected by the persecution. "But I did not know it was this bad," said one of them.
Upon learning about the vicious acts that the Chinese Communist Party (CCP) committed over the past several decades to harm innocent people, the couple decided to renounce their CCP memberships.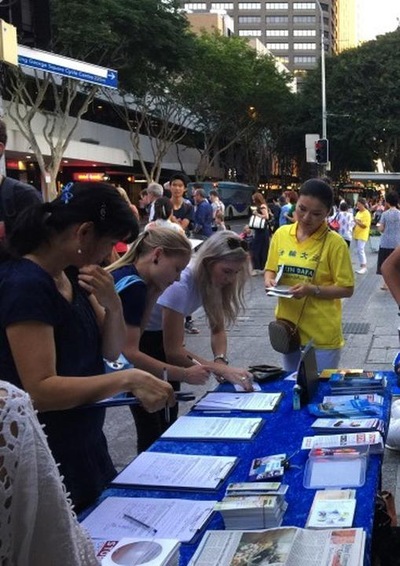 Many sign petitions to support Falun Gong.
Another young man who had recently emigrated from China read the posters in detail, one by one. "Could you tell me why Jiang Zemin chose to persecute Falun Gong?"
"Sure," replied a practitioner, who provided some background as to how Falun Gong grew to be so popular that nearly 100 million people had taken up the practice in the mid-1990s. When the communist regime discovered that there were more people in China practicing Falun Gong than there were official Party members, they began to suppress the movement, leading to the persecution. However, the practitioners have upheld their beliefs despite the brutality over the past 16 years.
The young man was moved. He took some materials, thanked the practitioner, and said he would tell others.