Taiwan: Shen Yun Welcomed by 101 Elected Officials
March 22, 2016 | By Minghui correspondents in Taiwan
(Minghui.org) Shen Yun Performing Arts began the 2016 Asia Tour on March 17 in Taipei, Taiwan. This year, Shen Yun will perform 34 shows in seven cities of Taiwan. Prior to the performances, the company received welcome statements from 101 Taiwanese elected officials.
This is Shen Yun's tenth year in Taiwan. Each year, the performance attracts theatergoers from mainland China, Hong Kong, Malaysia, Singapore, etc. In the past five years, Shen Yun performed a total of 204 sold-out shows in Taiwan.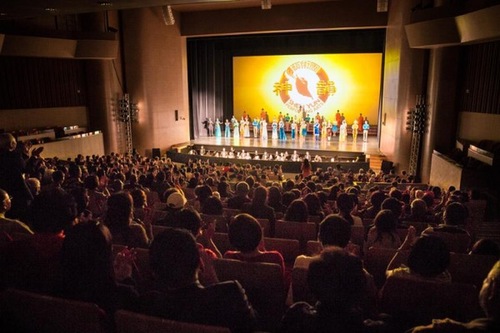 Shen Yun's opening performance at the National Taiwan University of Arts in New Taipei City on March 17, 2016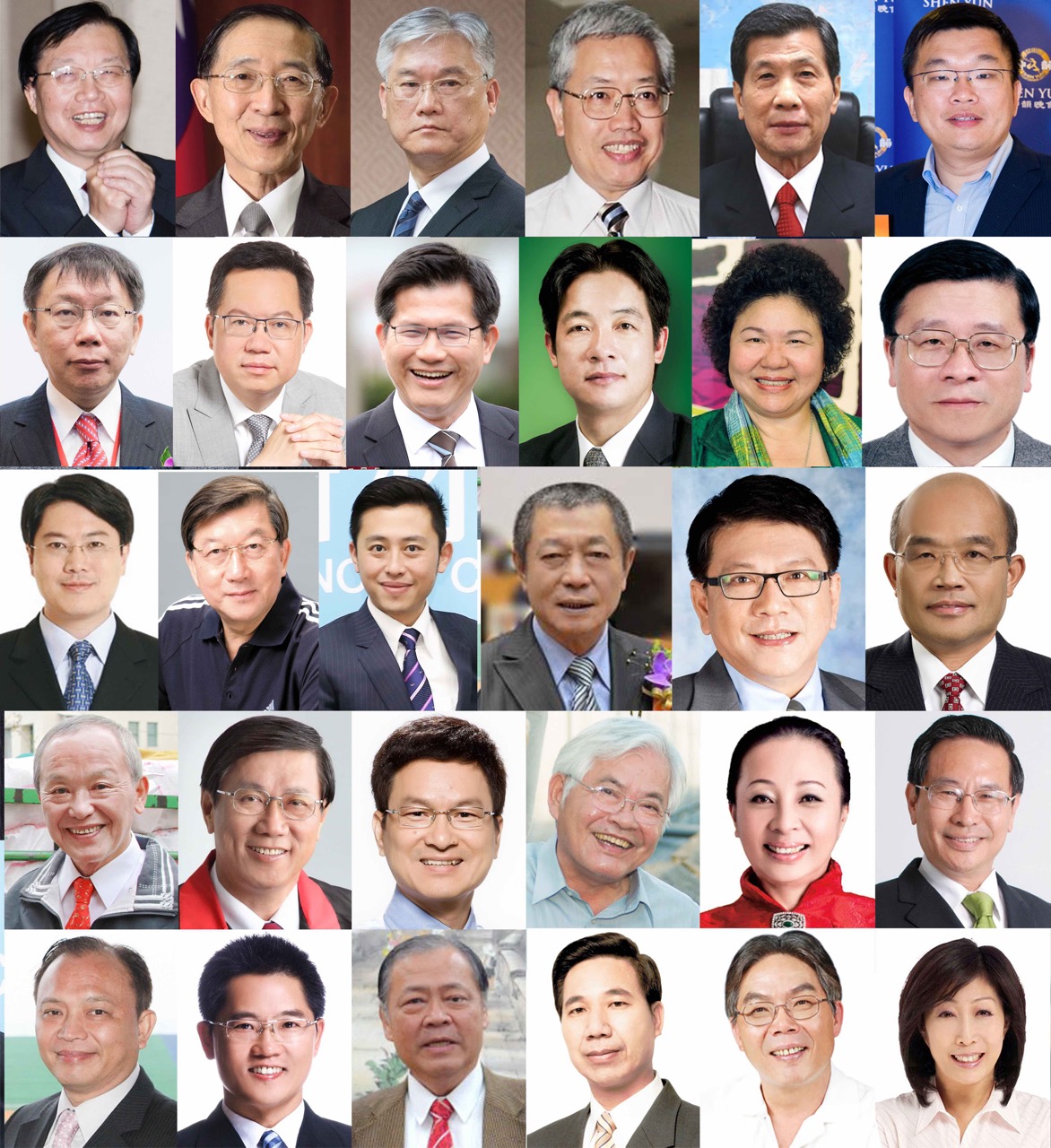 101 elected officials in Taiwan extended welcome letters to Shen Yun Performing Arts.
Calligraphy Banners from Central Government Officials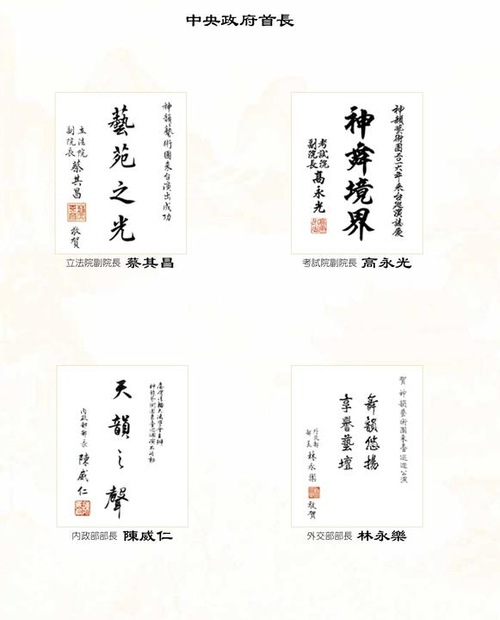 Calligraphy banners from officials of the central government: Deputy Speaker of Legislative Yuan Tsai Chi-chang, Vice President of the Examination Yuan Kao Yuang-kuang, Minister of the Interior Chen Wei-zen, and Minister of Foreign Affairs Lin Yung-lo
Officials from the central government sent calligraphy banners acclaiming the beauty and efforts of Shen Yun Performing Arts. The banner from the Deputy Speaker of the Legislative Yuan, Tsai Chi-chang, reads, "The Light in the Arts." The banner from the Vice President of the Examination Yuan, Kao Yuang-kuang, reads, "The Realm of Divine Dance."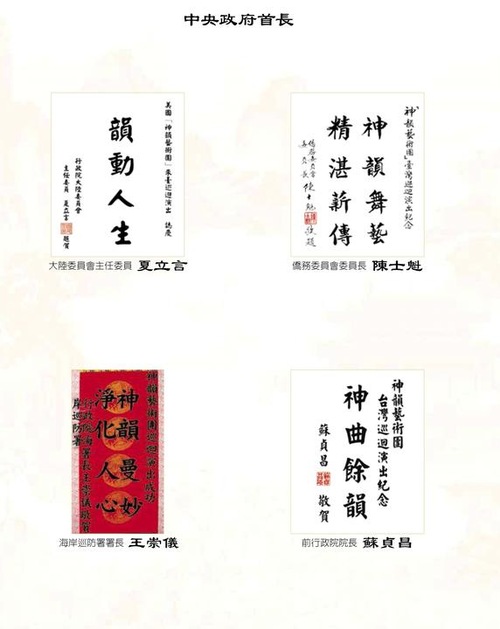 Calligraphy banners from: Minister of Mainland Affairs Council Andrew Hsia, Minister of the Overseas Community Affairs Council Chen Shyh-kwei, Minister of the Coast Guard Administration Wang Chung-yi, and former chairman of the Democratic Progressive Su Tseng-chang
Greetings from Five City Mayors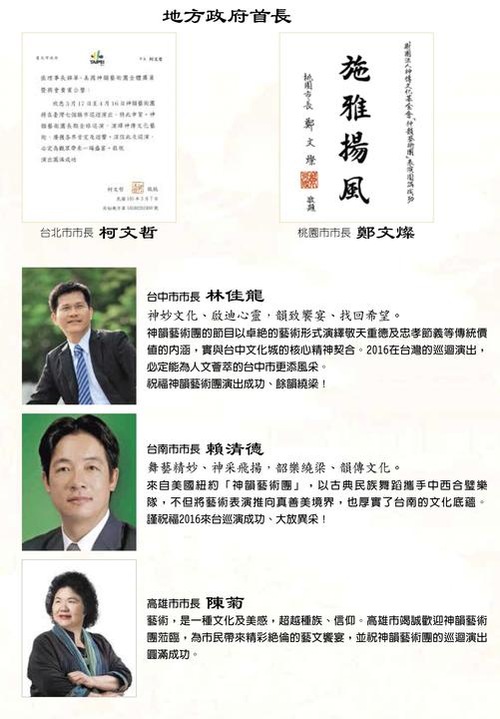 Greeting letters from the mayors of Taipei, Taoyuan, Taichung, Tainan, and Kaohsiung
Taichung City mayor Lin Chia-lung stated in a greeting letter to Shen Yun, "The program of Shen Yun Performing Arts utilizes outstanding arts to demonstrate traditional values such as respect for heavens, virtue, loyalty, filial piety, chastity, righteousness, etc. It is in line with the core spirit of Taichung City."
The mayor of Taipei, Ko Wen-je, wrote, "Shen Yun Performing Arts has been touring around the world and displaying divinely inspired culture and arts. It has been widely recognized and echoed by various fields. We believe that this tour will definitely bring a visual feast to the audience. I wish great success to the performances."
City Councilor: "My Soul Has Just Been Cleansed"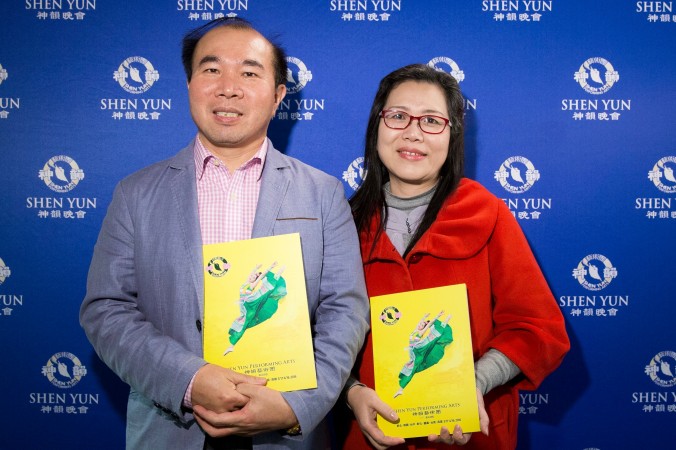 Zhang Maonam, a councilor of Taipei City Council, and his wife at Taipei's National Taiwan University of the Arts on March 17, 2016.
"I will forever remember what I saw," said Zhang Maonam, a councilor with the Taipei City Council who saw Shen Yun with his wife on March 17.
"This performance injects a very powerful force into your heart and mind, allowing you to feel that every single person has his own destiny," he said.
"My soul has just been cleansed, and only those who have experienced such purity will be able to appreciate the essence of compassion," Mr. Zhang added.
Shen Yun will continue its Asia tour with performances in Kaohsiung, Taiwan, March 22–26; Chiayi, Taiwan, March 28–29; and Tainan, Taiwan, March 31–April 3. For more information on tickets and dates, please visit http://shenyun.com.