Shanxi Man's Lawsuit Sends Ripple Effect 1,000 Miles Away
March 17, 2016 | By a Minghui correspondent from China
(Minghui.org) The impact of a lawsuit filed by a Shanxi Province resident against a local post office has rippled through China, reaching a northeastern province more than 1,000 miles away.
According to a leaked secret order from the 610 Office in Heilongjiang Province, all levels of law enforcement and court systems in the province must stay on high alert to prevent similar cases from developing.
Mr. Li Xifu, who lives in Taiyuan City, Shanxi, sued his local post office after personnel there declined to mail the criminal complaint he filed against former Chinese dictator Jiang Zemin. Mr. Li is exercising his legal right to bring Jiang to justice for initiating the persecution of Falun Gong that resulted in his repeated detentions.
The local court held a trial last November to hear Mr. Li's case against the post office, but the judge quickly adjourned the session upon finding out that Mr. Li practiced Falun Gong and that the withheld mail was a complaint against Jiang.
Taiyuan police arrested Mr. Li eight days later and his case now rests with the local procuratorate.
A Secret Order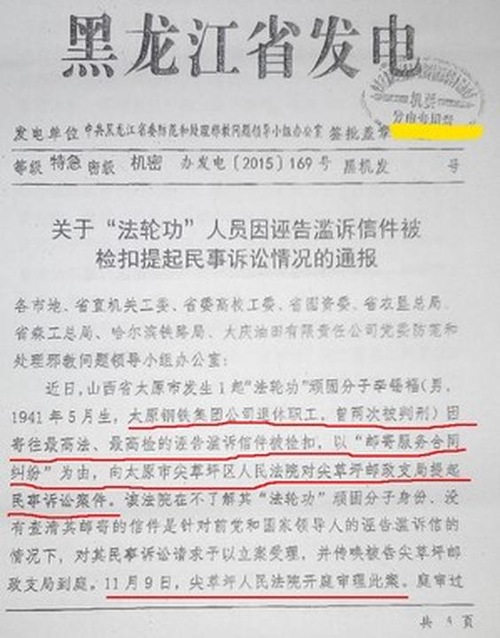 The secret order issued by the Heilongjiang Province 610 Office
The secret order referenced Mr. Li's case and required local police stations, security departments, courts, procuratorates, post offices, and appeal offices to be aware of what happened in Shanxi Province.
The order blamed the judiciary and law enforcement for the increasing number of lawsuits against Jiang, calling them to task for not being "politically sensitive" enough and "lacking responsibility in prevention."
All levels of the Heilongjiang government were ordered to increase the surveillance of Falun Gong practitioners who filed or intended to file criminal complaints against Jiang. The courts were instructed not to accept any lawsuits filed by Falun Gong practitioners against local agencies.
Arduous Journey for Justice
Mr. Li, a 75-year-old retired steel worker, was sent to a forced labor camp twice in the last 16 years for practicing Falun Gong.
Mr. Li tried to mail his criminal complaint on July 6, 2015, but it was never delivered to the Supreme People's Court or the Supreme People's Procuratorate as intended. The Jiancaoping Post Office claimed that his mail was suspended for "security concerns."
Mr. Li then filed a civil lawsuit against the post office, demanding a reasonable explanation for withholding his mail. He also demanded a public apology and a refund of his postage.
The Jiancaoping District Court held a hearing on the case on November 9, 2015, but the judge adjourned the session as soon as he learned that the concerned mailing was a lawsuit against Jiang. He claimed that Mr. Li failed to provide the receipt for his mail and a new hearing would be set later.
On November 17 the police arrested Mr. Li and two other Falun Gong practitioners and ransacked all three practitioners' homes.
Using the informational materials about Falun Gong confiscated from Mr. Li's home, the police fabricated evidence against him and soon forwarded his case to the procuratorate.
The police also harassed Falun Gong practitioners who live near Mr. Li, attempting to find out which practitioners attended the hearing on November 9.
Background
In 1999, Jiang Zemin, as head of the Chinese Communist Party, overrode other Politburo standing committee members and launched the violent suppression of Falun Gong.
The persecution has led to the deaths of innumerable Falun Gong practitioners over the past 16 years. Many have been killed so that their organs could be sold for transplants. More have been tortured for their belief. Jiang Zemin is directly responsible for the inception and continuation of the brutal persecution.
Although Jiang stepped down as head of the Communist Party in 2002, he has exerted much control through corrupt officials he had put in place.
Under his personal direction, the Chinese Communist Party established an extralegal security organization, the "610 Office," on June 10, 1999. The organization overrides police forces and the judicial system in carrying out Jiang's directive regarding Falun Gong: ruin their reputations, cut off their financial resources, and destroy them physically.
Chinese law now allows for citizens to be plaintiffs in criminal cases, and many practitioners are exercising that right to file criminal complaints against the former dictator.
According to information collected by the Minghui website, more than 200,000 Falun Gong practitioners and their family members have filed criminal complaints against Jiang since May 2015. They are demanding the Supreme People's Court and Supreme People's procuratorate to bring Jiang to justice for the genocide and forced organ harvesting of Falun Gong practitioners.
Related reports:The Chain of Command in the Persecution of Falun Gong Begins with the 610 OfficeMarking June 10th - China's 610 Office - Policing the Chinese SpiritFalun Gong Practitioners Tortured After Filing Complaints Against Former Chinese Leader in 2015