France: Gathering at the Eiffel Tower to Wish Master Li Hongzhi a Happy New Year
(Minghui.org) Falun Dafa practitioners in France assembled in front of the Eiffel Tower on the weekend before the Chinese New Year to send holiday greetings to the founder of Falun Dafa, Master Li Hongzhi. They wished to express appreciation for his sharing this ancient cultivation practice with the world.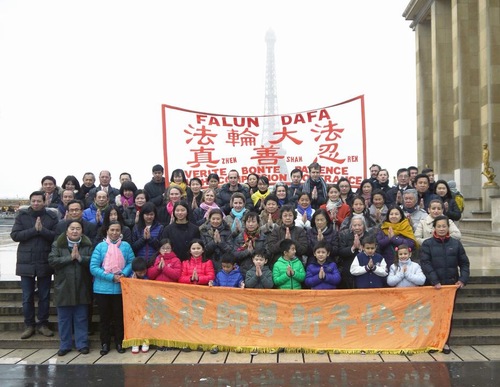 Wishing Master Li Hongzhi a Happy New Year
"Practicing Falun Dafa has changed my life and my view of the world," said Helenne, a French woman who started practicing Falun Dafa in 1999.
"I've become more optimistic," she said. "When encountering difficulties, I have confidence that I can overcome, because the principles that I follow in daily life, Truthfulness-Compassion-Forbearance, give me strength. I know, as long as I follow the principles, I can conquer all difficulties."
Helenne continued, "We are assembled here and wish Master Li Hongzhi a Happy New Year. This is our way to express our appreciation. I wish to thank Master Li Hongzhi and Falun Dafa for renewing my life."
Isabelle, from Marseille, said she had received a Falun Dafa flyer a long time ago, but back then she just casually put it away and didn't give it another thought until 2009. One day, she suddenly recalled the flyer, and went to find it. From the flyer, she found the Falun Dafa website. She downloaded the main book, Zhuan Falun, and finished reading it in three days.
"I believe in everything Master Li said in this book," said Isabelle. "This is what I had always been looking for."
Isabelle said that practicing Falun Dafa healed her knee problem, and helped her become a happy, efficient, and confident person.
A Chinese practitioner at the event, Ms. Gao, said, "We take photos and send the New Year greeting to Master Li every year in front of the Eiffel Tower. I am grateful that Master Li taught us the Great Law. I found the answers to many questions deep in my heart. Words cannot express my gratitude to Master Li."