Tianjin: Over 380 Cases of Arrest or Harassment in Retaliation for Complaints Against Jiang Zemin
(Minghui.org) Jiang Zemin, the former head of the Chinese communist regime, launched the persecution of Falun Gong in July 1999.
Falun Gong practitioners across China have been filing criminal complaints against Jiang since the end of May 2015, soon after a new regulation began allowing for citizens with grievances to file complaints with the Supreme People's Court and the Supreme People's Procuratorate.
However, many practitioners who filed complaints were harassed and/or detained in retaliation by police officers and other government officials.
In Tianjin alone, at least 381 incidents of mistreatment of practitioners were attributed to their filing criminal complaints against Jiang Zemin.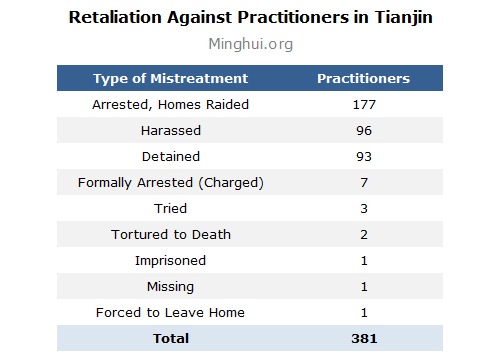 The cases depicted below are from all districts and counties of Tianjin.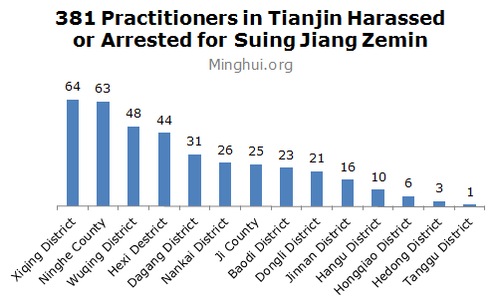 Zhao Fei, chief of the Tianjin Police Department, carries responsibility for the mistreatment and/or harassment of practitioner in many of these cases. He gave orders to post offices to stop all mail related to complaints against Jiang. As a result, some post office clerks inspected the mail and held any that contained such criminal complaints addressed to China's top court.
Widespread Arrests
Many practitioners were arrested at post offices or soon afterwards. Among them were Pan Huifen (Xiqing District), Zhang Chunyan (Ji County), Chao Yuefeng (Jinnan District), Xing Junjie and Tian Xiuyun (both from the Baodi District).
The Ninghe County "610 Office" and local police arrested more than 10 practitioners on June 25, 2015 for filing complaints against Jiang. One post office clerk in Ninghe County said that at least 30 packages containing criminal complaints against Jiang were confiscated.
Liu Haibin, a practitioner from Dongli District, was arrested at home on September 2, 2015, for filing a complaint with the Supreme People's Procuratorate. During his trial on December 15, he was charged with "submitting Falun Gong-related information to the Supreme Procuratorate."
Background
In 1999, Jiang Zemin, as head of the Chinese Communist Party, overrode other Politburo standing committee members and launched the violent suppression of Falun Gong.
The persecution has led to the deaths of many Falun Gong practitioners in the past 16 years. More have been tortured for their belief and even killed for their organs. Jiang Zemin is directly responsible for the inception and continuation of the brutal persecution.
Under his personal direction, the Chinese Communist Party established an extralegal security organ, the "610 Office," on June 10, 1999. The organization overrides police forces and the judicial system in carrying out Jiang's directive regarding Falun Gong: to ruin their reputations, cut off their financial resources, and destroy them physically.
Chinese law allows for citizens to be plaintiffs in criminal cases, and many practitioners are now exercising that right to file criminal complaints against the former dictator.