Year 2015 in Jilin Province: 607 Arrested, 23 Sentenced, and 5 Dead for Their Faith
Feb. 18, 2016 | By a Minghui correspondent in Jilin Province
(Minghui.org) According to data compiled by Minghui.org, 607 people in Jilin Province were taken into police custody and an additional 121 were harassed at home by the authorities in 2015, for refusing to renounce their belief in Falun Gong.
In addition, 23 who were arrested prior to 2015 were sentenced to prison terms ranging between one and seven years, and five passed away as a result of the persecution.
Since the Chinese communist regime launched its campaign to eradicate the spiritual discipline in 1999, millions of practitioners in China have faced arbitrary arrest, imprisonment, and even torture. To date, more than 3,900 practitioners have been confirmed to have died in the persecution, which is still ongoing today.
Figure 1. Types of persecution against Falun Gong practitioners in Jilin Province in 2015.
Among the 607 arrests, 205 (34%) were in retaliation for practitioners' filing of criminal complaints against Jiang Zemin, the former Chinese Communist Party leader who launched the persecution campaign.
Fifty-seven cases of harassment (47%) were attributed to retaliation by police for practitioners' complaints.
Practitioners Targeted Across the Province
Among the nine regions in Jilin Province, most of the persecution cases took place in the cities of Changchun (43%) and Jilin (23%). Changchun is where the founder of Falun Gong began teaching the practice to the public.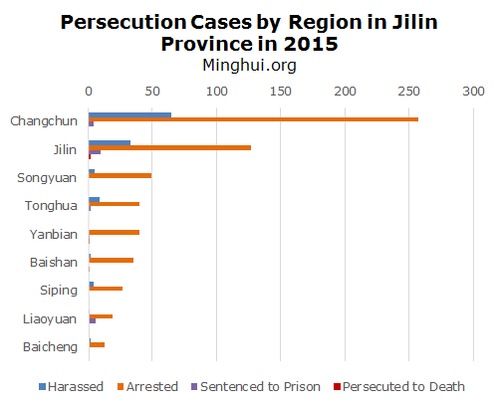 Figure 2. Cases of harassment, arrest, sentencing, and deaths in nine regions of Jilin Province in 2015.
Five Deaths Due to Persecution
Ms. Ni Yanping, 52, had been arrested multiple times, imprisoned, and sent to forced labor camps and brainwashing centers. At the Longtanshanzhuang Brainwashing Center in Jilin City in 2005, she was beaten so badly that she could not move or take care of herself. She eventually recovered after returning home and resuming her practice of Falun Gong. She was again arrested and imprisoned, and ultimately passed away from illnesses caused by torture.
Ms. Sun Qiufeng, 71, was arrested in 2003 and held in a forced labor camp in Changchun for one year. She lost many teeth due to beatings that she suffered there. She could not recover from the torture and passed away on November 9, 2015.
Mr. Wang Zhansheng was in his 70s. His wife was arrested four times and imprisoned. The couple's home was ransacked by police each time. Eventually, she left home to avoid further persecution. Police repeatedly went to Mr. Wang's home, demanding information about his wife's whereabouts. Under constant fear and pressure, Mr. Wang fell ill and eventually passed away in April 2015.
Ms. Sun Xiuhua passed away after police went to her home in September 2015 and threatened to arrest her after the upcoming Mid-Autumn Festival.
Mr. Jin Cangzhu, 72, and his wife were arrested in 2012. Mr. Yan was able to return home, but his wife was detained at a brainwashing center. She suffered a stroke after being released. Mr. Jin's health deteriorated over time as a result of the stress, and he passed away on March 1, 2015.
23 Sentenced to Prison
Below is a list of practitioners in Jilin Province who were sentenced to prison in 2015:
Mr. Li Dequan (李德全): 7 yearsMs. Jin Guoqin (金国琴): 6 yearsMs. Jin Guolan (金国兰): 5 yearsMr. Tian Yifu (田宜富): 5 yearsMs. Zhang Guixia (张桂霞): 5 yearsMs. Wang Shuyan (王淑艳): 4.5 yearsMs. Niu Yafen (牛亚芬): 4 yearsMs. Che Pingping (车平平): 4 yearsMr. Li Dexiang (李德祥): 4 yearsMs. Huang Xiuhuan (黄秀环): 3.5 yearsMs. Xiao Weiwei (肖微微): 3 yearsMs. Yang Yongmei (杨永梅): 2 yearsMs. Liu Xiangge (刘香阁): 1.5 yearsMr. Li Huzhe (李虎哲): 1.5 yearsMs. Tian Yifeng (田宜凤): 3 years with 5 years suspendedMr. Sun Defu (孙德福): 3 years with 4 years suspendedMr. Liu Qinghua (刘庆华): 3 years with 3 years suspendedMr. Zhang Yan'gang (张艳刚): 2 years with 2 years suspendedMs. Chen Xiulan (陈秀兰): 1 year with 1 year suspendedMr. Han Yongqiang (韩永强): suspended sentenceMs. Jin Yanhua (金艳华): suspended sentenceMs. Liu Ying (刘英): suspended sentenceMs. Wang Jinrong (王金荣): unknown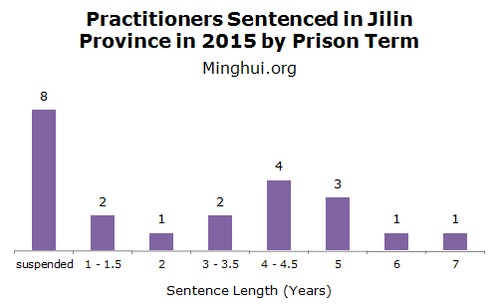 Figure 3. Practitioners sentenced by length of prison term
Man Paralyzed After Police Beating
On November 27, 2015, police went to practitioner He Qinghong's home, where officers repeatedly beat him on the head, from one room to another, even after taking him into the police car.
A family member who visited him at the detention center two days later saw that he was walking awkwardly. Mr. He was diagnosed with cerebral thrombosis. He could not talk, and half of his body was paralyzed. When he was discharged from the hospital on December 24, he was still partially paralyzed and could not move one hand and one leg. He has also lost part of his mental capacity.
Families Suffer Under Fear, Police Pressure
Practitioners' family members also suffered great pain as their loved ones were mistreated in police custody.
When practitioner Ms. Zhang Fengxia was arrested on September 25, 2015, her mother could not bear the pressure and passed away on the same night.
After practitioner Mr. Wang Xiaoxin was arrested on November 28, his parents' heart conditions recurred, and his wife had a mental breakdown and has not returned home.
Background
In 1999, Jiang Zemin, as head of the Chinese Communist Party, overrode other Politburo standing committee members and launched the violent suppression of Falun Gong.
The persecution has led to the deaths of many Falun Gong practitioners in the past 16 years. More have been tortured for their belief and even killed for their organs. Jiang Zemin is directly responsible for the inception and continuation of the brutal persecution.
Under his personal direction, the Chinese Communist Party established an extralegal security organ, the "610 Office," on June 10, 1999. The organization overrides police forces and the judicial system in carrying out Jiang's directive regarding Falun Gong: to ruin their reputations, cut off their financial resources, and destroy them physically.
Chinese law allows for citizens to be plaintiffs in criminal cases, and many practitioners are now exercising that right to file criminal complaints against the former dictator.