Jiamusi Resident and His Guests Arrested during Private Gathering
December 08, 2016 | By a Minghui correspondent in Heilongjiang Province
(Minghui.org) A Jiamusi City resident and his five guests were arrested on November 23 for refusing to renounce Falun Gong, a spiritual discipline being persecuted by the Chinese communist regime.
Mr. Xu Chuan, who owns an interior design company, has been under constant surveillance since the persecution began in 1999. His guests also practice Falun Gong, just like him. Their private gathering was cut short by the police.
About a dozen officers descended upon Mr. Xu's apartment unit as he was entertaining his guests that night. His child went to check who was knocking on the door, and the police said they were there to investigate possible human traffickers, drug dealers, and other criminals.
The child didn't dare to let in the strangers, and the police kept banging on the door. They later found a locksmith to remove the peephole and the entire lock.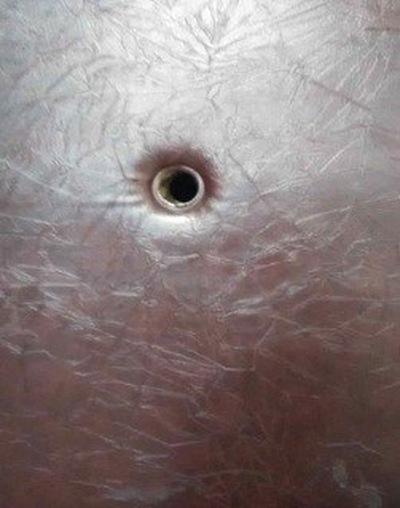 The peephole removed by a locksmith under police order.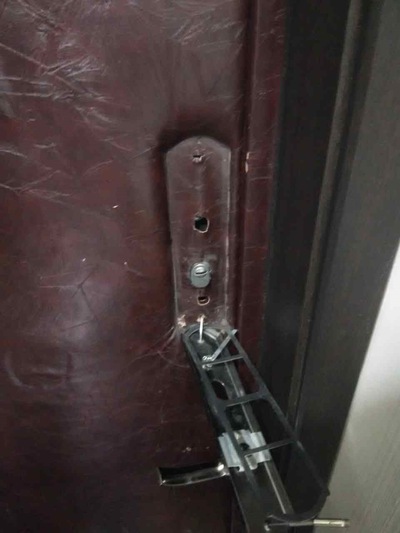 The lock was also removed.
The police finally broke in and ransacked Mr. Xu's home. They confiscated Falun Gong books, a computer, a camera, a laminating machine, and a display board with information about the lawsuits against former Chinese dictator Jiang Zemin.
One of the guests pointed to the display board and said to the police, "This is what's happening now – people are suing Jiang for ordering the persecution of Falun Gong. We put up the board for people like you to see." Other guests scolded the police for invading private property.
One officer responded, "My surname is Zhou. Didn't you say I'm invading private property? Let me tell you, I'm the deputy chief of the Qiaonan Police Station!"
Zhou made several phone calls to consult on whether he should arrest Mr. Xu and his guests. Soon Liu Ming, captain of the local Domestic Security Office, and Yue Benjun, chief of the Qiaonan Police Station, also arrived on the scene.
Yue ordered the arrest of everyone except for Mr. Xu's child and elderly mother.
The six practitioners were taken to six different places that night, with Mr. Xu to the Qiaonan Police Station, Mr. Cui Guang (Mr. Xu's brother-in-law who was visiting from out-of-town) to the Baowei Police Station, Mr. Yang Minjiang (an engineer) to the Xinli Police Station, Ms. Wang Kun (a college professor) to the Xilin Police Station, Mr. Zhao Lunxian (an engineer) to the Chang'an Police Station, and Mr. Xia Lingwei to the Songlin Police Station.
The police issued detention notices the next day, with Mr. Xu being given 15 days of detention and his guests each given 10 days of detention. Ms. Wang was transferred to Tangyuan Detention Center, while the five men were sent to the Huachuan Detention Center.
Mr. Xu's family demanded a copy of the detention notice, but their request was rejected.