Linköping, Sweden: Introducing Falun Gong and Raising Public Awareness of the Persecution
December 07, 2016 | By a Falun Gong practitioner in Sweden
(Minghui.org) Linköping is Sweden's fifth largest city. Falun Gong practitioners held activities to introduce Falun Gong to the public and raise awareness of the Chinese Communist Party's (CCP) persecution of the practice at the downtown square on December 3-4, 2016.
The event included Falun Gong exercise demonstrations, poster boards, and informational materials. Practitioners explained the practice and the persecution to passersby. A reporter from the Linkopings Tidning newspapercame to the event venue, took photos, and interviewed practitioners.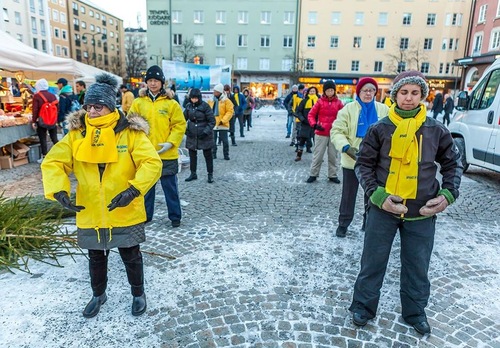 Group exercise practice of Falun Gong practitioners in downtown Linköping.
People are busy shopping for gifts in December, and the nearby shopping center was busy during the two weekend days. Many shoppers paused to watch when they saw the exercise demonstration and heard the exercise music.
Some of the visitors knew about the persecution from other channels and many wished to learn more from this event. Some read the posters, watched the exercise demonstration, talked with the practitioners, and asked about Falun Gong and why the CCP is persecuting the practice. When people learn that the CCP is conducting state-sanctioned organ harvesting from living Falun Gong practitioners for profit, many are appalled and indignant. Many passersby signed the petition opposing the persecution.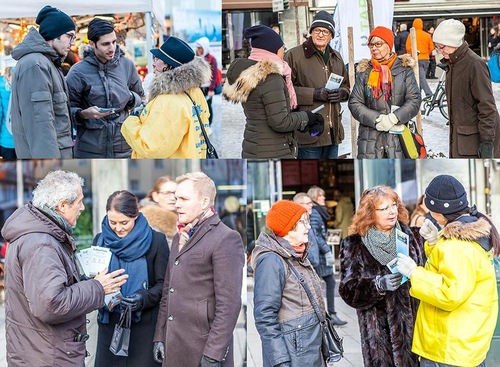 Practitioners explain what Falun Gong is and why the CCP is persecuting the practice in China.
Two ladies listened to a practitioner explain the persecution, and were touched to tears. They signed the petition opposing the CCP's live organ harvesting. Many passersby expressed their interest in Falun Gong and asked about practice sites.
A young girl in her twenties took a flyer after listening to a practitioner's explanation. She placed the flyer in front of her chest and said excitedly, "This is what I have been looking for!"
An 88-year-old lady said after talking to a practitioner, "This practice is so peaceful. I also need it. But I am so old." A practitioner from the local practice site walked over and said, "That is not an issue. Here is my phone number. Give me a call before you come. I will pick you up." The elder lady was happy and nodded.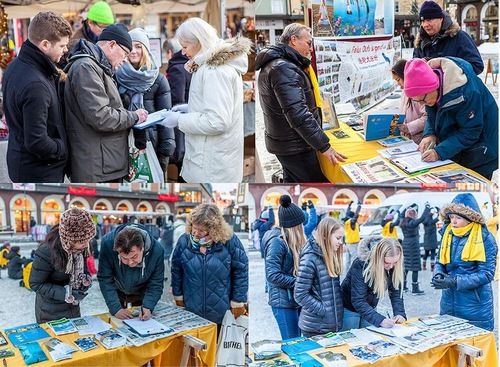 People learn about and sign a petition opposing the persecution.
Pasi and his girlfriend listened to a practitioner explain the issues and signed the petition opposing the persecution. Pasi is tall and likes Chinese traditional culture. He said he has visited China four times. He could speak some Chinese and talked with a practitioner for a long while to learn about Falun Gong.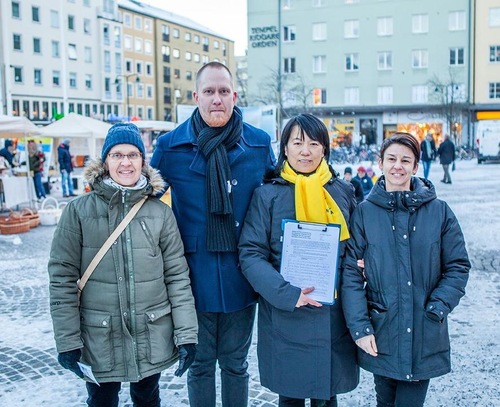 Pasi (second from left), his girlfriend (first from right), and two Falun Gong practitioners.