Documentary Film "Human Harvest" Screened at Columbia University
(Minghui.org) The award-winning documentary Human Harvest was screened at Columbia University in New York on December 1, 2016. The university's Falun Dafa Club sponsored the event. Around 50 people watched the film. Several students who arrived late found that no vacant seats were available.
The film is about China's gruesome state-sanctioned practice of harvesting vital organs from imprisoned Falun Gong practitioners. Viewers applauded warmly after the screening. Some audience members stayed and shared their thoughts about raising awareness and stopping the crime.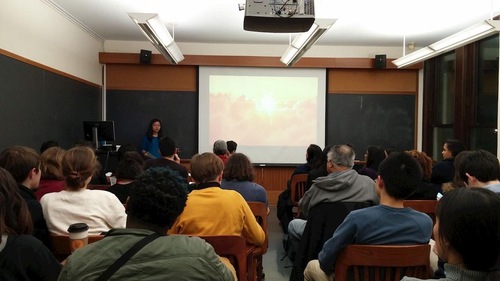 At the screening, a practitioner explains the background of the film.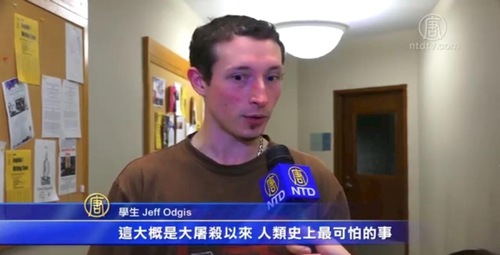 A viewer was interviewed after the screening.
Kidney doctor Cheryl Kunis from Columbia University said that some of her patients expressed interest in going to China for an organ transplant. She explained to them the risk, and the live organ harvesting issues, which changed their minds.
Jeff Odgis, an undergraduate student, said he did not know about the live organ harvesting. He said, "I think it is horrible. It seems to be the most horrible thing since the genocide." He indicated that he could not imagine why a government would sanction live organ harvesting.
Genevieve said that the film was impressive. She knew some of the issues, but not all the details revealed in the film.
Some audience members signed a petition to be delivered to the United Nations, asking it to urge the Chinese communist regime to stop the organ harvesting crimes immediately. Doctor Kunis said that this was a huge issue and expressed hope that the World Health Organization and UN can do something to exert pressure on the Chinese regime.
Some audience members sent emails next day expressing their appreciation for the film screening, and wishes to be informed about future events. The club plans to hold more screenings in the future.
The club was established in 1999 with a mission spreading the grace of Falun Dafa and raising awareness about the persecution of the practice in China.