Beijing Woman Arrested for Inviting the Public to Attend Trial of Falun Gong Practitioners
December 17, 2016 | By a Minghui correspondent in Beijing
(Minghui.org) A Beijing woman was arrested the day before the trial of three Falun Gong practitioners who were arrested for refusing to renounce the spiritual discipline, which continues to be persecuted by the Chinese communist regime. They were scheduled to appear in court on November 30, 2016.
The three defendants are Ms. Qing Xiuying, a 61-year-old homemaker; Ms. Xia Hong, a 50-year-old kindergarten teacher; and Mr. Li Yeliang, a 47-year-old photographer.
Ms. Liu Yanmei, also a Falun Gong practitioner, made a public invitation bearing information about the defendants' background, the time and location of the trial, and that the defense lawyers had entered not-guilty pleas.
Ms. Liu distributed the invitations in Mr. Li's apartment complex on November 29 and was arrested a few hours later. The police ransacked her home that night.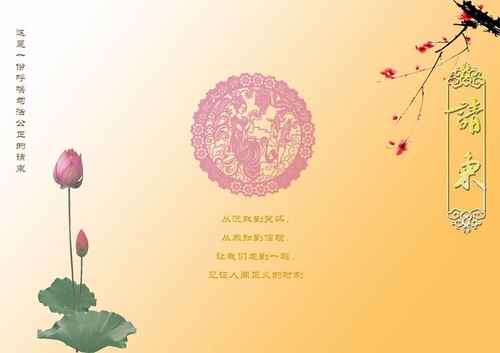 Front cover of the invitation
Inside of the invitation
Ms. Liu remains in Tongzhou Detention Center.