Victoria, Canada: Reaching Out to Prince William and Duchess Kate
November 09, 2016 | By a practitioner in Canada
(Minghui.org) Prince William and his wife Kate, the Duke and Duchess of Cambridge, visited Victoria, British Columbia in Canada in September 2016 for about a week. They made Victoria their base as they attended various events and functions in the city and surrounding areas. They stayed at Government House, a historic building where dignitaries reside when they visit.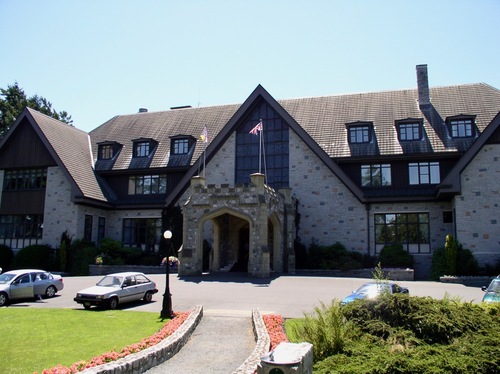 Government House in Victoria, Canada, where Prince William and his wife Kate stayed during their visit to the city in September 2016. (Andrew Tawker/Public Domain)
I live in Victoria. Prior to William and Kate's visit, the Falun Gong coordinator in Vancouver and I brainstormed about finding a way to clarify the facts about Falun Gong to them while they were here. We realized that showing up at one of their events with banners would be inappropriate, so I suggested an approach I had used when Queen Elizabeth visited Victoria in 2002.
Back then, I wrote a letter to the Queen telling her about the persecution and the killing of Falun Gong prisoners of conscience in China for their organs. I put the letter in a package, along with other truth-clarification materials, and headed to Government House, where she also stayed. I knew there would be no chance of getting into Government House itself, but my plan was to ask a security guard to deliver the package to the Queen's security team, who could vet it and then pass it along to her. Lo and behold, it worked. A very kind and helpful security guard took the package and said he didn't see a problem getting it to Queen Elizabeth through her security personnel.
This time, I again wrote a letter, put together a truth-clarification package, and proceeded to Government House. However, the security guard at the main entrance refused to take it.
On the way home, I wracked my brain as to what I could do. Then, I thought, why not simply mail the package to William and Kate c/o Government House? I addressed it, bought a stamp, and put it in the mailbox with righteous thoughts, and promptly forgot about it.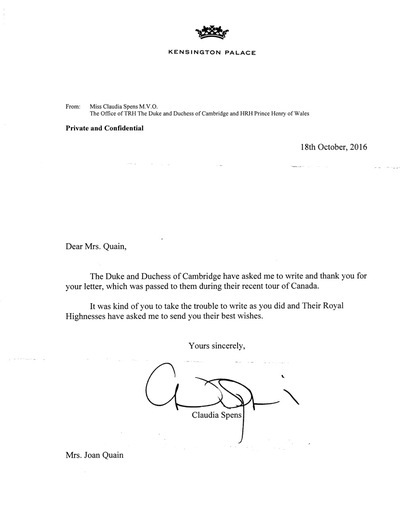 Letter received from Kensington Palace.
On October 18, a letter arrived at my home postmarked "ROYAL MAIL" on the front and "Kensington Palace" in embossed writing on the back. It was from Claudia Spens at the Office of TRH The Duke and Duchess of Cambridge and HRH Prince Henry of Wales, thanking me for my letter to William and Kate.
The response read: "The Duke and Duchess of Cambridge have asked me to write and thank you for your letter, which was passed to them during their recent tour of Canada."
"It was kind of you to take the trouble to write as you did and Their Royal Highnesses have asked me to send you their best wishes."
Given the 24-hour Falun Gong vigil outside the Chinese Embassy in London, it's possible William and Kate are already aware of the persecution. But now that they know much more, they are hopefully better positioned for the future.
I thank Master for his help.