Munich, Germany: Hundreds Come Together for Falun Dafa Exercises
November 09, 2016 | By Minghui correspondent Rongfa in Munich, Germany
(Minghui.org) Hundreds of Falun Gong practitioners gathered for the exercises early in the morning on November 5 at Odeonsplatz, a large square in central Munich.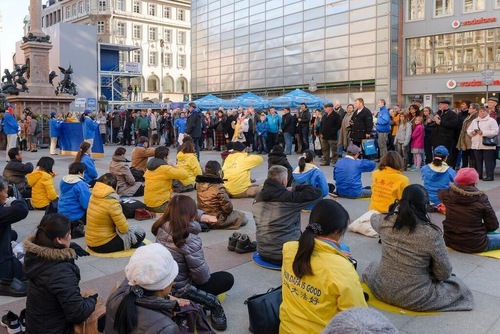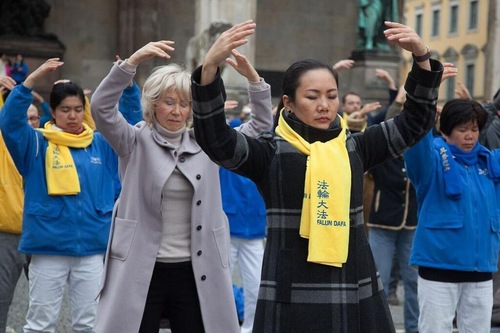 Hundreds exercise and meditate together on November 5 at Odeonsplatz in Munich.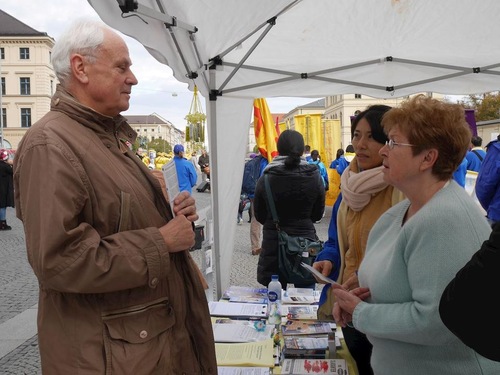 Passerby learns about Falun Gong and the ongoing persecution in China.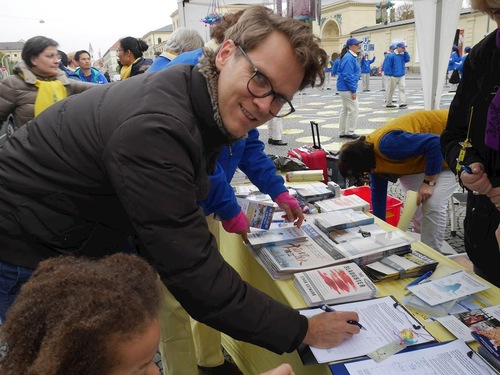 Sven Damen signs a petition condemning the Chinese regime's state-sanctioned organ harvesting atrocity, in which most of the victims are illegally incarcerated Falun Gong practitioners.
Sven Damen is a sales manager and was glad to meet with the practitioners. "I haven't heard about Falun Gong before. This [group exercise] is impressive," said Damen. "It's a good way to let people know what is happening in China. I think most Germans know nothing about the persecution. It's important to let the world know so we can work together to end the persecution."
A retired engineer who lives in Munich said he already knew about the persecution of Falun Gong in China. "That is why I am here to sign the petition," he said.
Practitioners Share Their Feelings
Ilnair is a college student from Finland who's been practicing Falun Gong for a year.
College student Ilnair came from Finland. He's practiced for a year and this was his first time coming together with practitioners from all over Europe. "I feel very relaxed while exercising with so many practitioners. The energy was strong," he said.
Ilnair's friend introduced him to Falun Gong a year ago. He said that the practice changed his life, "I didn't get along with my parents and it bothered me a lot. When I began following the principles of Falun Gong and treated them with kindness, we started to get along. Now they are very supportive of me and Falun Gong."
Igaor is from Bosnia and currently lives in Vienna. One of his Chinese friends introduced him to Falun Gong the year the persecution started. "The first time I read Zhuan Falun, I liked it a lot, especially the principles in it. I began to practice right away. I really wanted to be a good person. I came early this morning. When I did the exercises, I was surrounded by strong energy, which is a unique feeling. It's cold today, but I feel warm and comfortable."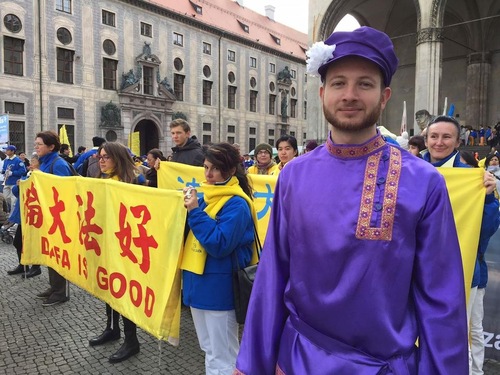 Roman from Russia learned Falun Dafa nine years ago from his father.
Roman, from Russia, shared, "My father introduced me to the practice nine years ago, when I was 23." The exercises this morning gave him a lot of energy and "I really enjoyed them," he said.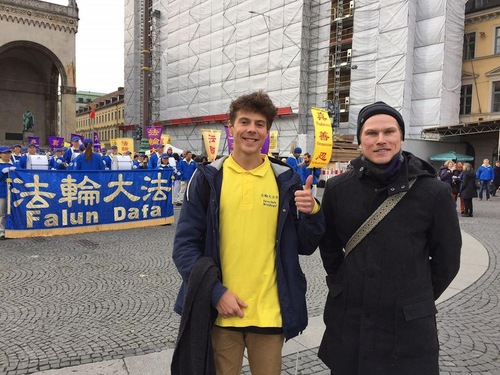 Raimonds (left) and Ritvars are practitioners from Latvia.
Twenty-three-year old Raimonds started the practice two years ago. "This is my first time in Germany. I want to help the Germans be aware of the persecution. The energy this morning during the exercise session was powerful and comforting," he said.
Raimonds was walking in a park one day and saw a group of people meditating. "I liked meditation and went over to ask them about it," he said. Someone gave him a book and a flier and he went home to find out more about it online. "I began to practice on my own and later joined the local group," he said. He's been learning Chinese because he wants to read the books in Chinese.
Ritvars has been a practitioner for six years. "For a period, I began pondering the meaning of life. A few weeks later I found the Falun Gong website and read the book Zhuan Falun. I quickly found the answers to my questions and began to practice. I felt very strong energy when I began exercising at home. Later I joined a local group and studied the teachings with them. It felt great!"