Beauty of Falun Dafa Shines in NYC Veterans Day Parade
(Minghui.org) Falun Dafa practitioners from the New York area participated in the 97th annual Veteran's Day Parade in New York City, the largest Veterans Day parade in the nation.
Some 500,000 spectators lined the parade route last year to show their support for the nation's servicemen and women. This year marks the 13th consecutive year that Dafa practitioners have taken part in the Veteran's Day Parade, also known as "America's Parade."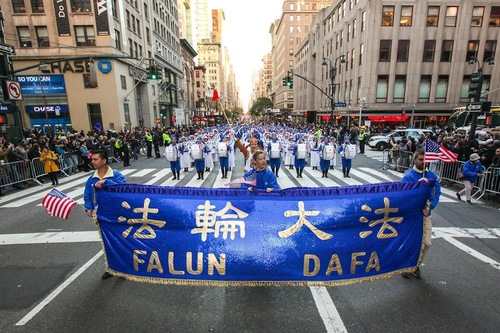 The Tian Guo Marching Band leads the Falun Dafa contingent in the 2016 America's Parade in New York City on Veteran's Day, November 11.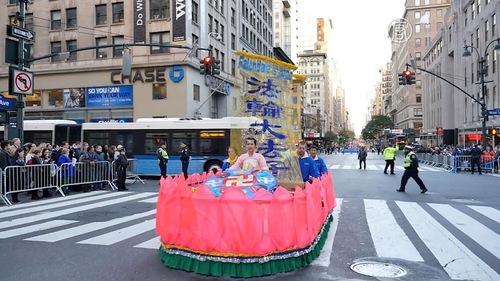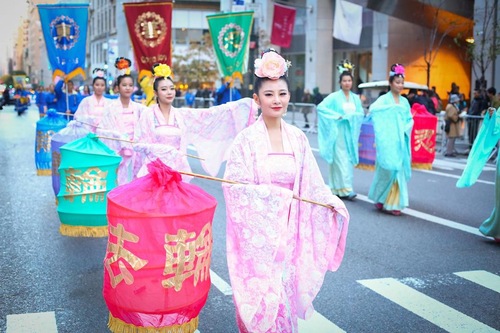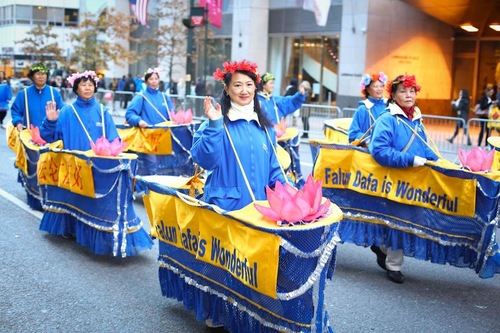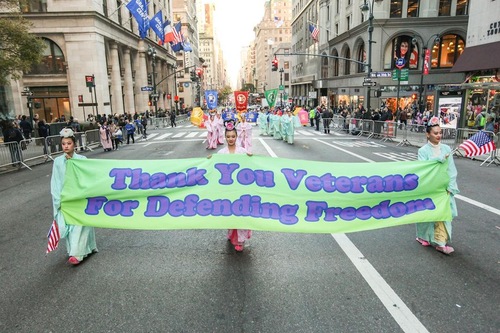 Falun Dafa practitioners bring color and traditional Chinese culture to help honor American veterans and First Responders.
Led by the Tian Guo Marching Band, the Falun Dafa contingent showcased the beauty and spirit of the Falun Dafa spiritual discipline from China, which is based on the principles of Truthfulness, Compassion, and Forbearance. Following the marching band were practitioners dressed as lovely celestial maidens carrying lanterns emblazoned with the Chinese characters "Truthfulness-Compassion-Forbearance." Behind the celestial maidens was a colorful banner team followed by a decorated float, practitioners demonstrating the Falun Gong exercises, and a lively waist drum troupe.
The coordinator for the Falun Dafa group, Ms. Yi Rong remarked, "More than 300 practitioners took part in this parade. We are very happy to bring the beauty of Falun Dafa to New Yorkers by being a part of the New York Veterans Day Parade."