Paris, France: "These [Principles of Truthfulness-Compassion-Forbearance] Will Benefit Everyone and Will Last Forever"
October 06, 2016 | By a Falun Dafa practitioner in Paris
(Minghui.org) Practitioners from France, Germany, England, and nearby countries held two marches in Paris on October 1-2, 2016, with a theme of "Stop the persecution against Falun Dafa in China."
March on October 1
October 1st is a Chinese holiday because the Chinese Communist Party (CCP) took over power in the country on this day 67 years ago. "Falun Dafa practitioners have been suppressed severely in China for their belief in Truthfulness-Compassion-Forbearance," explained Tang Hanlong, president of the Falun Dafa Association in France. He said the mistreatment includes detention, labor camp detention, torture, and imprisonment.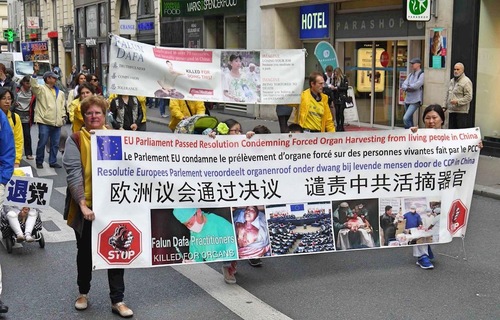 March on October 1 at Paris.
Led by the Tian Guo Marching Band, the march started at Sainte-Trinité, and proceeded through Boulevard Haussmann, Opéra - Grands Boulevards, rue Saint-Honoré, and arrived at Place de la Concorde.
Many people on these streets in the heart of Paris were impressed by the music and applauded graciously. Marie-José Marie-José, a painting artist, liked the march, and described it as "beautiful" and "peaceful." Business administrator Anne-Marie Ghanty agreed, saying, "It is unique. Unlikely many other marches I have seen, this one is rich in aesthetic value and makes you happy."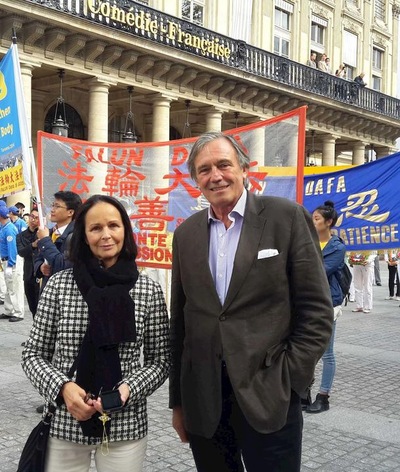 Painting artist Marie-José Marie-José (left) said that the practitioners' group was beautiful and peaceful.
Henri, who works at a restaurant, said that he liked seeing the principles of Truthfulness-Compassion-Forbearance on the banner. "We have lost many good things in history, and people no longer know about them. These principles of Truthfulness-Compassion-Forbearance will benefit everyone and will last forever."
Chinese Tourists Learn the Facts
As the march passed by Galeries Lafayette, the flagship branch of an upmarket French department store chain, many Chinese were glad to see the practitioners. Due to the 17-year-long suppression in China, they have not seen large-scale Falun Dafa activities for a long time. "This [large march] makes me proud of being a Chinese," one of them said. Another added, "We are counting on you for China's future."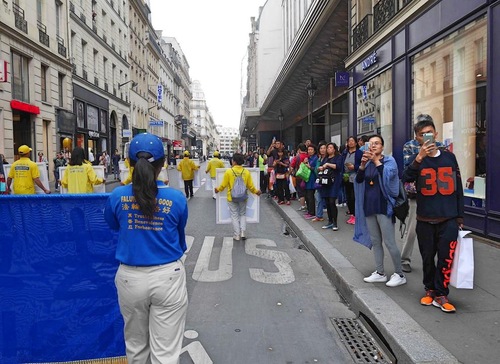 Chinese tourists take photos of the march.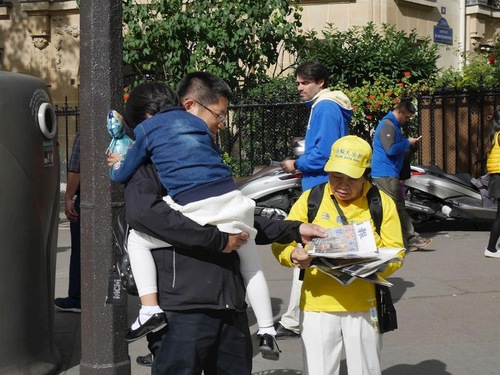 A Chinese tourist receives materials from a practitioner.
More than 20 Chinese athletes also took photos and talked with practitioners. After learning how the Chinese communist regime has harmed a large number of people during its various political campaigns, most of them decided to separate themselves from the regime.
March on October 2
The European Falun Dafa contingent held a second March on the following day, beginning at the Champs de Mars, and proceeding to the Eiffel Tower, through the Seine bank, and arriving at Human Rights Square.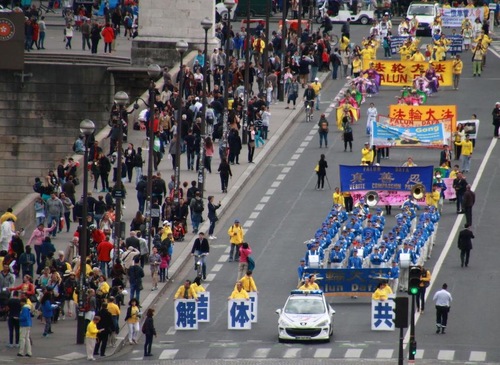 March in Paris on October 2, 2016.
Véronique Lopez works in the news media industry and owns her own firm. Attracted by the music, she came by to get more information and was shocked upon learning of the ongoing brutality in China, "What worries me the most is that if France and our media remains silent because of financial trade with China, it would be horrifying." She hopes that more people become aware of the issues and take action to stop the atrocities.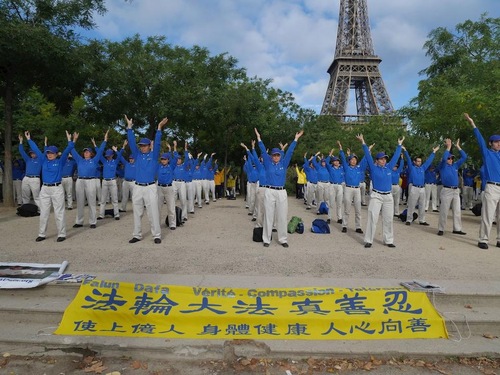 Group exercises by practitioners next to the Eiffel Tower.
This was the first time that Cécile, a government officer, had heard about the forced organ harvesting from Falun Dafa practitioners in China. She thanked the practitioners for holding the march, "...because we learned something that we did not know in the past."
Forceman said she was glad to see practitioners coming to Champs de Mars. She said she feels that they should protect their belief.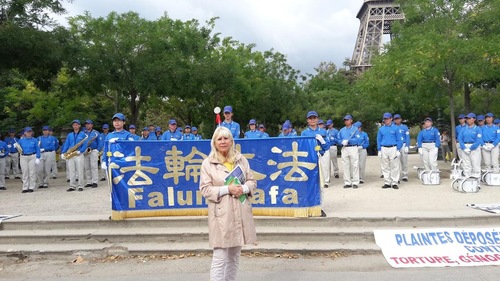 Local resident Forceman thanks practitioners for their efforts.
Nolle Dufresne signed a petition calling for an end to forced organ harvesting in China. "I like the principles of Falun Dafa," she said, "I always hate violence and like compassion."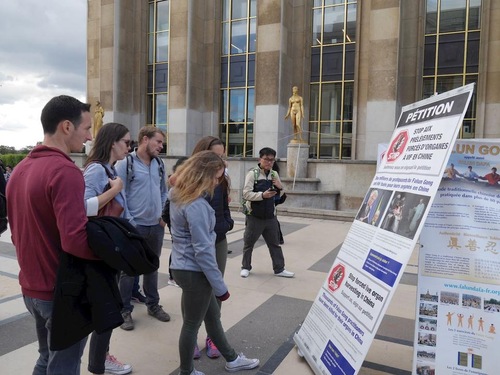 Passersby learn about the forced organ harvesting in China.
Related article in Chinese:http://www.minghui.org/mh/articles/2016/10/5/法轮功学员巴黎游行-中西民众明真相(图)-335938.html