Rally in Sydney Calls on Australian Government and Public to Help Stop Persecution of Falun Gong
October 05, 2016 | By Mu Wenqing, a Minghui correspondent in Sydney, Australia
(Minghui.org) Falun Gong practitioners rallied at Hyde Park on October 1, 2016 to condemn the continued persecution of the spiritual practice in China.
Practitioners and speakers at the rally called upon the Australian government to take action quickly to stop the Chinese communist regime's harvesting of organs from living Falun Gong practitioners incarcerated for refusing to renounce their faith.
The rally also supported the 250 million Chinese citizens who have withdrawn their memberships in the Chinese Communist Party (CCP).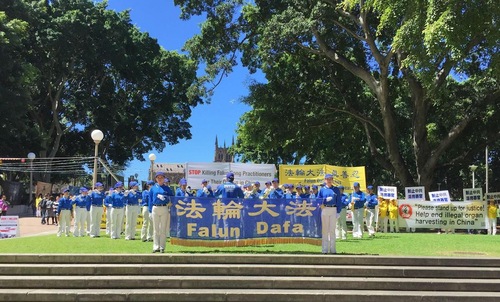 Falun Gong practitioners rally at Hyde Park in Sydney on October 1, calling for an end to the persecution Falun Gong in China.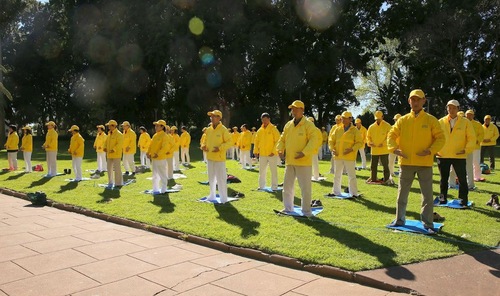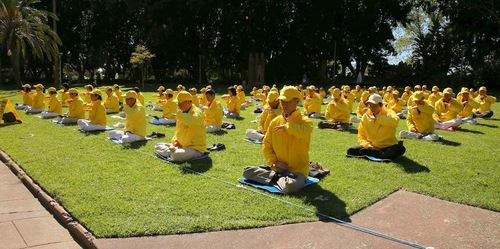 Practitioners demonstrate the five Falun Gong exercises at the rally.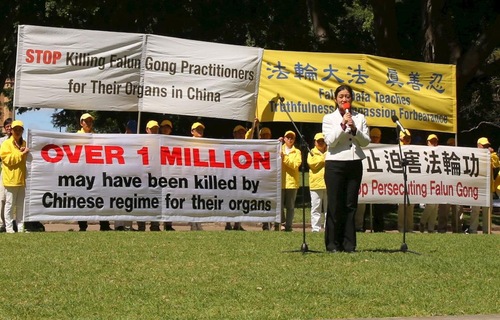 Practitioners tell the public about crimes committed by the Chinese regime against Falun Gong, including the harvesting of organs from incarcerated practitioners in China for profit.
Local residents and tourists sign a petition condemning the ongoing persecution of Falun Gong by the Chinese regime.
Urging Australian Government to Stop Organ Harvesting from Living Prisoners of Conscience in China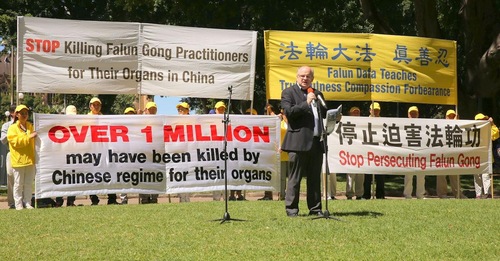 Former Parramatta Councilor Andrew Wilson speaks at the rally.
Former Parramatta Councilor Andrew Wilson said at the rally that, while the U.S. Congress and the European Parliament have passed resolutions condemning the CCP's organ harvesting, the Australian government chose to remain silent on the issue.
According to Wilson, many investigation reports have disclosed reasons why China has an abnormally high number of organ transplants each year. He has also listened to phone recordings of doctors in China claiming that they were able to obtain fresh organs from Falun Gong practitioners in a short time. Wilson said the crime must be stopped because "it doesn't belong in a civilized world."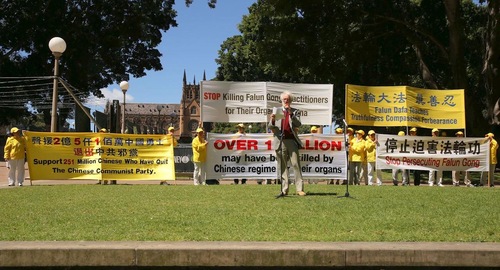 China Human Rights activist Bob Vinnicombe speaks at the rally.
"While many governments condemned the Syrian and North Korean governments for their inhumane actions, they kept silence when it comes to the CCP's human rights abuses," said China human rights activist Bob Vinnicombe at the rally.
He said that many governments bow down in front of the large political donations and economic trade with China while ignoring its human rights violations. He believes there should not be two standards when it came to such issues and asked the people of Australia to bring up their concerns to their local government representatives, the media, and friends.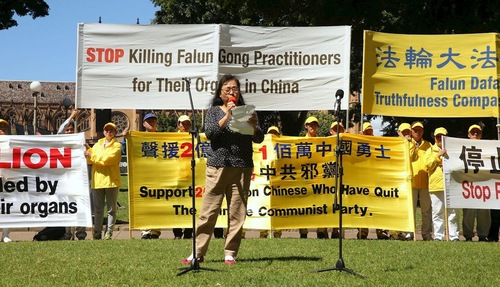 Author Sun Baoqiang speaks at the rally.
Ms. Sun Baoqiang wrote a book on how female prisoners are mistreated in the Chinese prisons. She said that in its 67-year reign, the CCP has killed millions of cultural elites and starved to death tens of millions of people in its numerous political movements. She added that it is now committing the most heinous crime in history by harvesting organs from living Falun Gong practitioners for profit, which must be stopped.
Lucy Zhao from the Falun Dafa Association in Australia said that over 50,000 people in New South Wales have recently given their signatures and voiced their concerns on China's organ harvesting crimes. Copies of the signatures were sent to the Prime Minister and representatives of local districts. She asked everyone to urge the government to speak up and protect human rights.
A Historic Opportunity
David, who owns a YouTube channel with six million subscribers, brought three photographers to the rally that day. He wanted to interview practitioners who had been persecuted and tortured in China. He said that he recently began to learn about the issue of organ harvesting. While he normally makes relaxing videos and has never done such a heavy topic, he said, "History changes, and this is an opportunity for me as well."
YouTube video makers interview Falun Gong practitioners who had been persecuted in China.
He said that based on his personal experience, people in China cannot get real information on the Internet, and he wants them to be able to see uncensored news.
Government Should Touch on China's Human Rights Issues
Cokes is a designer who works in a nearby building. She came to show her support for the practitioners' efforts to stop the persecution. She said she cannot understand why the Chinese regime persecutes a practice that brings people health, happiness and wisdom, and added that the Minister for Foreign Affairs Julie Bishop should bring up human rights issues with China.
Mr. White talked to the practitioners after signing the petition. He said, "Every government and politician should have the courage to speak the truth, even if the country that carries out the persecution is an important trade partner." He suggested that the Australian prime minister talk to Chinese leaders regarding their human rights abuses.
Tourists Voice Their Support
Canina and Sukumar from the Netherlands had learned about organ harvesting before and knew that the European Parliament has passed a resolution to condemn the crime. "We hope that the Australian government can do the same," said Canina.
Laura spoke with a practitioner for half an hour. After learning about the extent of the persecution, she said that the officials who participated in the persecution should be tried by the International Court of Justice and that doctors who participate in organ harvesting should be arrested when they enter other countries.