San Francisco: Passersby Impressed by the Falun Gong Exercises
Oct. 29, 2016 | By Minghui correspondents Shu Jing, Rong Fa, and Mu Wenqing
(Minghui.org) The day after a huge Falun Gong parade in San Francisco on October 22 that raised awareness of the persecution of Falun Gong in China, over 2,000 of its practitioners went to about 50 parks and tourist sites to familiarize passersby with a practice that offers physical and spiritual benefits.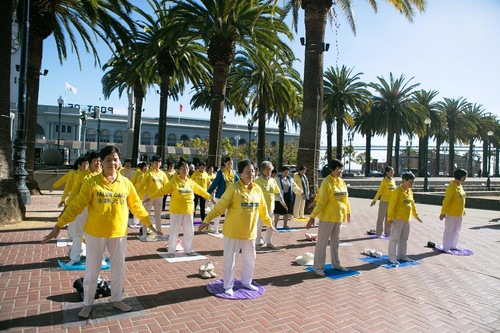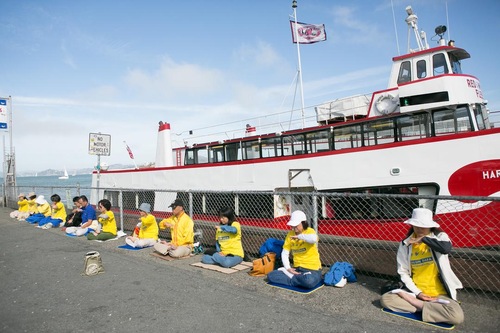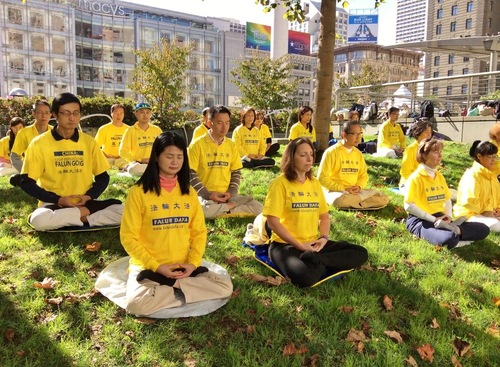 Falun Gong practitioners do the exercises together in San Francisco on October 23, 2016.
Opposing the Persecution in China
Impressed by the peaceful practitioners doing their exercises on Post Street, businessman Sergio Franco and his wife stopped to learn more. Mr. Franco had already heard about Falun Gong and knew that it was being severely suppressed in China. Without hesitation, he signed a petition of support.
Sergio Franco and his wife like Falun Gong.
Erika Judd is a lawyer from Boise, Idaho. She took some materials to read and came back 20 minutes later to talk with a practitioner. She was vehemently opposed to harvesting organs from living Falun Gong practitioners in China and readily signed a petition demanding that it stop.
One Chinese tourist said he was only in the U.S. for this one day on his trip. Nonetheless, he was happy to meet practitioners and signed a petition to support Falun Gong.
"The Situation Is Worse Than I Thought"
Dilma Dorer, a nurse, knew about the human rights violations in China, but she was stunned to hear about forced organ harvesting. "The situation is worse than I thought," she remarked. She signed a letter that would urge government agencies and human rights organizations to pay attention to this tragedy.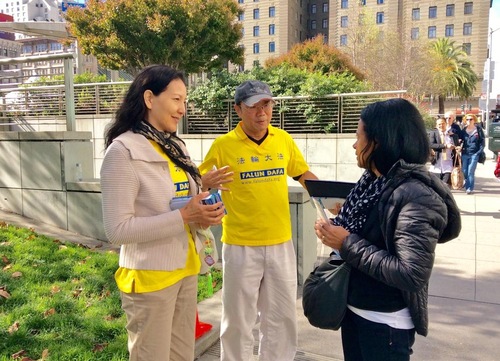 Nurse Dilma Dorer signed a letter to support Falun Gong.
At Fisherman's Wharf, software developer Chad and health consultant Louise heard about Falun Gong for the first time. "It is hard to imagine that innocent people could be arrested and detained just for meditating," said Chad. After a practitioner explained how the Chinese communists mistreated their own people in previous political campaigns, the two said they would read about it further.
Relaxation and Enlightenment
Travis Brokaw said he saw practitioners doing the exercises on his way to work in the morning. "Everyone seems so calm, with such inner peace, in such a crowded and noisy city—I was so touched." He felt an energy that helped him focus his attention and relax.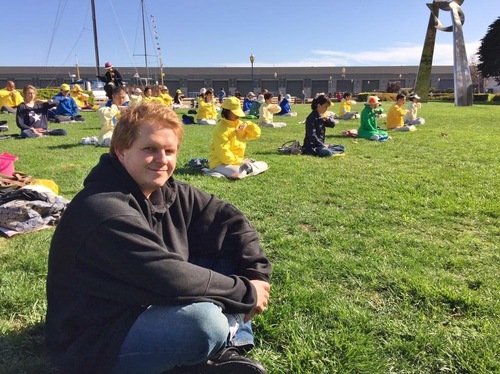 Travis Brokaw said he found inner peace in Falun Gong practitioners.
Having tried meditation many years ago, Travis said he would definitely check out Falun Gong: "Everything about it seems refreshing and interesting."
Matthew is a compensation adviser and that day was his little daughter's birthday. He said he had known about Falun Gong for a long time, but watching practitioners' exercises gives him a new perspective and enlightened him. He was thankful for the information and said he would follow up.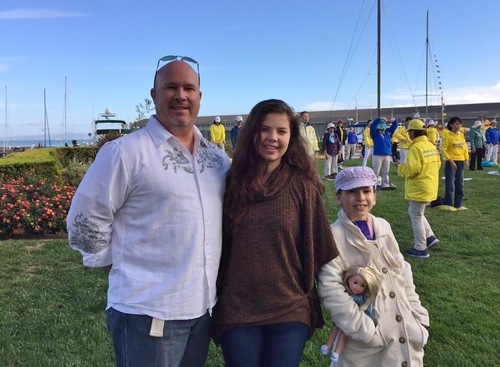 Matthew is interested in Falun Gong.