Four Thousand Falun Gong Practitioners March in San Francisco: "Everybody Should See This"
October 24, 2016 | By Minghui correspondents Zhang Yun, Tang Xiuming, Li Xinci, and Ying Zi in San Francisco
(Minghui.org) Over 4,000 practitioners of Falun Gong (also called Falun Dafa) – a traditional spiritual discipline originating in China – held a peaceful march in San Francisco on the eve of the Western U.S. Falun Dafa Cultivation Experience Sharing Conference.
The march stepped off from United Nations Plaza at 11:30 in the morning, traveled along Market Street, Union Square, and ended at Portsmouth Square in Chinatown three hours later.
Led by the Tian Guo Marching Band, the march comprised three major groups, each with a separate theme: "The Beauty of Falun Dafa," "Stop the Persecution of Falun Gong," and "Supporting Chinese people Quitting the Chinese Communist Party."
Some 300 musicians from various branches of the Tian Guo Marching Band from San Francisco, New York, Canada, Australia, Europe, and Taiwan joined forces for the October 22 march in San Francisco.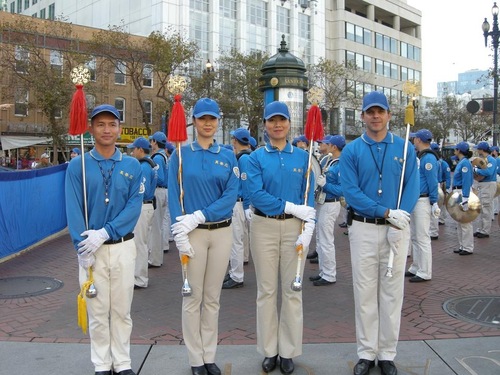 Four drum majors led the Tian Guo Marching Band. Principal Drum Major Abraham Thomson (at right), is from San Francisco.
Raising Awareness of the Persecution in China
Thousands of San Francisco residents and visitors watched the march and learned about the ongoing 17-year persecution of Falun Gong in China.
Mary, a science teacher, said she wished that all Americans could learn about China's state-sanctioned organ harvesting from prisoners of conscience, which was exposed in the march.
"This is beyond human. This is evil," Mary said of the forced organ harvesting from persecuted Falun Gong practitioners in China. "This is the most evil crime I've ever heard of," she said.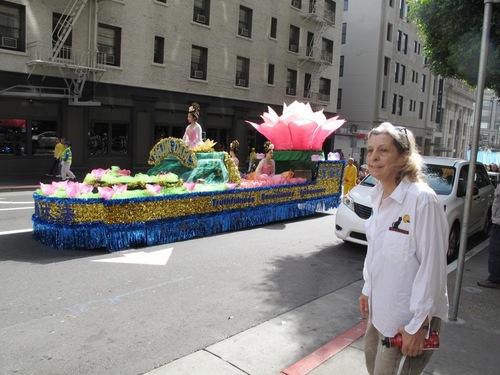 Mary cheers for Falun Gong during the march.
Mary first heard about the persecution of Falun Gong 12 years ago in New York, and since then has been concerned about what is happening in China. She has seen three Falun Gong marches in San Francisco since moving here three years ago.
"When I heard the music, I immediately realized this must be Falun Gong, so I came down to the street to watch," she said. Mary encouraged practitioners to keep up the good work.
Movie maker and artist Joseph Petcka believes that Falun Gong practitioners are passing on a positive message to society. He said that Falun Gong's principles of Truthfulness-Compassion-Forbearance are important for everyone.
Joseph wondered how those who are against these principles and persecute Falun Gong in China can sleep at night.
Joseph Petcka and his girlfriend Mary enjoy the soul stirring music of the Tian Guo Marching Band.
Joseph's girlfriend Mary agreed that it is important for Falun Gong practitioners from all over the world to come to San Francisco to raise awareness in such a peaceful way, as she believes that the public needs to know about the persecution.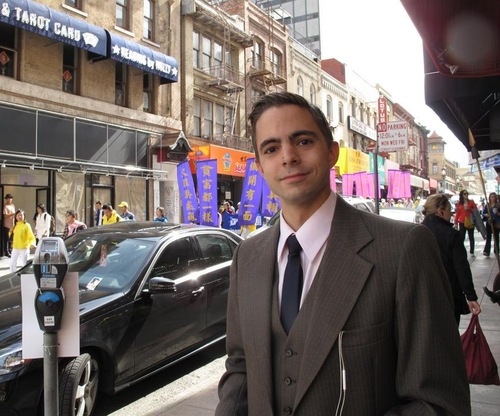 Andrew had never heard about Falun Gong before and applauded the practitioners. He feels that people from different backgrounds standing together for justice is very honorable. "I am glad that the city supports this event," he said.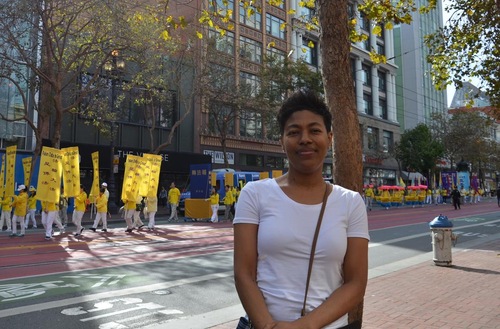 Erica, a local lawyer, thanked practitioners for exposing the forced organ harvesting crimes in China. She said that she would tell her friends about it.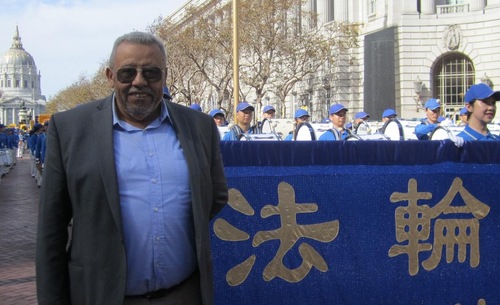 Hussein Alazab, a leader of the Yemen-American community, praised the principle of Truthfulness-Compassion-Forbearance. He learned about Falun Gong the day before the march, and wanted to know more about it. He condemned the persecution, and wants his community to be aware of it too.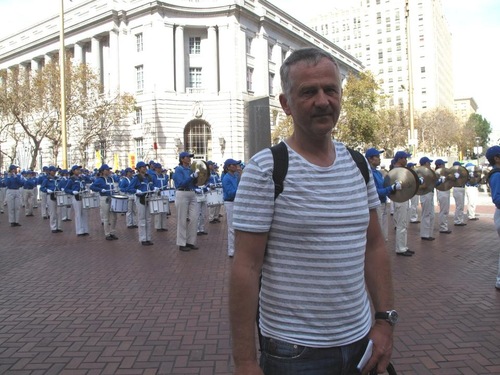 Joh Hanaas, an industrial leadership coach from Germany, often sees Falun Gong events in his hometown of Cologne, where he signed the petition to condemn China's state-sanctioned forced organ harvesting. He praised the practitioners' efforts to end the persecution and felt that today's march passed along a strong message.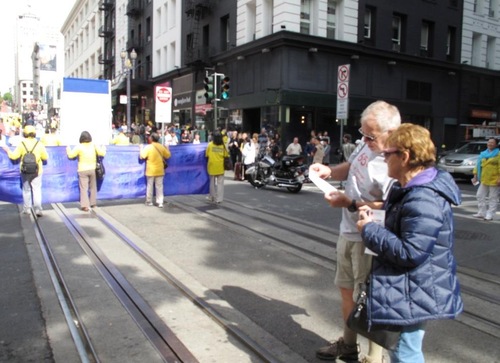 Mark and Yolanda from Canada never heard about Falun Gong and were shocked by the ongoing persecution in China. "It is not human. It is against humanity," Mark said. The couple was glad to see the march and learn about Falun Gong during their short visit to San Francisco.
Chinese People Support Falun Gong
San Francisco is home to a large Chinese population, many of whom have not had the opportunity to learn about Falun Gong apart from the distortions and propaganda from media influenced by the Chinese regime.
Mr. He from Guangdong moved to the Bay Area three months ago. "I am so lucky to see today's march," he said. "It's marvelous. Very exciting. You cannot even think about seeing this in China. I wish that all Chinese people could see this."
Mr. He well knows about the persecution. "The march is a great approach to tell the public about the persecution," he said. "The more people know the facts, the more people will support Falun Gong."
"I believe that good meets with good, and evil meets with karmic retribution. Those who harvest organs from Falun Gong practitioners in China will be punished," said Mr. He. "I will tell my friends about what I've seen today. I will ask them to think about what is evil and what is good."
Mr. Li watched the march for a long time. He said, with tears in his eyes, "Falun Gong has been wronged for a long time. It has been 17 years. Who doesn't know that the persecution is wrong? Who doesn't know that the Chinese government lies? It has been so long, and should end now."
Many Chinese were happy to hear that more than 200,000 Falun Gong practitioners have filed lawsuits against former communist head Jiang Zemin for his role in launching the persecution.
"This march is excellent," Mr. Wang said. "You should let the whole world know about the persecution and Jiang's crimes. I think he is about to fall soon. Bring him to justice. Falun Gong is the hope of China. I fully support you!"
Mr. Huang echoed, "I admire Falun Gong's spirit. They have upheld a peaceful resistance against the persecution for almost 20 years. I support them 100%. I hope that Jiang Zemin will be arrested soon, and the persecution will end soon so that Falun Gong will regain freedom in China."
Related articles in Chinese:http://www.minghui.org/mh/articles/2016/10/23/四千法轮功学员旧金山游行-华人支持-336675.htmlhttp://www.minghui.org/mh/articles/2016/10/23/"有良知的人都会帮助制止活摘器官"(图)-336678.html