San Francisco: Calling for Help to Rescue Family Members Detained in China for Their Belief
October 28, 2016 | By Minghui correspondents Shu Jing and Mu Wenqing
(Minghui.org) "The last time my brother called me was on April 19, 2003. I have not been able to reach him since," recounted Huang Wanqing at a rally in front of the Chinese Consulate in San Francisco on October 25.
This was part of a series of events in San Francisco joined by thousands of Falun Dafa practitioners. More than 4,000 practitioners marched in a grand parade on October 22, and about 6,000 participated in an experience-sharing conference on October 24.
Carrying On an Unfinished Task
Both Wanqing and his younger brother Xiong started to practice Falun Dafa in 1996. Wanqing came to the U.S. one year later to pursue a Ph.D. degree. Wanqing recalled, "When former Chinese leader Jiang Zemin ordered the suppression of Falun Dafa in July 1999, Xiong was studying at a computer training center in Beijing. Like many other practitioners, Xiong went to the government agencies to appeal for Falun Dafa."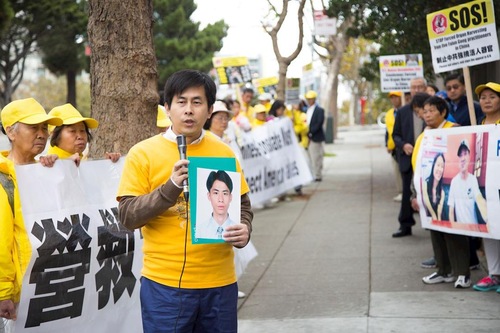 Huang Wanqing has not heard from his brother, Huang Xiong, for 13 years. Xiong was detained and wanted by the police for practicing Falun Dafa.
In February 2000, 22-year-old Xiong was arrested in Beijing, followed by detention at a labor camp with a term of 18 months. After being released from a prison, he found that his registered residence had been canceled, and he was forced to stay away from home to avoid further persecution.
During that period of time, Xiong managed to call Wanqing from time to time. He visited many places and told people about Falun Dafa and the brutal treatment of practitioners by the communist regime. With the computer skills he had learned, Xiong produced more than 5,000 DVDs to tell people the real story of Falun Dafa. Not long after that, he was arrested, but he managed to escape.
In Shanghai, Xiong produced another 5,000 DVDs and was wanted by the police. Nonetheless, he went to Yunnan in southern China and continued his efforts to raise awareness. In addition to producing DVDs, he also tried to get the message out on a larger scale by intercepting television signals. Since his last phone call to Wanqing, not a word has been heard about him for the past 13 years.
"My brother hoped more Chinese people could know what Falun Dafa is, not just blindly believe the propaganda from the Chinese communist regime. I have to carry on his unfinished task," said Wanqing.
With Parents Arrested, Daughters Ask for Help
Wang Xiao, a practitioner in San Francisco, said her entire family practices Falun Dafa, including her parents and younger brother. "Because of their belief, they were all arrested in 2010, kept at a detention center, and tortured." In particular, her father was imprisoned for four years and subjected to forced labor. His license to practice law was also revoked. Her mother was put under house arrest after her release and was often harassed by police. Her brother's workplace was forced to fire him. Their requests to obtain passports to visit her were denied.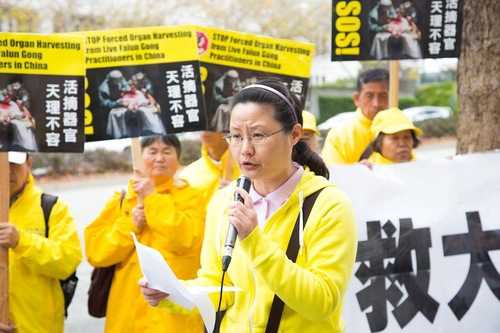 Wang Xiao said her parents and younger brother had all been arrested previously for their belief.
Liu Danqing is a marketing director at a tech firm in the San Francisco Bay Area. Her father, Liu Xuemin, a former employee of Sinochem in Shandong Province, was arrested and detained for 15 months for practicing Falun Dafa. After being arrested again in July 2015, her father was sentenced to prison in August 2016.
"I am standing here hoping to rescue my father. In the meantime, I sincerely hope the international community will pay attention to this and help end this atrocity," said Liu.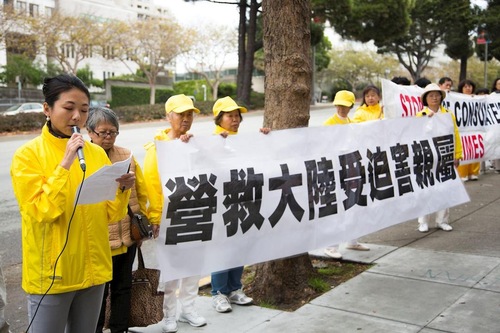 A practitioner speaks out for her parents, who were mistreated in China for practicing Falun Dafa.
A well-known case, Danielle Wang told the story of her family to rally participants via telephone. Her father, Wang Zhiwen, was a coordinator of the former Falun Dafa Research Society. After the persecution started on July 20, 1999, officials arrested him on that day and imprisoned him for 15 years. Even after his release in 2014, Wang was watched and harassed by police 24 hours a day.
"My husband and I managed to have all the paperwork ready this August for my father to visit us in the U.S. But at customs in Guangdong Province, officials destroyed his passport and barred him from traveling outside China. It was a painful experience for us, and so far we have been unable to find a solution." She hopes more people can help her father and many other mistreated Falun Dafa practitioners to regain their freedom.
Passerby: Persecution of Falun Dafa "Horrible"
Emil, a tourist from France, watched the rally with his girlfriend. Upon hearing from the family members of many Falun Dafa practitioners detained for a long time or missing for over 10 years, he said it is hard to imagine something like this happening in modern times. "This [persecution] is horrible. I will check this out on the internet and support you with an online petition."
Omar is a physician. He has read about the Chinese regime's harvesting of organs from living Falun Dafa practitioners imprisoned for their beliefs. "Transplant organs must come from voluntary donors. Otherwise, it should be forbidden," Omar said.
Zara Hayes, a ballet instructor, had not heard about the persecution in China. She said no person and no government has the authority to kill others for their organs. "Whether this happens because of money, power, or greed, it must stop. As human beings, we have to care for each other."