San Francisco: Falun Gong Practitioners March on Golden Gate Bridge
October 28, 2016 | By Minghui correspondents Li Xinci, Zhang Yun, and Tang Xiuming
(Minghui.org) About 1,000 Falun Gong practitioners marched across the Golden Gate Bridge on October 23, one day prior to the annual U.S. Western Falun Dafa Experience Sharing Conference. Starting from Golden Gate Bridge Square, across the bridge to Vista Point in Marin County, the three-mile-long march was to call for support to end the severe suppression of Falun Gong in China.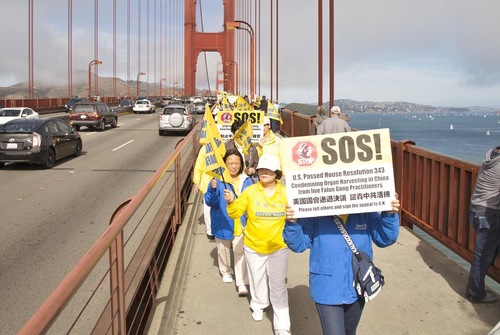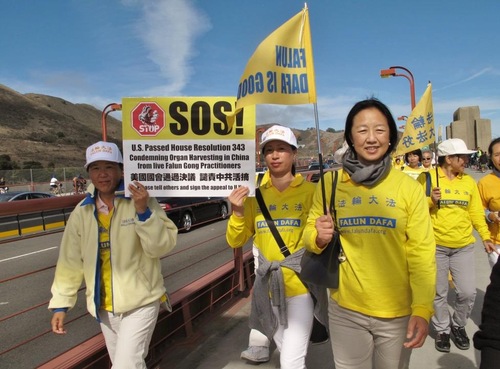 About 1,000 Falun Gong practitioners march across the Golden Gate Bridge on October 23, raising awareness about the persecution in China.
News reporter: "This [Persecution] Is Insane"
Esvim from Santa Monica in Southern California is a news reporter covering political news. She and her assistant Les met practitioners during the march. "I have heard about black market organ trade in China. But such a large-scale operation of forced organ harvesting is even worse—this is insane," she said.
She encouraged practitioners to continue their efforts, saying, "You are doing the right thing. The U.S. government needs to take more action to press China on organ transplant tourism, as well as work with other countries to stop such a crime." She said she would check into this and help spread the information.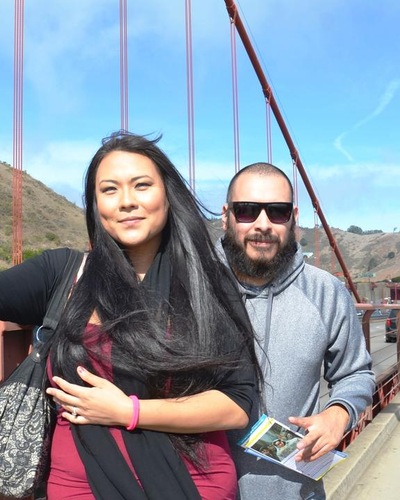 Esvim, a news reporter from Santa Monica, California, and her assistant Les talk with practitioners.
San Francisco resident Adam and his mother were walking on the bridge when they encountered the Falun Gong march. Adam thanked them for bringing the issue of organ harvesting to his attention, "This suddenly opened my eyes."
Adam works for a social media company and says he will let more people know about this. He and his mother said the march was "peaceful" and "beautiful."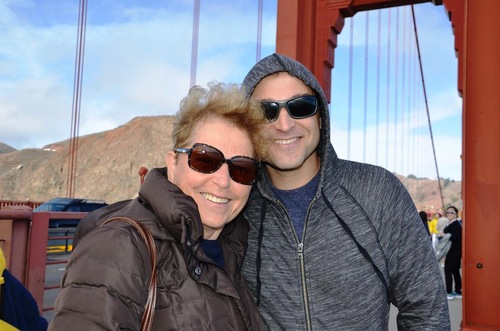 Adam, an employee of a social media company who was visiting the Golden Gate Bridge with his mother Tamar, said the Falun Gong march opened his eyes.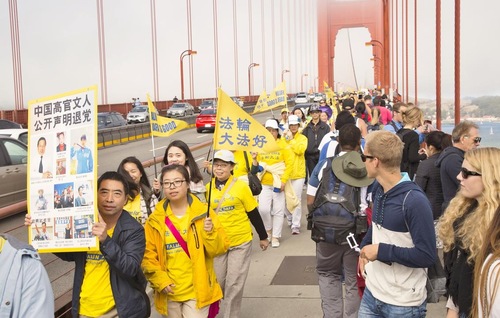 Tourist read Falun Gong posters and signs on the Golden Gate Bridge.
Law Professionals: I Support You
Linda, a retired paralegal from a child protection organization, said she had not heard about forced organ harvesting. "I support you," she said to a practitioner. She pointed to a small yellow flag with words "Falun Dafa is good" that a practitioner was holding, and said, "If I can have such a flag, I will walk with you to stop the persecution."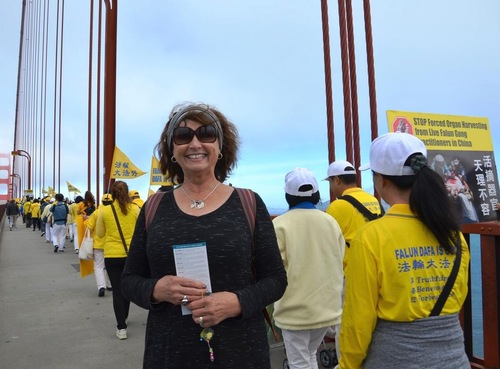 Retired paralegal Linda said she supports Falun Gong.
Lin, a retired Australian lawyer, was visiting the Golden Gate Bridge with her son Nicolas, a college student in the U.S. "We know the communist regime wants to control people's minds and I believe your message is reaching a lot of people today," she said.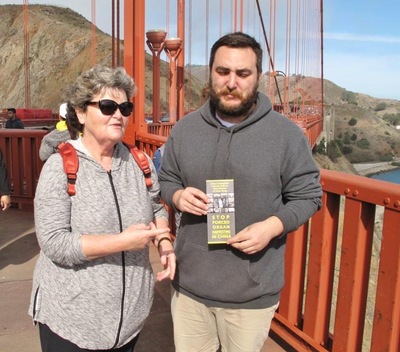 Retired Australian lawyer Lin and her son said the event is very important.
Chinese Tourists: Very Different from China
Mr. Xia, a visitor from Hubei Province in China, was surprised to the large-scale event by Falun Gong practitioners. "It is impossible to see a large group do these exercises and march like this in China."
Another China tourist walked with practitioners for a while. He decided to withdraw his membership in the Chinese communist organizations to take a stance against the regime's brutal crimes and said he would read more about Falun Gong.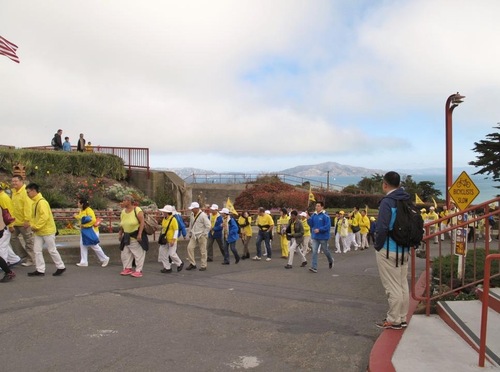 A Chinese man watches the Falun Gong march.