German Passerby: "You Give Me Hope for the Future"
October 23, 2016 | By a German Falun Gong practitioner
(Minghui.org) "You are so young and doing such a meaningful thing," said an older gentleman to Falun Gong practitioners in downtown Hanover recently. "You give me hope for the future," he said.
Practitioners held activities in downtown Hanover on September 17, 2016, to raise awareness of the Chinese communist regime's persecution of Falun Gong. Volunteers from the Falun Gong group have maintained a presence here for over a decade.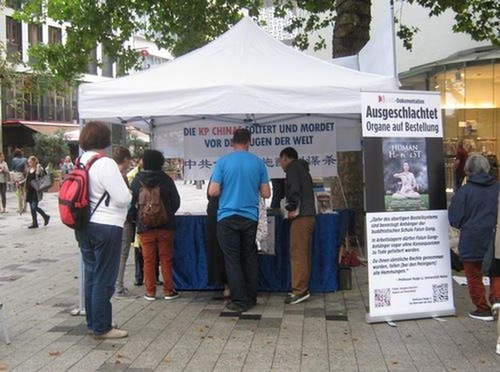 People stop at the Falun Gong booth in downtown Hanover. Next to the booth is a large poster publicizing TV Station 3sat's broadcast of a documentary about live organ harvesting.
Many stopped to sign the petition condemning the persecution and state-sanctioned organ harvesting from living Falun Gong practitioners. The gentleman mentioned above approached the volunteers and said, "I passed by a moment ago but came back to learn what is happening."
A practitioner told him about the persecution and organ harvesting atrocities. The man was appalled and said, "I grew up in the former East Germany. I know about the communist party very well. I wanted to learn theology when I was in school but was not allowed to. I was imprisoned for six years just for that intention."
He really understood how the persecution of Falun Gong came about, because the communist party does not allow personal belief.
A South Korean nurse who has lived in Germany for 14 years also condemned the Party's brutality when she stopped to learn more. "This is inhumane. It is hard to imagine that doctors have become murderers like this."
"This is inhumane!" said a man who was visibly shaken up as he signed the petition to protest live organ harvesting in China.
One woman said she would post the notice about the TV broadcast of the documentary on live organ harvesting on her social network and company website.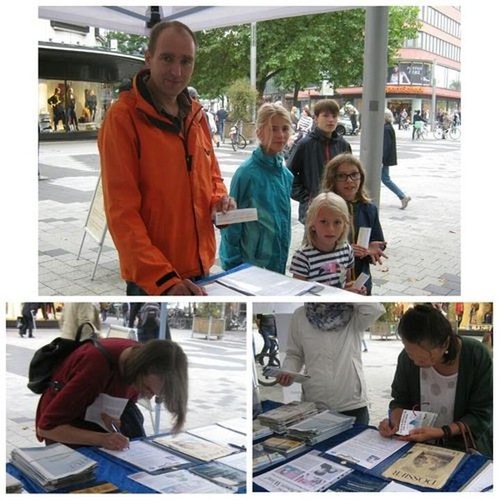 People sign the petition to protest live organ harvesting.