Many Chinese Lawyers Believe Falun Gong Is the Hope of China
October 12, 2016 | By a Falun Gong practitioner in China
(Minghui.org) Many Chinese lawyers learned the facts about Falun Gong when dealing with cases involving it. Some of them believe that Falun Gong is the nation's hope of returning to a civilized society.
Model Worker Wang Yanxin Released after Two-Year Prison Term
Falun Gong practitioner Wang Yanxin was released on March 21, 2016, after being incarcerated for two years.
Her lawyer knows that Ms. Wang is a good person, but was unable to help her, given the communist law system.
Ms. Wang Yanxin used to operate a shop at the Jiamusi Mall. She has been awarded the "best employer" certificates at the city and provincial levels multiple times. She always gave credit to Falun Gong, because it taught her to be of benefit to society.
She won the award of "the national best model worker" in 2004. At the awards ceremony in the Jiamusi Mall, she again gave credit to Falun Gong.
"I follow the Falun Dafa principles of Truthfulness-Compassion-Forbearance," she said during the awards ceremony, "which are instrumental in my being a good person." She was applauded warmly.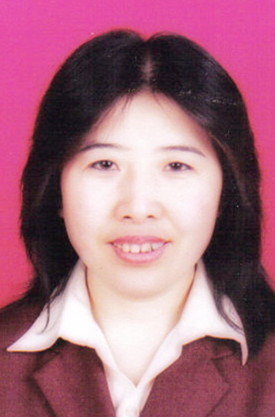 Ms. Wang Yanxin
Eliminating Wrong Impression
Her lawyer Chang Boyang did not understand why Ms. Wang was sentenced to a two- year term.
"I know that Ms. Wang and other Falun Gong practitioners are good people," said Chang. "This is a great group, and they are all kind people. They have a high moral standard and benefit society. Seeing such a group being suppressed, I feel very sad in my heart, and I want to help them."
Lawyer Zhang Weiyu said, "I met quite a few practitioners because of this case. I also learned the truth about this practice, and that it is not as the government has publicized. I had such a wrong impression. After talking to and watching practitioners, I realized that they are all kind and sincere people. This is my deepest impression of them. The government's propaganda is demeaning and misrepresents a group of exceptionally good people."
Practicing Falun Gong Because of Its Upright Principles
Why has Falun Gong attracted so many people? Why do practitioners have such a solid belief in it, and refuse to give up in the face of the persecution?
Practitioner Ms. Chen Dongmei, a former employer in the Tangyuan Farm, was incarcerated in the Qinglongshan Prison. She was a defendant in the same case as Ms. Wang.

Ms. Chen Dongmei
"I used to have a very bad temper," said Ms. Chen to her attorney. "My grandmother said that I was like a tiger and my husband was like a goat. We fought like cats and dogs, and I would not stop until he cried. I treated other people the same way."
After reading Zhuan Falun, the main book of Falun Gong, I realized that I had done much harm to others. I started practicing Falun Gong, not because of healing diseases, but because I found the teachings to be very good. I told myself that I should follow the principles in the book and become a good person.
Although I did not pursue fitness and health, Falun Gong healed many of my illnessesI now treat everyone nicely.
Practitioners Are Good People
My mother-in-law was hospitalized and previously I would not have taken care of her, but now I did not hesitate. The nurse said that I was the only person she ever met who takes care of the mother-in-law.
Besides, she also admitted that she had a wrong impression of Falun Gong and was scared of its practitioners. However, she learned what Falun Gong really is from me.
"Falun Gong practitioners are different than other people," said the nurse. "You not only say what you should do, you actually do it. You are truly good people. Now, I understand that if you have benefited and experienced many amazing changes, physically and mentally, nobody can force you to give it up."
Policewoman Stopped Torturing and Became a Practitioner
Practitioner Ms. Cui Huifang used to be a policewoman in the Jiamusi Labor Camp. She was involved in torturing imprisoned Falun Gong practitioners. However, practitioners' behaviors and speeches changed her and she became a practitioner.

Ms. Cui Huifang
Her boss was scared and angry, had her arrested and she was sentenced to two years in prison by the Qianjin District Court in Jiamusi on November 20, 2015. Jiang Tianyong, a well-known Chinese human rights lawyer, handled her case.
"Falun Gong practitioners follow the principle of Truthfulness-Compassion-Forbearance," said Jiang. "They treat others kindly. They always consider the needs of others. Although they are persecuted, they are the hope of China."
He continued, "Why don't our laws protect their rights? Why do we practice the law? How can this nation have hope?"
Wang Yu, another human rights lawyer, said, "In court, I was told that I cannot defend and talk about the facts of Falun Gong. Why can I not say what Falun Gong really is? There is no law forbidding it. As a lawyer, of course I can say it. Why did the judge set such a rule?"
Human rights lawyer Zhang Weiyu said to those who continue to persecute Falun Gong, "We are worried about you who arrested and sentenced practitioners, including police officers, the procuratorate, and those people who work for the Chinese court system. We are worried about your future. I think it is inevitable that you will be sued when Falun Gong is redressed."