Minghui Report: 950 Cases of Falun Gong Practitioners Being Persecuted for Their Faith Newly Reported in August 2016
October 01, 2016 | By a Minghui correspondent in China
(Minghui.org) According to data compiled by the Minghui website, 950 cases of Falun Gong practitioners persecuted by the Chinese communist regime for their spiritual belief in Falun Gong were newly reported in August 2016.
Due to the communist regime's censorship of information, the persecution of Falun Gong practitioners in China cannot always be reported in a timely manner.
Seven of the 950 Chinese citizens died in August or months prior as a result of abuse in state custody.
The remaining 943 practitioners were either arrested (760) or harassed by the authorities (183) for refusing to renounce Falun Gong. A few of the arrested or harassed practitioners are in their 80s. In addition, the police confiscated a total of 209,876 yuan in cash from 39 practitioners.
Among the 760 arrested practitioners, 8 remain missing as of August 2016. Their families were not informed of their whereabouts after their arrests.
Of those arrested, 231 (30.1%) practitioners were released shortly after; the rest are still in custody. Forty-two practitioners have been sent to brainwashing centers, and another 80 have had their arrests officially approved and are facing possible indictment.
Most of the 943 non-death cases took place this August, which recorded 581 (76.4%) arrests and 117 (63.9%) incidents of harassment. The remaining cases were mostly from the first half of 2016.
The targeted practitioners come from 29 provinces and centrally-controlled municipalities across China. Hebei Province topped the list with 121 (12.8%) practitioners being arrested or harassed, followed by Liaoning (112, 11.9%), Jilin (80, 8.5%), Shandong (74, 7.8%) and Henan (71, 7.5%). Sixteen other provinces saw double-digit cases of persecution, and the remaining 8 provinces logged single-digit cases.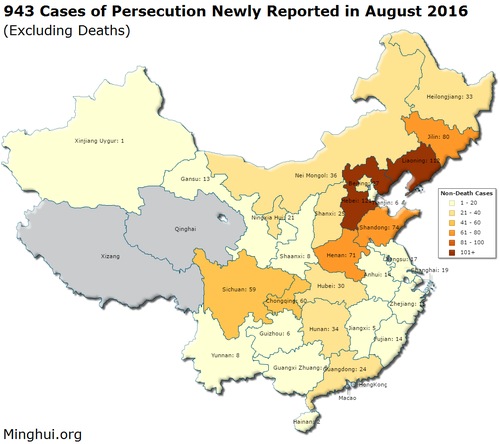 Seven Deaths
Three practitioners died in August as a direct result of long-term imprisonment and torture.
Mr. Wang Guilin from Hunan Province died on August 8, only one month after prison officials suddenly sent him home in the middle of his seven-year imprisonment for not giving up his belief. He was emaciated and unable to eat or drink. The family took him to two hospitals for treatment, but they were told by both doctors to prepare for the worst.
The local authorities forcibly cremated his body without allowing an autopsy. His family suspected that he may have been drugged by prison officials, as Mr. Wang's symptoms were very similar to those of another practitioner, Ms. Yang Shunying, who died two days after being sent home from the same prison. Ms. Yang told her family that she had been injected with an unknown pink-colored drug.
Ms. Cheng Fuhua from Liaoning Province died on August 6, seven months after she was released on medical parole. She was 68.
Ms. Cheng was arrested on June 1, 2015 for talking to people about the persecution of Falun Gong. She was tried without her family's knowledge and later given 3.5 years in prison.
The 68-year-old woman was abused during detention. She developed edema, had frequent fainting episodes, and lost mobility. After she was taken home on medical parole in late January 2016, she was never able to recover.
Mr. Wang Heping from Henan Province passed away on August 14, 2016 at the age of 56. He was repeatedly arrested, detained, imprisoned, and made to do forced labor. He was tortured using various methods, including being tied to a "tiger bench" and being handcuffed behind his back.
In addition, four more death cases prior to August due to the persecution have also been confirmed. Ms. Zhang Chunjie, 59, from Heilongjiang, died on May 19, 2016. Ms. Lei Yinzhi from Hubei passed away on July 12, 2016. Ms. Wang Yan, 47, from Jilin, passed away on July 26, 2016. Ms. Zhao Shuyuan from Xinjiang passed away on July 22.
Police Retaliation Over Criminal Complaint Against Former Communist Party Leader
In August 2016, 26 Falun Gong practitioners were arrested and 57 were harassed for filing criminal complaints against former Communist Party leader Jiang Zemin for ordering the persecution of Falun Gong in July 1999.
Chongqing, Inner Mongolia, and Liaoning Province saw the most severe persecution of practitioners who filed complaints against Jiang.
Some police forced the practitioners to sign statements "admitting" that their complaints against Jiang were false accusations or to give up practicing Falun Gong. If the practitioners refused, they would be arrested, sent to brainwashing centers, or even sentenced.
Mr. Su Dafeng, a teacher in Xinmin, Liaoning Province, was arrested on August 11, 2016. The police broke into and ransacked his home. After finding an electronic copy of his criminal complaint against Jiang Zemin in his computer, the police submitted his case to the procuratorate. His arrest has been formally approved, and he is now facing likely indictment.
Arrests in August
Jilin Man Arrested Twice Within 20 Days
Mr. Hu Shengchen from Yushu, Jilin Province was arrested on August 3 while reading Falun Gong books at home. He was kept in a detention center for 10 days and then released. Ten days later, officers broke into his home and confiscated some Falun Gong materials. He was arrested again and held at Yushu Detention Center.
Shandong Woman's Case Submitted to Procuratorate
Ms. Du Xiuhua from Weifang, Shandong Province was arrested on August 2 at a farmer's market for talking to people about Falun Gong. She was taken to Weifang Detention Center. When her family went to the police department and demanded her release, their request was denied, and they were told that her case had already been submitted to the procuratorate.
According to information obtained by Minghui.org, practitioners held at Weifang Detention Center are forced to package garbage bags for export. The guards frequently searched their rooms and forced them to strip naked to check whether they possessed Falun Gong-related materials.
Elderly Man Brutalized by Police
Mr. Li Maitun was arrested in Zaozhuang, Shandong Province on August 2, after being reported to police for talking to locals about Falun Gong.
The elderly man, nearly 70, was brutally beaten during police interrogation. After he refused to renounce Falun Gong, he was taken to a restroom. Two officers, one of them a deputy chief of the police station, rolled their hard leather shoes back and forth against his thighs.
Mr. Li screamed in pain, but the deputy chief exclaimed, "I don't care even if you die! At most, we'll just give your family a bit of compensation!"
Mr. Li is being held at Taierzhuang Detention Center.
7,000 Yuan Confiscated from Practitioners' Homes
Ms. Cao Shuyun from Yi'an County, Heilongjiang Province was followed and later arrested by police on August 8 for distributing Falun Gong materials. The police ransacked her home and took around 7,000 yuan in cash marked with messages about the persecution of Falun Gong in China.
Ms. Cao's 18-year-old granddaughter was at home alone during the police raid. Upon finding that she had cash with printed messages about Falun Gong in her wallet, officers also took her to the police station. Although she was taken back home by her father in the evening, the teenage girl was badly frightened and kept crying. Ms. Cao was later transferred to Qiqihar Detention Center.
Zhejiang Woman Transferred from Detention Center to Brainwashing Center
Ms. Gu Degen, 63, from Shangyu, Shaoxing, was reported to police for passing out informational flyers about Falun Gong and the persecution. The police arrested her at her home in the evening of August 8 and threw her into Shangyu Development District Detention Center. They told Ms. Gu's family that they would release her on August 21.
However, when the family went to the detention center in the early morning on August 21, they were told that Ms. Gu had been transferred to Shaoxing Brainwashing Center, where the police intended to keep her for at least another month.
Harassment and Home Ransacking
Well-Known Practitioner's Passport Revoked at the Border
Among those Falun Gong practitioners who were harassed in August, one notable case was Mr. Wang Zhiwen, whose passport was destroyed at Chinese border before he could go to the U.S. to reunite with his daughter.
Mr. Wang was a coordinator of the former Falun Dafa Research Society in China. He was sentenced to 16 years in prison shortly after the persecution of Falun Gong began in July 1999.
Mr. Wang was released from prison in 2014 and has since been under constant police surveillance. His daughter, Danielle Wang, returned to China from the U.S. in July, in an attempt to rescue him. After two weeks of hard effort, Danielle and her husband Jeff Nenarella secured a passport and visa for Mr. Wang. But just before they were about to leave China on August 6, Mr. Wang was stopped by customs officers at the airport, who destroyed his passport.
Danielle and Jeff returned to the U.S. empty-handed.
After 12 Years of Imprisonment, Heilongjiang Woman Still Frequently Harassed and Has Home Ransacked by Police
In a similar case, 62-year-old Ms. Li Yushu was also constantly harassed by police and saw her home ransacked after she was released in May 2014 after 12 years of imprisonment and torture.
In the nearly two and a half years since her release, officers have ransacked her home more than 10 times. The latest incident happened on August 26: the police suspected that she put up a sign saying "Falun Dafa is good," knocked on her door, ransacked her home, and threatened her not to post the signs.
Police Visit Practitioners with "Transformation Questionnaire"
Ms. Peng Chunliang, in her 80s, received two unexpected visitors from the local police station and neighborhood community on August 15, each with a questionnaire in hand for Falun Gong practitioners who were forced to sign renunciation statements giving up the practice. When she refused to cooperate, they filled in the form in her place and asked for her cell phone number.
Two other practitioners in the same district were also harassed by police and neighborhood community staff on the same day.