Strong Support in Hebei Province for Releasing Falun Gong Practitioners and Prosecuting Former Chinese Dictator
January 06, 2016 | By Xinhu
(Minghui.org) Hebei Province is one of the provinces in China where the persecution of Falun Gong has been especially severe over the past 16 years, due to its close proximity to Beijing, China's capital. Today, more and more civilians in Hebei who have learned the facts behind the persecution, are choosing to stand up and show their support for Falun Gong.
An increasing number of practitioners in Hebei and their families, who suffered a great deal during the persecution, have filed criminal complaints against former Chinese dictator Jiang Zemin, who single-handedly started the persecution.
Petitions Support Release of Illegally Detained Practitioners
The police raided a conference, where over forty practitioners were sharing their experiences in the practice, in August 2014. Nine practitioners were arrested as a result. After the news got out, over 4,300 civilians in Cangzhou and Wuqing signed a petition in May and June 2015 alone, calling for the release of all the illegally-detained practitioners.
One woman, after learning that nine practitioners were incarcerated for their belief, signed the petition and also on behalf of her husband, "He's a good man. I'm sure he would like to save other good men."
A man in his forties decisively agreed to quit the Chinese Communist Party and its affiliated organizations after a practitioner told him the facts of the persecution. When he was told that nine local practitioners were detained, he signed the petition demanding their release without hesitation.
A woman, whose neighbor across the street was a practitioner, was told about the arrests, and said, "I am willing to sign my name on the petition, for I know that practitioners are all good people. I am not afraid that the authorities will come and talk to me. I am just helping good people."
Petitions to Stop Organ Harvesting from Living Practitioners
The Chinese regime, shortly after the persecution started, began harvesting organs from living practitioners who were illegally incarcerated. After these secret operations were exposed, many people abhorred the crime and wanted it to stop. According to the Minghui website's continuing statistics, as of June of this year, over 16,484 signatures have been collected in the areas of Zhangjiakou, Tangshan, Baoding, and Qinhuangdao, demanding that the authorities stop the organ harvesting.
One young man who signed the petition said, "Falun Gong practitioners did nothing wrong by practicing Truthfulness-Compassion-Forbearance. Those who stole their organs are not human."
Five people in Zhangjiakou read the Falun Gong literature and all signed the petition opposing organ harvesting. One of them said, "Jiang Zemin did so many bad things, and put this country and its people in jeopardy. I want to side with justice."
Supporting Falun Gong Practitioners and Suing Jiang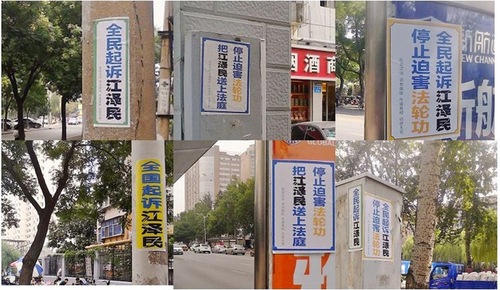 Posters bearing messages of bringing Jiang Zemin to justice and stopping the persecution of Falun Gong can be seen everywhere in Zhangjiakou City, Hebei Province.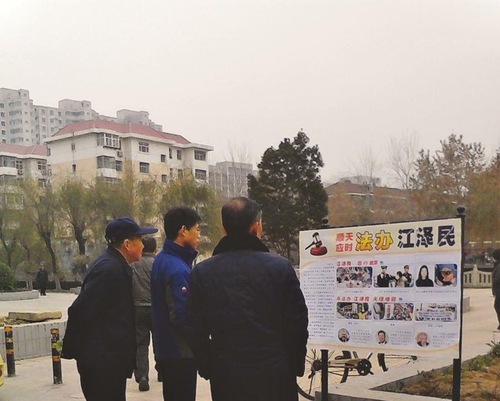 People in Shijiazhuang City read information about suing Jiang on a display board.
According to information on the Minghui website, in Hebei Province alone, 463 Falun Gong practitioners have died as a result of the persecution. Falun Gong practitioners began filing lawsuits against Jiang Zemin in May of this year, for their losses and suffering due to the persecution. So far over 200,000 practitioners and their families have submitted criminal complaints to China's Supreme People's Procuratorate demanding that Jiang be prosecuted for his crimes. In the past six months in Tangshan alone, over 57,000 civilians have signed a petition supporting the lawsuits.
Between October and December 2015, 1,283 people in Zhangjiakou and vicinity have signed a petition asking the country to prosecute Jiang and his regime for killing Falun Gong practitioners for their organs. Over 1,200 people in Baoding signed a petition asking the same.