Hong Kong Practitioners Wish Founder of Falun Gong a Happy New Year
(Minghui.org) Falun Gong practitioners in Hong Kong showed their appreciation for the founder of Falun Gong on New Year's day by forming giant Chinese characters reading "Happy New Year, Master Li" at Edinburgh Place. The practitioners' New Year celebration also included a large-scale exercise demonstration and a parade.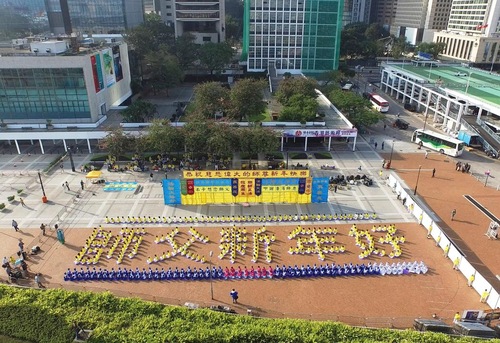 Practitioners wish Master Li Hongzhi a happy New Year with a large-scale character formation at Edinburgh Place on New Year's Day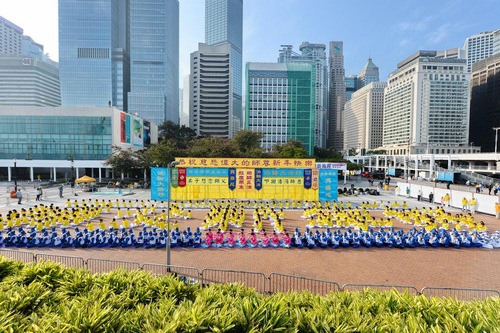 Falun Gong exercise demonstration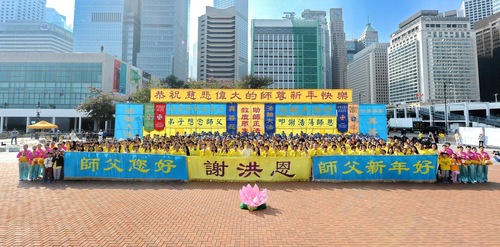 Sending New Year's greetings to Master Li Hongzhi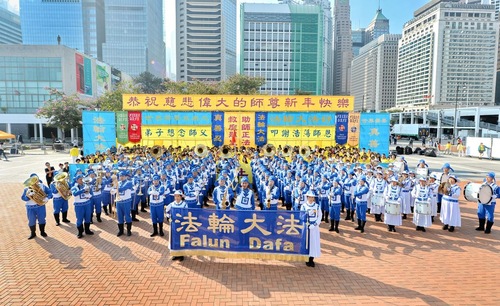 The Divine Land Marching Band leads the parade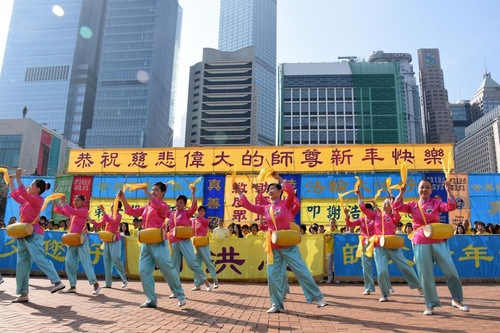 Practitioners perform on waist drums at the celebration before the parade
Several practitioners shared their stories of how they have benefited from practicing Falun Gong.
Ms. Lin, who immigrated from Mainland China last year, attended the Falun Gong event for the first time. She was excited to be a part of it. "I am glad to have a chance to express my appreciation to Master Li Hongzhi in public. Happy New Year, Master," she said.
"I was a sickly person since I was 10," Ms. Lin shared. "I had a liver problem and chronic insomnia, and no doctors in Guangzhou were able to help me. In 2007, a friend of mine recommended the book Zhuan Falun to me. I loved the teachings in the book, and decided to cultivate Falun Gong. Three months later, I was energized, and was able to stop taking medication."
Ms. Chen, 51, moved to Hong Kong from Sichuan Province in 1989. She had heard about Falun Gong before, but never thought that she would practice it until 2013, when she was diagnosed with brain and stomach cancer.
"The doctors said there was absolutely no hope. A friend from Mainland China taught me the Falun Gong exercises and lent me the book Zhuan Falun. After doing the exercises, I threw up and had diarrhea, as described in the book—my body was being purified. That night, I was able to sleep soundly. It was the first time in more than a decade that I didn't suffer from insomnia."
Ms. Chen said, "My life was renewed by Master Li and Falun Gong. No language can express my gratefulness. I wish Master Li a Happy New Year, and I hope that he can go back to China in the near future."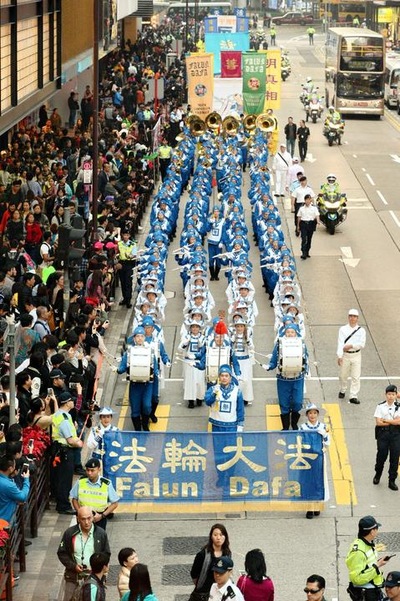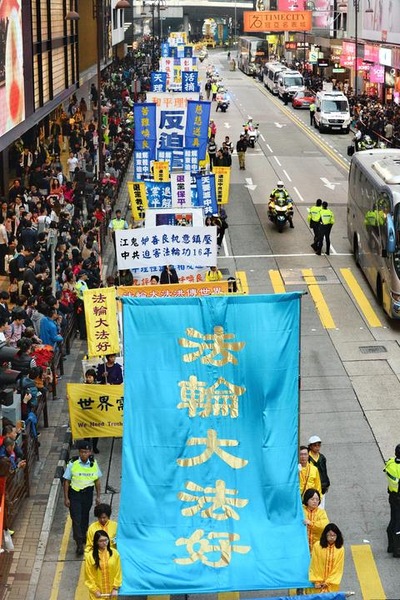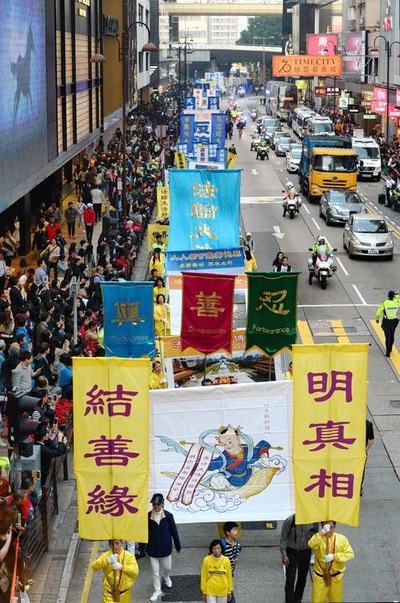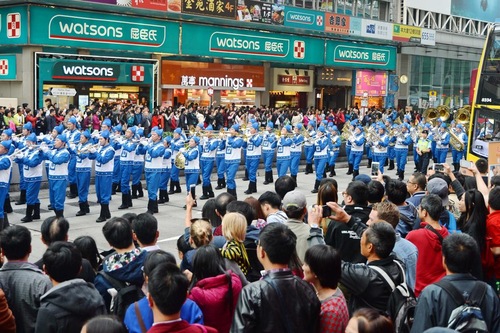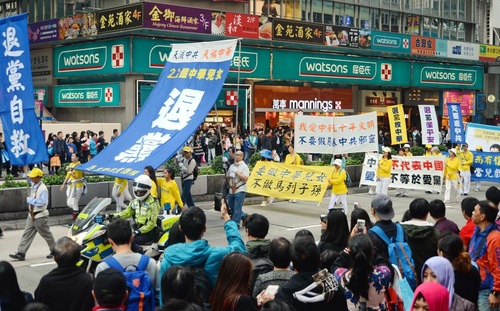 Falun Gong parade in downtown Hong Kong
The parade stepped off at 2 p.m. from Cheung Sha Wan, winding through Mong Kok and Tsim Sha Tsui, the busiest districts in town, and ending at Star Ferry Pier.
Many Chinese tourists were happy to see the parade and commended the freedom enjoyed in Hong Kong.
Mr. Guo from China, said, "I've been to Hong Kong many times, but this is my first time seeing a Falun Gong parade. I feel lucky—this is impossible to see in China." Mr. Guo took some informational materials from practitioners, commenting that he wanted to learn more about Falun Gong.