Melbourne, Australia: Falun Gong Practitioners Participate in Australia Day Parade
January 31, 2016 | By a Minghui correspondent from Melbourne
(Minghui.org) The annual Australia Day parade was held in downtown Melbourne on the morning of January 26, 2016. The local Falun Dafa Association was invited to participate. The Divine Land Marching Band, consisting of Falun Gong practitioners with blue and white costumes, were eye-catching in the parade, which took place on a nice day with clear skies.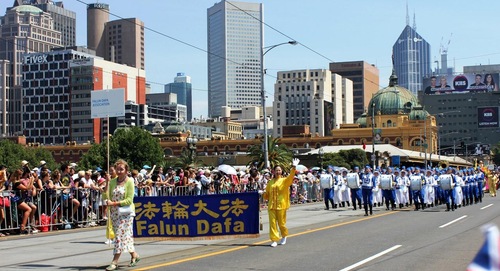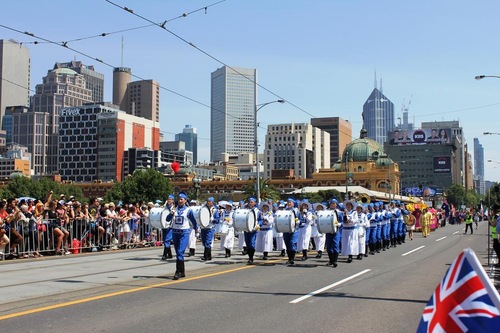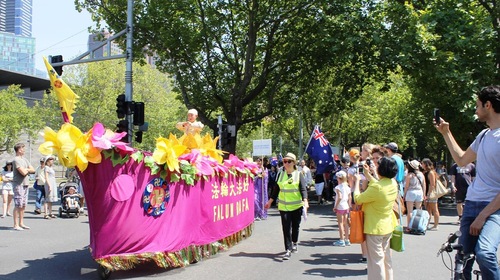 Falun Gong practitioners participate in the annual Australia Day Parade in downtown Melbourne. Spectators were impressed and applauded warmly.
The band was in good order and high spirits as they performed their music, which touched the spectators. Following the band were Falun Gong practitioners demonstrating the exercises, and well-decorated lotus flower float. The Falun Gong procession won acclaim and applause, and many spectators took photos and videos.
The hosting organization provided audio equipment along the parade path so that spectators along the route could clearly hear the host's introduction of the procession as it passed by the main viewing stage. The host introduced the Falun Gong procession by saying, "Falun Dafa is a practice based on Truthfulness-Compassion-Forbearance. There are practice sites in Victoria and other places in Australia. It has spread to over 100 countries. As you may have seen or heard, the Divine Land Marching Band is composed of Falun Gong practitioners. Thank you Falun Dafa!"
"I am moved beyond words."
Giuseppe from Italy said excitedly after watching the band performance, "Though there are several bands in the parade, the Divine Land Marching Band impressed me the most. I am moved beyond words." He praised that the performers and the melodious music. He said, "If everyone followed Truthfulness-Compassion-Forbearance, the world would be peaceful. I thank the band for the nice performance."
Mr. Liu, who immigrated to Australia, said, "The Chinese tourists must be proud, as there is no such splendid performance in China."
Engineer Adrian, from St. Kilda, and his wife brought their children to watch the parade. Adrian commended the band, saying, "I felt positive energy."
Claire and Keith enjoyed the Falun Gong performance. Keith said, "The Falun Gong procession was the best in the parade. Every part was wonderful."
Claire said she liked the colors of the Falun Gong procession and the band performance. She said she felt strong energy.
"The Chinese Communist Party Should Disappear."
Sandy Sunnessy from South Africa said, "The performance of the Divine Land Marching Band was so graceful. I am happy to see that the Chinese community participates in the parade." He said that the Chinese Communist Party (CCP) was afraid of democracy, and depriving people of their rights is awful. He found it despicable that the CCP's live organ harvesting occurs in modern civilized society. He said that the CCP should disappear.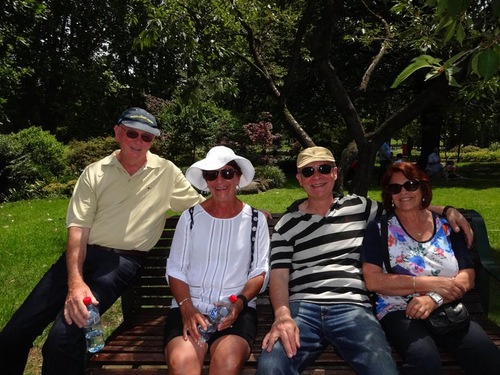 Myrin (second from left) from Canberra, and her friends
Myrin from Canberra supports Falun Gong practitioners and their efforts in seeking freedom of belief. She said, "The band performance was great. Respecting human rights is a basic value. Everyone should have the freedom of belief. Falun Gong practitioners are brave, and conform to Australian values. I wish them success!"