Falun Gong Practitioners Participate in Australia Day Parade in South Australia
January 31, 2016 | By a Falun Gong practitioner in South Australia
(Minghui.org) Falun Gong practitioners in South Australia participated in the Australia Day Parade in Adelaide, the capital of South Australia, on January 26, 2016. Close to 40,000 people of diverse ethnic backgrounds gathered along King William Street in Elder Park to celebrate the national Australia Day holiday. Parade spectators gave the Falun Gong procession a warm reception. Many Chinese-Australians said they were very proud to see Falun Gong presenting the beauty of Chinese culture.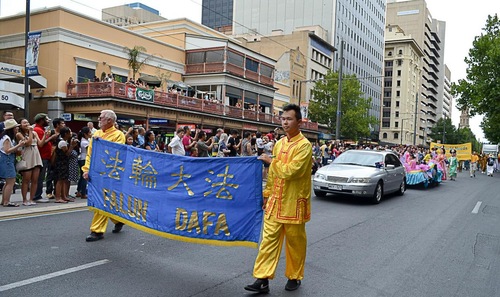 Falun Gong practitioners in South Australia participate in the Australia Day Parade in Adelaide.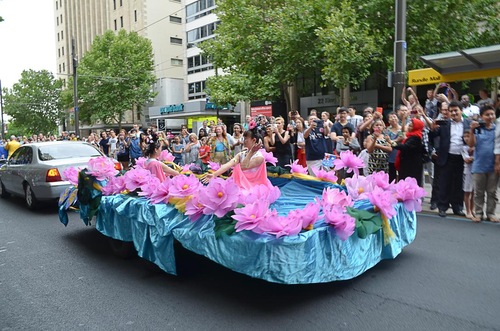 Falun Gong practitioners demonstrate Falun Gong exercises on a float.
On this beautiful sunny day, more than 150 groups, comprised of 4,000 people, showcased their cultures with floats, music, and dance performances in colorful costumes.
The Falun Gong procession introduced the Chinese traditional cultivation practice in high spirits. Parade spectators were fascinated by the lotus fairies float, traditional Chinese costumes, and banners reading "The World Needs Truthfulness-Compassion-Forbearance." They rewarded practitioners with waves of warm applause and cheers, and some followed, taking photographs.
The parade host introduced Falun Gong as an ancient Chinese spiritual cultivation of Truthfulness-Compassion-Forbearance, and that the lotus flowers symbolized purity, elegance, and aloofness.
Many Chinese Australians waved warmly at the Falun Gong practitioners with smiles. They looked proud and appreciative. A couple of young Chinese cried out, "Falun Dafa! Falun Dafa is good!" They gave the practitioners thumbs-up.
Mr. Gao Shan and Mr. Hua, who came to Australia from China, said excitedly, "It looks extraordinary!" They really liked the lotus fairies meditation, which best represented the traditional Chinese culture of cultivation.
Mr. Dong, who has lived in Australia for years, said, "The Falun Dafa procession is the most outstanding! It's elegant! Their costumes are classic, colorful, and meaningful!"
Ms. Wan from Jiangxi Province, China, took her children to see the parade. She appreciated the principles of Truthfulness-Compassion-Forbearance, and was happy to see Falun Gong practitioners enjoy their freedom in Australia. She said, "You can live with freedom, freedom of belief, in this society!"