A Year in Beijing: 609 Arrested, 39 Sentenced to Prison for Their Faith in 2015
January 23, 2016 | By a Minghui correspondent in Beijing, China
(Minghui.org) Police in Beijing arrested 609 Falun Gong practitioners and sent another 47 to brainwashing centers in 2015 for refusing to renounce their faith.
Most of the practitioners arrested have been released, but some still remain in detention. The authorities have formally approved 28 of the arrests; among this group, 8 practitioners were sentenced to prison, while the rest are either facing trial or awaiting verdicts.
The number of arrests increased significantly in the second half of the year, which accounted for 417 cases, compared to 192 in the first half.
This increase in arrests coincided with practitioners' filing of criminal complaints against Jiang Zemin beginning in May, calling for China's highest court to prosecute the former Chinese Communist Party leader, who initiated the persecution of Falun Gong.
Between June and December, there were 256 arrests attributed to local officials' retaliation for practitioners' complaints against Jiang. These accounted for 56% of all practitioner arrests in that period.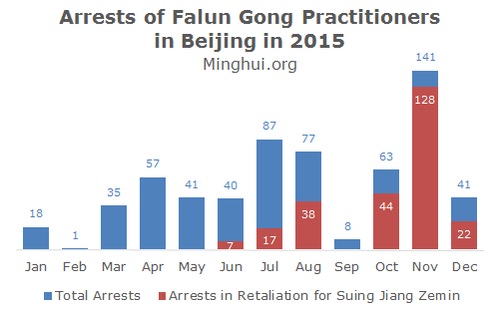 Figure 1: Arrests of Falun Gong practitioners in Beijing in 2015
A total of 55 practitioners were tried in 2015, including those arrested in the previous year. Among them, 32 were sentenced to prison, with terms ranging from 6 months to 8 years. In addition, 7 practitioners who were tried prior to 2015 received their prison sentences in 2015.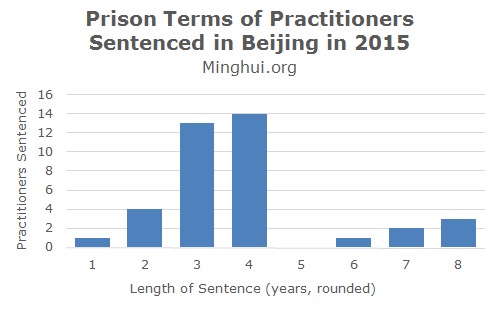 Figure 2: Breakdown of prison terms
Below are the 39 practitioners who were sentenced in 2015, with their prison terms:Ms. Wang Lei (王磊): 8 yearsMr. Wang Jianfu (王建福): 7.5 yearsMs. Wang Xiuying (王秀英): 7.5 yearsMs. Yang Xiuying (杨秋英): 7 yearsMs. Wang Xiufeng (王秀凤): 7 yearsMs. Feng Yumei (冯玉梅): 5.5 yearsMr. Zhang Yuhua (张玉华): 4 yearsMs. Meng Jiying (孟继英): 4 yearsMs. Du Wenge (杜文革): 4 yearsMr. Wang Fenglong (王凤龙): 4 yearsMs. Zhang Jiguo (张继国): 4 yearsMs. Gao Xiurong (高秀荣): 4 yearsMr. Zhang Hongwei (张宏伟): 4 yearsMs. Du Guiqin (杜桂琴): 4 yearsMs. Xu Dafang (徐大方): 3.5 yearsMs. Zhang Shuhui (张书慧): 3.5 yearsMr. Lv Shangchun (吕尚春): 3.5 yearsMr. Guan Yingshan (关应山): 3.5 yearsMr. Zhang Mintao (张敏涛): 3.5 yearsMs. Liu Guirong (刘桂荣): 3.5 yearsMs. Meng Zhanrong (孟占荣): 3 yearsMs. Wang Xiaoping (王小萍): 3 yearsMr. Li Hongshan (李洪山): 3 yearsMr. Yan Kezhong (闫科忠): 3 yearsMr. Hu Qinggui (胡庆贵): 3 yearsMs. Li Shuangli (李双丽): 3 yearsMs. Li Yan (李艳): 3 yearsMs. Zhao Jinghua (赵静华): 3 yearsMs. Guo Baohua (郭宝花): 3 yearsMs. Xu Kun (许鲲): 3 yearsMr. Wang Ping'an (王平安): 3 yearsMs. An Xiuzhi (安秀芝): 3 yearsMs. Cao Yue'e (曹月娥): 3 yearsMr. Jiang Xiandong (江显东): 2 yearsMr. Ma Zhanquan (马占全): 2 yearsMs. Jia Fengzhi (贾凤芝): 2 yearsMs. Xu Xiufen (许秀芬): 2 yearsMr. Ma Jian (马健): 6 monthsMs. Zhang Xiufen (张秀芬): term unknown
Previous Torture Victim Sentenced to 8 Years
Ms. Wang Lei, 50, was sentenced to eight years in prison on November 24, despite having been diagnosed with a mental disorder after being shocked with electric batons by labor camp guards in 2001. She later recovered after doing the Falun Gong exercises and studying its books.
In 2010, her mental state deteriorated after police arrested her and injected her with a large quantity of unknown substances. She managed to return to normal some time after her release, only to relapse following her arrest in 2015 and subsequent beatings by guards.
Related report: Woman Suffers Relapse of Torture-induced Psychosis, Still Tried and Sentenced to 8 Years
Arrested for Giving Out Calendars
Mr. Wang Jianfu was sentenced to 7 years and 6 months in prison on November 21. Including the eight years he had served from 2002 to 2009, he would spend a total of 15.5 years in prison. His latest arrest came after he distributed calendars containing information about the persecution of Falun Gong by the communist regime.
Related report: Three Falun Gong Practitioners Arrested for Giving People Calendars
Perpetrators Turning Around
As practitioners continue to explain the persecution, more agents who had been compelled by the state to arrest and abuse practitioners have chosen to stop participating. Many police officers, when going to "talk" to practitioners, said that they had been ordered to do so and no longer bothered practitioners.
For example, three officers went to a practitioner's home in October to verify that he had submitted a criminal complaint against Jiang Zemin. The practitioner told them that it was within his rights as a citizen to file the complaint. One officer said, "We're just following orders. Practice [Falun Gong] at home if it's good for you."
Two practitioners were arrested in August for putting up posters calling to prosecute Jiang Zemin. One practitioner told a policeman, "I have to practice Falun Gong. I would have died already if I hadn't practiced it." The officer simply said, "Go home, then."
Background
In 1999, Jiang Zemin, as head of the Chinese Communist Party, overrode other Politburo standing committee members and launched the violent suppression of Falun Gong.
The persecution has led to the deaths of many Falun Gong practitioners in the past 16 years. More have been tortured for their belief and even killed for their organs. Jiang Zemin is directly responsible for the inception and continuation of the brutal persecution.
Under his personal direction, the Chinese Communist Party established an extralegal security organ, the "610 Office," on June 10, 1999. The organization overrides police forces and the judicial system in carrying out Jiang's directive regarding Falun Gong: to ruin their reputations, cut off their financial resources, and destroy them physically.
Chinese law allows for citizens to be plaintiffs in criminal cases, and many practitioners are now exercising that right to file criminal complaints against the former dictator.
Related report in Chinese: 2015年北京法轮功学员被迫害综述(下)