Teaching Falun Gong on New Zealand's Remote West Coast
(Minghui.org) The West Coast of New Zealand's South Island is a secluded haven known for its mountainous subtropical bushland, rugged coastline, and crystal-clear rivers and streams.
Due to its remote location, many locals there had never heard of Falun Gong. Most of the New Zealand Falun Gong practitioners live in the larger cities, such as Auckland, Wellington, and Christchurch, far away from the West Coast.
A practitioner from Australia and another from New Zealand decided to introduce Falun Gong to these communities by hosting meditation classes in the towns of Westport and Karamea. The pair, who have practiced for over ten years, are passionate about introducing the practice to the public.
One of them said, "We've done this the past two years in different remote areas. We had a great turnout, so we are very inspired to continue creating these opportunities for people who may not have heard of Falun Gong, or had the opportunity to try it."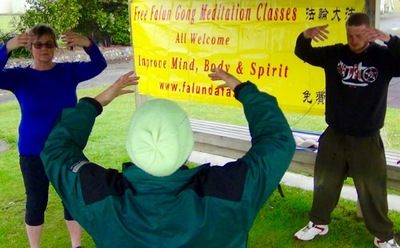 Practitioners teach the Falun Gong exercises in Westport New Zealand
Westport, a former gold mining town, has a population of approximately 5,000. Two local newspapers published stories about the practitioners, which helped the locals understand the practice, and encouraged them to attend the classes.
A young man from Westport rode his bike past the class and was quite intrigued, so he turned around and decided to join in. Within a very short time he felt strong energy, and was happy he stopped to learn about Falun Gong.
The second stop was Karamea, the home of one of New Zealand's most famous walking trails, the Heaphy Track. The Karamea Chronicle carried a full-page article about Falun Gong, encouraging locals to join the classes at the local farmer's market.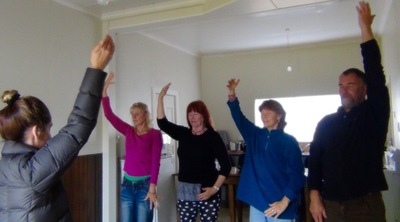 Falun Gong class in Karamea New Zealand
The practitioners had a Q&A session after each class, which gave them an opportunity to talk about the persecution in China. They shared with the locals about how, under communist rule, practitioners are subjected to well-documented human rights violations, including imprisonment, forced labor, torture, and brainwashing.
Craig, a former helicopter pilot from Auckland who now calls Karamea home, heard about the persecution of Falun Gong when he lived in the city, thanks to practitioners' frequent efforts to raise public awareness.
"Everything I've heard about the persecution isn't good, and I can't imagine getting put in prison for meditating. I've also heard about how the Chinese consulates in New Zealand try to prevent Falun Gong practitioners from entering community events."