Taiwan: 23 Keelung City Councilors Support Lawsuits Against Former Dictator Jiang Zemin
September 09, 2015 | By Minghui correspondent Zheng Yuyan in Taiwan
(Minghui.org) In support of global efforts to bring Jiang Zemin, former Chinese Communist Party (CCP) dictator, to justice, 23 councilors in Keelung City openly voiced their support at the last meeting of the 18th Session of the Keelung City Council.
Jiang Zemin created a human rights crisis by ordering the persecution of Falun Gong in 1999. Over the course of the brutal 16-year campaign, practitioners have been subjected to torture and forced organ harvesting while they were still alive.
Chinese law allows for citizens to be plaintiffs in criminal cases, and many Falun Gong practitioners are now exercising that right to file criminal complaints against the former dictator.
The wave of suing Jiang began in May 2015. The latest number shows that over 160,000 Falun Gong practitioners and their family members have filed lawsuits against Jiang.
Councilors Support the Courageous Action
Keelung City councilor Tsai Shih-ying
"I am glad to have this opportunity to sign and report Jiang's crimes, and support such an action," said councilor Tsai Shih-ying. He admired the 160,000 Falun Gong practitioners who chose to stand up and expose the crimes Jiang committed. He hopes that the Supreme Procuratorate will prosecute Jiang.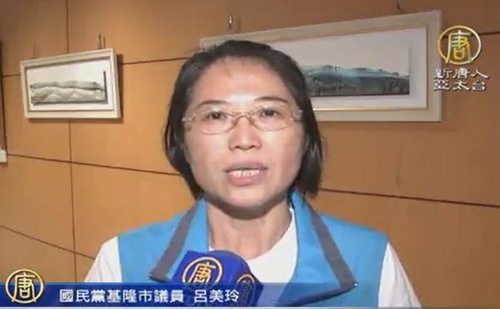 Councilor Lu Mei-ling
Councilor Lu Mei-ling was more than willing to sign and report Jiang's crimes. "For those who committed crimes, we not only have to expose him, but also bring him to justice. It's to set the record straight and protect human rights." She saluted the Falun Gong practitioners who risked their safety to file the lawsuits.
Redressing Falun Gong
Councilor Chang Chin-huang stressed that he truly admired the practitioners who have stood up to press charges against Jiang. "I call upon the Chinese authorities to actively investigate the charges and redress Falun Gong practitioners," said Chang.
"What the Chinese regime is doing (to persecute Falun Gong) is wrong and I'd like to support such an activity (to sign and report Jiang's crimes)," said Councilor Lien En-tien.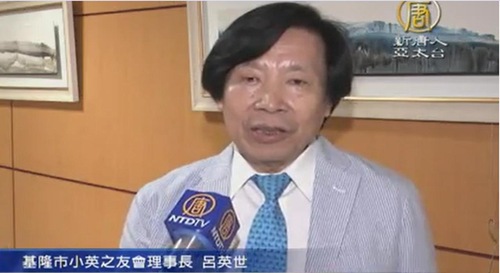 Dr. Lu Ying-shih
Dr. Lu Ying-shih came to the council meeting to sign the criminal report form. He is highly concerned about the organ harvesting from living Falun Gong practitioners in China.
"Harvesting organs from living people is a severe human rights violation," Lu Shih-ying said. "As a medical doctor, I think that it's a terrible violation of a person's body. I admire those courageous practitioners who chose to stand up."
Stop the Persecution and Bring Back the Universal Values
Besides supporting the lawsuit, the councilors called upon the Chinese government to value human rights and universal values and stop the persecution.
Councilor Chen Tung-tsai calls on Beijing to treat Faun Gong practitioners with kindness, "Everyone in the world is watching."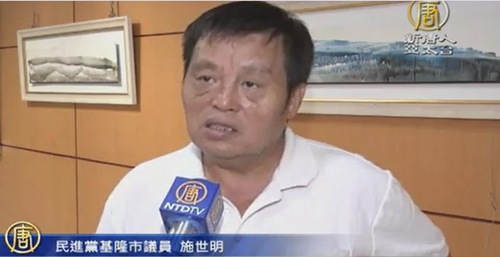 Councilor Shih Shih-ming calls on the Chinese communist regime to stop the persecution of Falun Gong.
When talked about the persecution and organ harvesting from living practitioners, councilor Shih Shih-ming said that people in Taiwan must speak up and tell the CCP to stop immediately. "Taiwan must speak up for those who are suffering in the persecution and demand the Chinese communist regime end these heinous acts."