Minghui Summer Camp in France: A Productive and Rewarding Experience
September 04, 2015 | By a Falun Gong practitioner in France
(Minghui.org) Gaëlle's mother has a large farmhouse in Bretagne in Western France. With large lawns and gardens, it has many fruits and vegetables such as raspberries, lettuce, pumpkins, and tomatoes. Breathing fresh air and hearing the birds chirping, it is an ideal vacation spot.
That is where over 30 young Falun Dafa practitioners spent their Minghui Summer Camp in late August. With most of them from France, these European practitioners learned classical Chinese dance, as well as Chinese culture. They experienced the benefits and varied activities of living the farm life, and came to understand how to be better cultivators.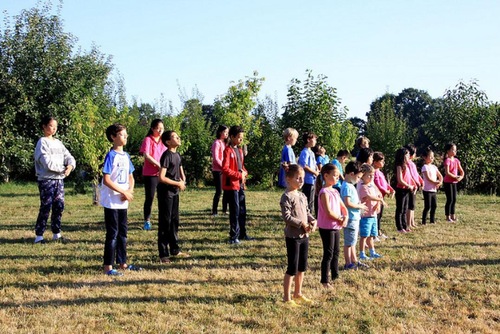 Group exercises at Minghui Summer Camp in Bretagne, France
Group picture of campers and two counselors
"We Are One Team"
With ages ranging from three and sixteen, these campers were grouped by age with the names of: Unicorn, Phoenix, Lotus, and Dragon. Led by experienced counselors such as Laila and Michael, they were able to learn classical Chinese dance with two instructors from Fei Tian Academy of the Arts in the United States.
Due to their young ages, campers in the Phoenix group had difficulty concentrating on dancing and many were playing around at the beginning. By the second class, however, they became more interested and learned attentively.
When practicing dancing together with the Dragon group, they received lots of help and encouragement from their older peers, "Good job!" "Keep it up!" "We are one team and we need each other." This way, the campers not only learned basic dance movements, but also about perseverance and working together as a team.
The Fun of Gardening
Many workshops were held at the camp, from Chinese calligraphy, drawing, to Chinese ancient stories mentioned in Zhuan Falun.
In addition, these campers had an opportunity to grow alfalfa in jars. From soaking the seeds to observing germination, the children were checking them every day. After the sprouts came out, it would then turn green.
After the alfalfa was harvested, a dish was prepared from it. As the children were enjoying the dish, they learned the importance of farming and appreciation of hard work.
How to Be a Better Practitioner
Besides reading Falun Dafa books and doing the exercises, these campers also shared their understandings on August 21, the fifth day of their camp life. The topic was: how to be a better practitioner by following the principles of Truthfulness-Compassion-Forbearance.
Laurène talked about her experience of joining the Ride to Freedom, a 3,000-mile bike tour from Los Angeles to Washington D.C. during the summer. "We learned to overcome hardship with righteous thoughts, to improve together in a team environment, and to look inward disciplining ourselves with Falun Dafa principles." She also emphasized the importance of studying Falun Dafa books and telling people about the persecution in China.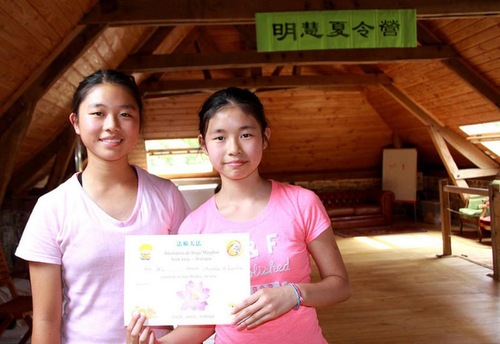 Laurène (left) and her 12-year-old sister Aurélie (right)
Seeing the positive changes on Laurène, her family was also encouraged, said 12-year-old Aurélie. "I also have this strong feeling here in the Minghui Summer Camp that cultivation does not last forever. Like many things in our life—a lot of opportunities just pass us by unless we grasp them."
"There are situations in which we have to make a decision between Falun Dafa and something else. When that happens, my answer is Falun Dafa." said Aurélie.