Police Break into Practitioner's Home and Terrify His Family
(Minghui.org) Police officers climbed over the wall and broke into the home of Falun Gong practitioner Mr. Liu Qing on July 16, 2015. Mr. Liu's 12-year-old daughter was so frightened that she passed out.
Over 20 officers from the Domestic Security Division of the Fuyu City Police Department stormed into Mr. Liu Qing's home at around 8:00 p.m. on July 16, 2015. They entered his bedroom and forced his arms behind his back to take him away. His wife chastised the officers because he was not dressed, so they allowed him to put on his clothes and shoes.
His family tried to prevent the arrest by not unlocking the door or giving the police the key. The officers broke open the door with an ax, forced Mr. Liu into a police vehicle, and left.
Home Ransacked Multiple Times
Several officers stayed behind to ransack the home. Mr. Liu's daughter, who was home on vacation, said, "You broke into our home--you're breaking the law!"
She then passed out. Seeing that she was just unconscious, the police broke a window and escaped.
Agents from the Domestic Security Division arrived soon after and continued to ransack the home. When Mrs. Liu asked them to show her their warrant, they presented a little notebook and a blank sheet of paper with an official stamp on which they noted Mr. Liu's name.
When Ms. Liu's daughter came to, she argued with the officers to prevent them from ransacking the house further, then lost consciousness again.
Her mother made the officers call an ambulance. The young girl was taken to a hospital for emergency care. A doctor on duty called the head of the hospital for permission to transfer the girl to another hospital, because they had given her the maximum dose of medicine and any more would kill her.
While Mrs. Liu accompanied her daughter to the hospital, the police confiscated a computer, 11 cell phones, Mr. Liu's bank deposit certificates, his driver's license, his vehicle registration card, his identification, 200 yuan, and all his Falun Gong books and Falun Gong truth clarifying materials.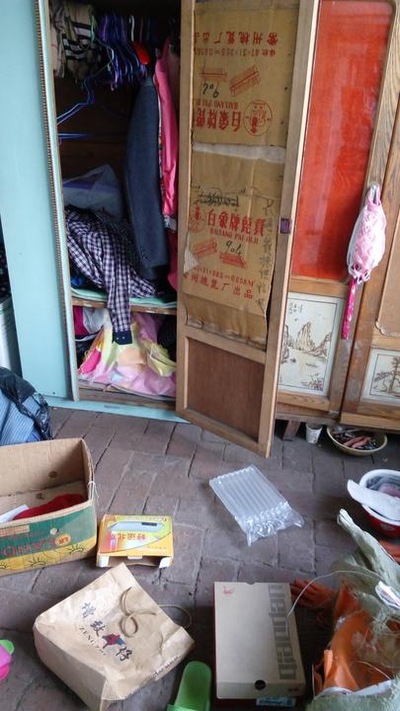 Mr. Liu's home after it was ransacked
Mr. Liu Tortured
An officer from the Criminal Police Division of the Fuyu City Police Department called Mrs. Liu and told her that the husband's arrest was approved.
While Mrs. Liu was with her daughter in the hospital on July 17, 2015, a doctor asked her whether her husband had any allergies. Only then did she realize that her husband was also treated at that hospital. He had convulsions and urinary incontinence.
Mrs. Liu asked the Domestic Security Division for permission to see her husband that day, but chief Song Dongfeng denied the request.
She was told that her husband was taken to the hospital. She asked that he be released on medical parole. Song Dongfeng claimed he didn't have the authority to release him and that only the director of the police department was authorized to approve a medical parole.
Zhang Baozhen, director, and Dong Tiejing, the instructor at the detention center, informed Mr. Liu's wife that her husband was force-fed at the hospital and visits were denied.
On the hospital security monitor she saw that her husband was in handcuffs and very weak before he was taken away.
No further information is available at this time.
Participants in the persecution of Mr. Liu and his family:Fuyu City Police DepartmentLan Keqi (兰克奇), director: +86-13804380800Dong Dongfeng (宋东风), chief of the Domestic Security Division: +86-13943847076