1,528 Mainland Chinese Retaliated Against for Filing Criminal Complaints Against Jiang Zemin
September 26, 2015 | By a Minghui correspondent from China
(Minghui.org) According to data compiled by Minghui.org, between May and August this year, 1,528 plaintiffs from 27 provinces in China were retaliated against for filing criminal complaints against former Communist Party leader Jiang Zemin, who directed the violent suppression of Falun Gong.
Forms of retaliation include arrests, harassment, house raids, and interrogation. In total, 868 were arrested between May and August, and 660 received threatening phone calls or were harassed by police at home during the same period of time.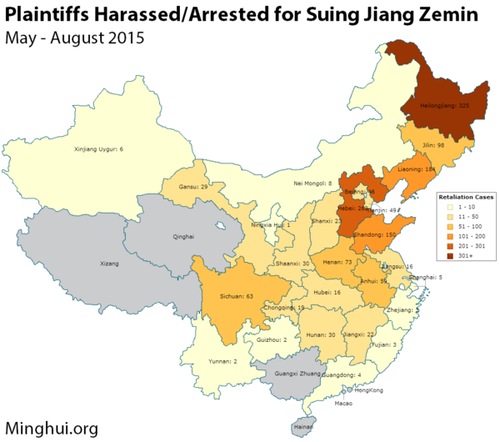 Below are the 12 provinces and centrally-controlled municipalities with the most plaintiffs retaliated against:
Heilongjiang 325Hebei 262Liaoning 184Shandong 150Jilin 98Henan 73Sichuan 63Anhui 59Tianjin 49Beijing 46Hunan 30Shaanxi 30
The retaliation began in May, with 7 residents arrested from Shandong and Gansu provinces. The national total of retaliation cases jumped to 120 in June, 757 in July, and 644 in August.
Those arrested were detained for periods ranging from several hours to days. In house raids, personal belongings including Falun Gong books and materials, computers, printers, cell phones, and cash were confiscated.
Local Authorities Attempt to Stop Lawsuits
Since the end of May, the Minghui website has received copies of more than 160,000 complaint letters against Jiang submitted to the Supreme People's Court and the Supreme People's Procuratorate.
Local authorities in many parts of China resorted to various means in their attempt to stop the ever-rising tide of lawsuits against Jiang.
It was reported that officials from the 610 Office, Political and Legal Affairs Committee, and Domestic Security Division in some regions forced practitioners to sign documents stating they had wrongfully accused Jiang. Some even made practitioners promise not to initiate legal action against Jiang or deny having filed lawsuits against the former dictator.
In some cities and provinces in China, post offices are ordered to retain, destroy, or reject complaint letters regarding Jiang Zemin.
Background
In 1999, Jiang Zemin, as head of the Chinese Communist Party, overrode other Politburo standing committee members and launched the violent suppression of Falun Gong.
The persecution has led to the deaths of many Falun Gong practitioners in the past 16 years. More have been tortured for their belief and even killed for their organs. Jiang Zemin is directly responsible for the inception and continuation of the brutal persecution.
Under his personal direction, the Chinese Communist Party established an extralegal security organ, the "610 Office," on June 10, 1999. The organization overrides police forces and the judicial system in carrying out Jiang's directive regarding Falun Gong: to ruin their reputations, cut off their financial resources, and destroy them physically.
Chinese law allows for citizens to be plaintiffs in criminal cases, and many practitioners are now exercising that right to file criminal complaints against the former dictator.