Western Australian Parliamentary Forum Addresses China Organ Harvesting Atrocities and Lawsuits Against Jiang Zemin
August 04, 2015 | By Minghui correspondent Mu Wenqing
(Minghui.org) A parliamentary forum was recently held in Western Australia, Australia's largest state, discussing organ harvesting from living Falun Gong practitioners in China and the recent lawsuits against Jiang Zemin, the former head of China's communist regime, for persecuting Falun Gong.
Hosted by Peter Abetz, member of the Western Australian Legislative Assembly, this bipartisan discussion included several Australian parliamentary members and their representatives. They included Joe Bullock (Labor Party Senator), along with designated representatives for Dean Smith (Labor Party Senator) and Julie Bishop (Minister for Foreign Affairs and the Deputy Leader of the Liberal Party).
Also among the participants were some members of the Legislative Council and the Legislative Assembly of the Western Australian State Parliament.
David Matas: Investigating Organ Harvesting Atrocities
David Matas, a Canadian human rights lawyer, who was visiting Australia, explained how he and David Kilgour, Secretary of State for Asia-Pacific, investigated forced organ harvesting atrocities in China.
Their findings are detailed in the recent award-winning documentary, "Human Harvest", or the book co-authored by Matas and Kilgour, Bloody Harvest: Organ Harvesting of Falun Gong Practitioners in China.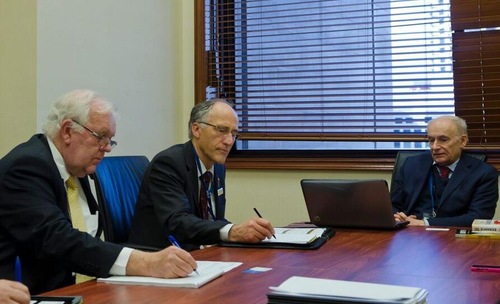 David Matas (right) speaks about live organ harvesting in China
Actions Against Organ Harvesting
Many countries have taken action to stop the practice of organ harvesting. For example, Taiwan legislators amended the Human Organ Transplant Act in June 2015 and officially banned transplant tourism. The Act forbade illegal organ sales and requires patients who get organ transplants overseas to provide legal proof of the source of the organs in order to be eligible for medical care in Taiwan.
In Australia, David Shoebridge, MP for the State of New South Wales, proposed the New South Wales Human Tissue Amendment (Trafficking in Human Organs) Bill 2013. Over 170,000 signatures were submitted to the NSW Parliament to support this legislature, which is the highest number of signatures by the public in the lifetime of the NSW Parliament.
Introducing Criminal Complaints Against Jiang Zemin
A Falun Gong practitioner spoke to at the forum regarding the recent more than 100-thousand criminal complaints that have been lodged against Jiang Zemin for persecuting Falun Gong.
Bullock hopes that Chinese authorities pay attention to this human rights violation issue.
"In the long term, no country can flourish if its leaders oppress the ordinary people." Abetz concluded. "From what I hear, Christianity is flourishing in China, despite the Chinese Communist Party's opposition."
He continued, "In the long term I believe that freedom will come to China. It came to Russia after 70 years of communism. Let's hope that these law suits will bring greater transparency and freedom for the Chinese people."