Taiwan: 17,000 in Taichung Support Criminal Complaints Against Jiang Zemin
(Minghui.org) In July and August, more than 17,000 residents in Taichung, Taiwan signed a criminal report form urging the Chinese authorities to bring former Communist Party leader Jiang Zemin to justice.
Such efforts echo the recent flood of lawsuits against Jiang filed by 157,000 Falun Gong practitioners in China and overseas for launching and directing the violent persecution of Falun Gong. The number of lawsuits has steadily increased since May.
According to Chinese law, a criminal report form signed and dated by any individual with knowledge of a crime constitutes a criminal complaint that can be submitted to the Supreme People's Procuratorate and Court.
The signatures in Taichung come from those in all walks of life, including government officials, city council members, lawyers, teachers, and doctors.
City Council Member: Signature Campaign Will Raise Awareness of the Persecution
He Mingjie, a Taichung city council member signed the criminal report form and said that the city council has passed a resolution condemning the persecution of Falun Gong. "No matter where you are, no matter what you believe, everybody should have the basic human rights," he said.
"The signature campaign will raise the public awareness of the persecution," he added. "I believe that more and more people will join the support for the peaceful resistance."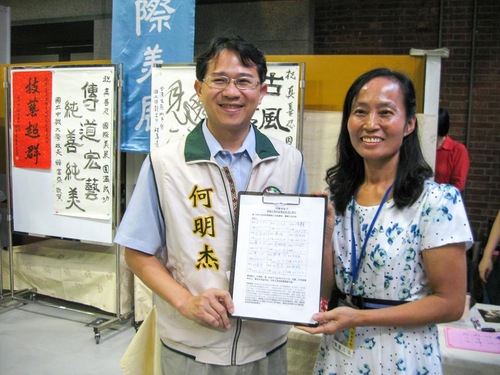 He Mingjie, the city council member of Taichung, with the criminal report form he signed to condemn Jiang Zemin for his crimes in the persecution of Falun Gong.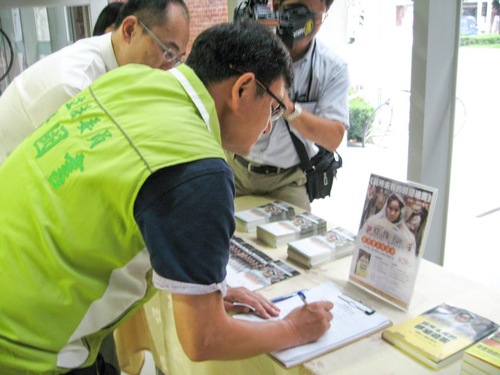 Huang Guoshu, a member of the Legislative Yuan, heard about the lawsuits against Jiang and signed the criminal report form at a Falun Gong event.
City council member Zeng Chaorong ran into Falun Gong's signature campaign booth at a tourist location. He said to practitioners, "I've always supported Falun Gong." Mr. Zeng, along with his his companions, including several lawyers and doctors, signed the forms.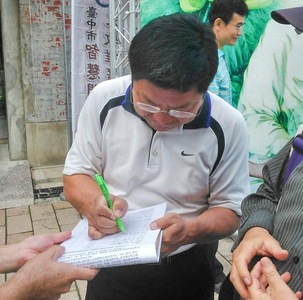 Shi Chunfu, the deputy chief of the city department of cultural affairs, signs a criminal report form against Jiang Zemin.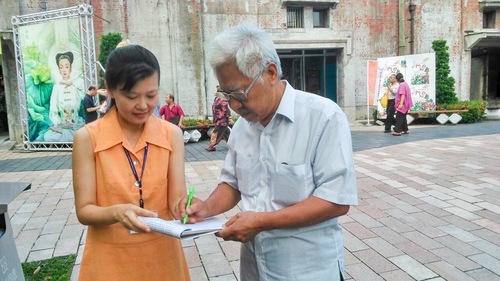 Gao Lianyong, a local artist, signs a criminal report form.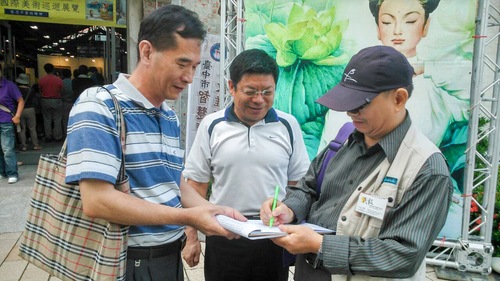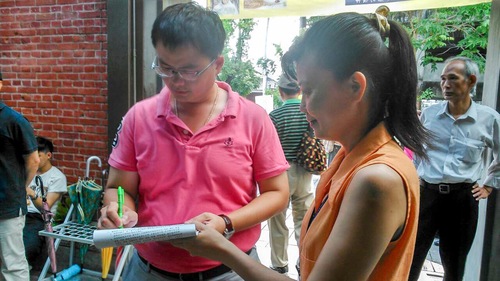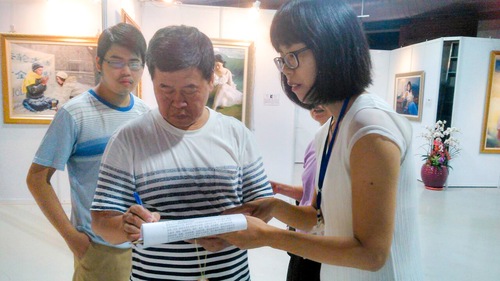 Taichung residents signing criminal report forms against Jiang Zemin.
Taichung Resident: "I admire Falun Gong"
Mr. Lin, a local businessman, often visits mainland China and knows well about the persecution of Falun Gong there. He told practitioners that he often tries to convince his Chinese friends to quit the Communist Party.
"I even bought hundreds copies of the Nine Commentaries on the Communist Party for my Chinese friends. When they come to Taiwan, I always take them to Falun Gong's booths at the tourist spot, and tell them to read your materials," he said to a practitioner.
"I really admire Falun Gong, especially those at the tourist spots trying to tell people about the persecution," said Mr. Lin after signing the criminal report form.