Near Victim of Organ Harvesting Sues Jiang Zemin for Torture and Suspicious Medical Examinations
August 20, 2015 | By a Minghui correspondent in Heilongjiang Province
(Minghui.org) Mr. Li Liang from Jiamusi, Heilongjiang Province is suing former Chinese dictator Jiang Zemin for launching the persecution of Falun Gong that resulted in his three years of incarceration, during which time he was not only tortured, but also given full medical examinations not required of other inmates.
Mr. Li, who started practicing Falun Gong at the age of 17, was in his early 30s when he was arrested on October 1, 2011. Six months later, he was sentenced to three years in prison. Between 2011 and 2014, he was moved back and forth between four different facilities, where he was put though complete medical exams and had blood drawn a total of eight times.
He was ordered to sign a document testifying to his health condition once every three days for three consecutive months. He demanded to know why, but the doctors never gave a direct answer.
In hindsight, Mr. Li suspects that the authorities must have considered him a good candidate for organ harvesting, given his youth and good health. He says he is lucky that he was not put under the knife, unlike so many other practitioners who have had their organs harvested while still alive and eventually lost their lives.
In his criminal complaint, Mr. Li also described the torture and beatings he suffered. Mr. Li charges Jiang Zemin for not only ordering the widespread imprisonment and torture of Falun Gong practitioners, but also the harvesting of organs from living prisoners of conscience.
"As a Falun Gong practitioner who almost became a victim of organ harvesting, I have the responsibility to speak up and expose the suspicious medical exams that I had been put through," said Mr. Li.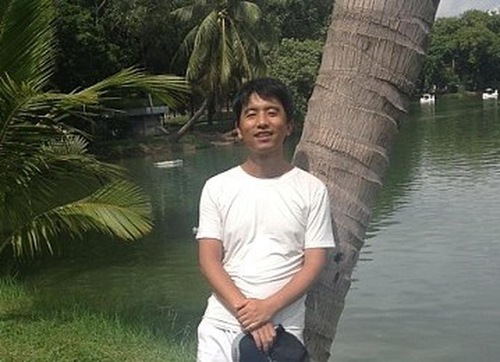 Falun Gong practitioner Mr. Li Liang
Below are excerpts from Mr. Li's criminal complaint letter.
Risks of Organ Removal
In the Beijing Chaoyang District Detention Center, Beijing No. 1 Detention Center, Beijing Tianhe Prison, and Chongqing Yongchuan Prison, I underwent suspicious complete medical exams eight times. The exams included testing my blood, heart, corneas, other organs, urine, etc. using x-ray, ultrasound, and other tools. Each blood drawing filled at least one or two tubes.
Four Medical Exams in Two Detention Centers

My first exam was in October 2011, when I was arrested and detained in Beijing Chaoyang District Detention Center.
A month later, I was transferred to Beijing No. 1 Detention Center, where I was given another complete medical exam. I was detained there for about two months.
In January 2012, I was transferred back to Beijing Chaoyang District Detention Center. During the following six months of detention, I was given two more complete exams.
Signing a Health Document Every Three Days
Between March and June in 2012, guards in Chaoyang District Detention Center ordered me to sign a document that said my health was very good and that the content was all true.
Four Exams in Two Prisons
In June 2012, I was transferred to Beijing Tianhe Prison, where I was given two complete medical exams, once at the time of entry and again during my incarceration.
Seven months later, I was transferred to Chongqing Yongchuan Prison, where I was detained for more than one year, during which time I was put through two more exams, also once at the time of entry and the other time during my incarceration.
Question Marks
However, I was never told about the reason or results of the exams, even though I inquired doctors every time. They simply responded, "It's just a physical checkup, and for your sake."
Interestingly, no other detainees in my cell ever received such medical exams while I was in Chongqing Yongchuan Prison. I was the only Falun Gong practitioner in that cell.
Since Falun Gong practitioners receive the brunt of abuse by guards, the medical exams were unlikely to be special treatment.
Torture and Suffering
Beaten for Distributing Materials about the Persecution
Zhang Lianyong, Zhang Lianqi, and another person reported me to police while I was distributing materials about the persecution of Falun Gong on October 1, 2011. They beat and kicked me in my ankles, legs, back and head until I fainted. Police arrested and took me to Chaoyang District Detention Center.
Beaten at Beijing No. 1 Detention Center
At Beijing No. 1 Detention Center, police guard Li Jinwu (李金武) instigated detainees to beat me. After that, they handcuffed me from behind for one day and one night. At the same time, they kicked me in the belly and hurt my liver.
Monitored by Four Detainees and Beaten in Beijing Tianhe Prison
In Beijing Tianhe Prison, police guards ordered four detainees to watch me closely 24 hours a day. They forced me to sit on a "small stool" motionlessly every day. I was not allowed to use the restroom without permission.
Protesting the abuse resulted in more beatings.
Watched Closely and Beaten in Chongqing Yongchuan Prison
At Chongqing Yongchuan Prison, police guard Zhang Zhibing (张志兵,Police ID #5106393) instigated at least six inmates to beat and kick me in my belly, legs and head.
When I asked why they treated me that way, one of them stuck a dirty glove in my mouth before they continued torturing me.
Later, no fewer than eight detainees watched me closely every day. I was forced to sit motionlessly all day long, deprived of sleep, and not allowed to use the restroom without their permission.
Background
In 1999, Jiang Zemin, as head of the Chinese Communist Party, overrode other Politburo standing committee members and launched the violent suppression of Falun Gong.
The persecution has led to the deaths of many Falun Gong practitioners in the past 16 years. More have been tortured for their belief and even killed for their organs. Jiang Zemin is directly responsible for the inception and continuation of the brutal persecution.
Under his personal direction, the Chinese Communist Party established an extralegal security organ, the "610 Office," on June 10, 1999. The organization overrides police forces and the judicial system in carrying out Jiang's directive regarding Falun Gong: to ruin their reputations, cut off their financial resources, and destroy them physically.
Chinese law allows for citizens to be plaintiffs in criminal cases, and many practitioners are now exercising that right to file criminal complaints against the former dictator.