Raising Awareness of Falun Dafa in Trier, Germany's Oldest City
August 20, 2015 | By a Falun Dafa practitioner in Germany
(Minghui.org) Tourists that visited Trier, Germany's oldest city, on July 25, 2015, had an unexpected encounter with Falun Dafa, an ancient spiritual practice.
Falun Dafa practitioners demonstrated the peaceful Dafa exercises outside the Trier Information Center.
Practitioners demonstrate the Dafa exercises
Parade Through Downtown Trier
Practitioners held a parade through Trier's downtown. The procession included the Divine Land Marching Band, women dressed in white carrying flower-wreathed pictures of practitioners who have died as a result of the persecution, and practitioners holding banners with messages about the worldwide effort to bring Jiang Zemin to justice. Jiang is the former Chinese dictator who launched the persecution of the peaceful practice in 1999 in China.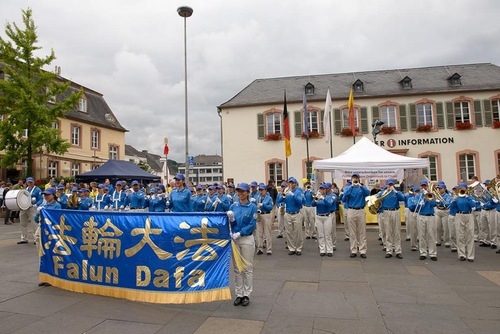 The Divine Land Marching Band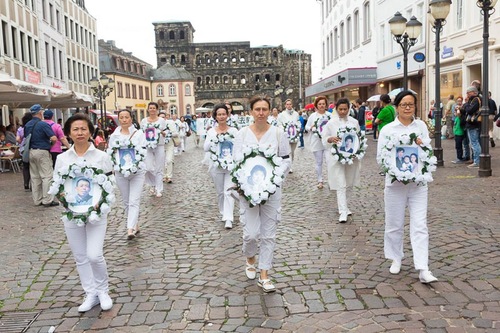 Women practitioners dressed in white hold portraits of practitioners who died as a result of the persecution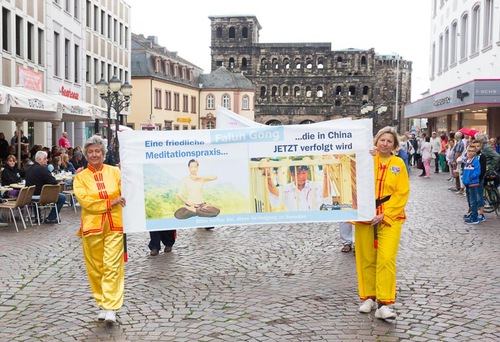 Marching through downtown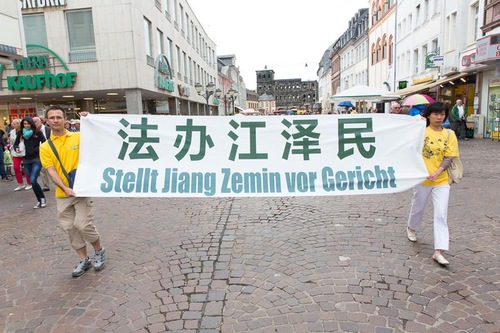 The banner reads, "Bring Jiang Zemin to Justice."
Tourists Drawn to Displays
Tourists were drawn to the many displays and learned more about the brutal persecution of the peaceful practice in China by talking with practitioners.
People were stunned when they heard about the Chinese regime's atrocities committed against Falun Dafa, especially organ harvesting from living practitioners.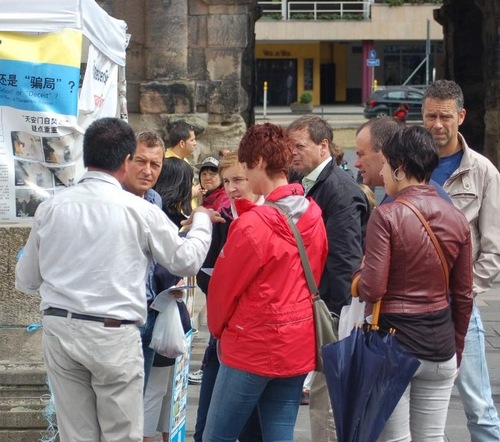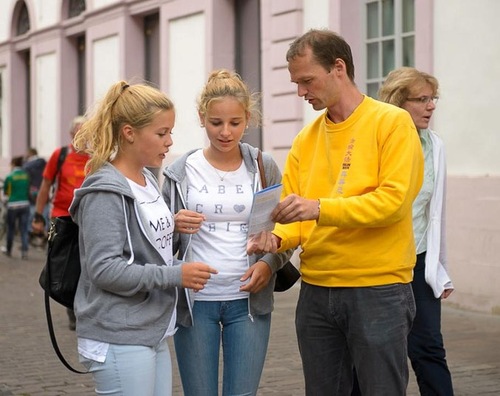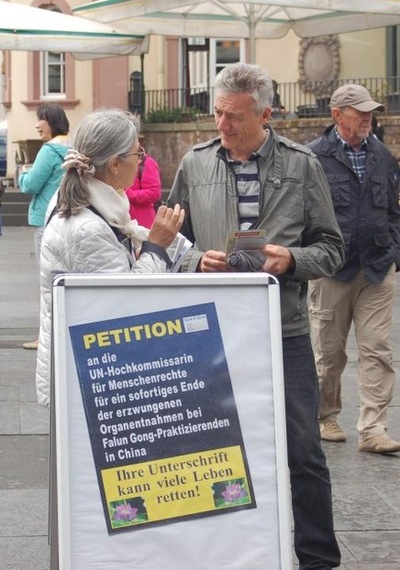 People listen to practitioners talk about the persecution.
Mr. Nienhaus, a high school teacher in a small town between Germany and the Netherlands, said that the Chinese Communist regime's forced organ harvesting from living practitioners reminded him of the Nazi's concentration camps in World War II.
Petition Calls for an End to the Persecution
Many people signed the petition calling for an end to the persecution.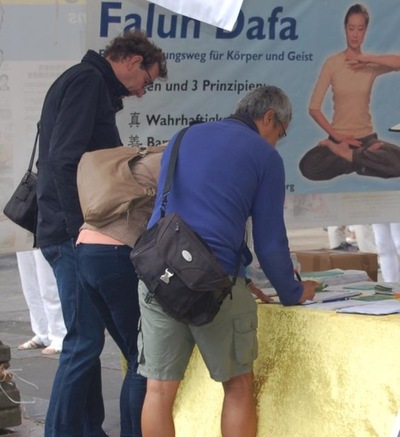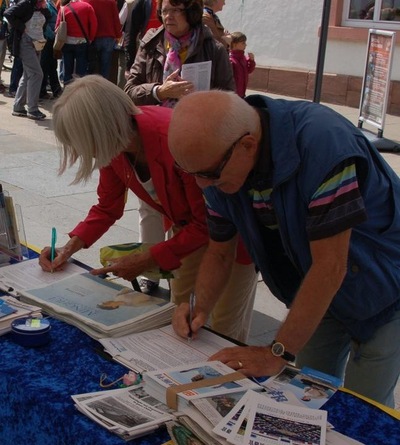 People sign a petition calling for an end to the persecution and forced organ harvesting
Peter from a city near the Rhine watched the parade after he learned about the persecution and signed the petition at the practitioners' information table.
He believes that the Chinese Communist Party (CCP) can no longer restrict information, because more and more Chinese people are able to break through China's Internet firewall to learn the truth.
"If everyone opposes the persecution, and as long as we persevere, the persecution will end," he said with confidence.
Local Media Report on Dafa Activity
Local media covered the event and interviewed practitioners. The media also published a video report on the event on its website.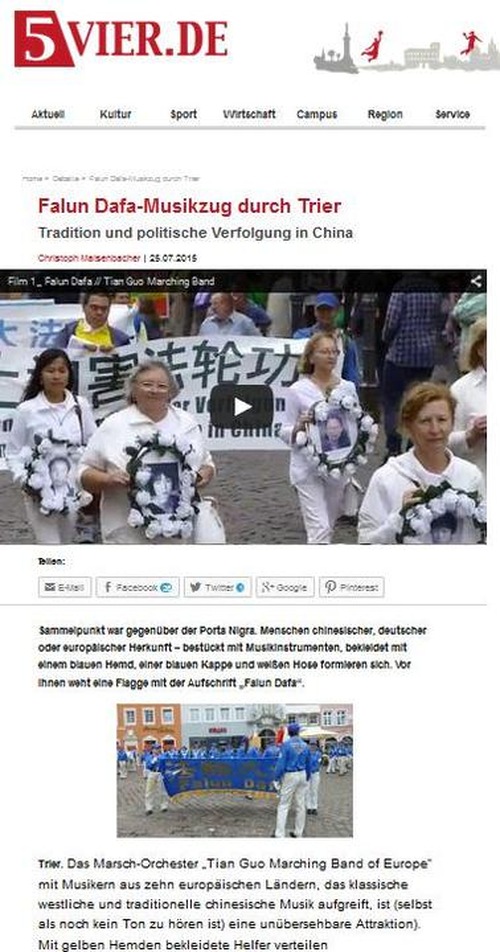 Local media "5vier" website covers Falun Dafa activities
Historic Landmark
Trier has a history of over 2000 years. "Porta Nigra," the best preserved Roman-era city gate, is its most famous landmark and has been designated by UNESCO as a World Heritage Site. It is a must-see for many tourists from around the world.