Vienna: Practitioners Gather for Falun Dafa Experience Sharing Conference
July 09, 2015 | By Zheng Jing in Austria
(Minghui.org) Austrian Falun Dafa practitioners held the 13th Austrian Falun Dafa Cultivation Experience-Sharing Conference in Vienna on June 21. Ten practitioners shared their experiences in cultivation.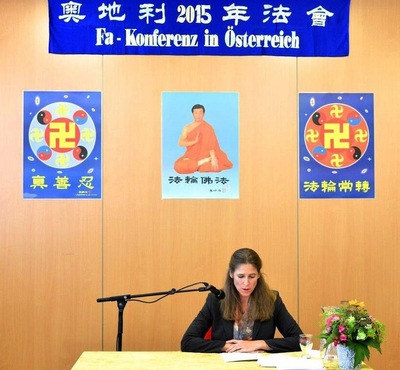 Practitioners shared their understandings and cultivation experiences at the 13th Vienna Falun Dafa Cultivation Experience Sharing Conference on June 21, 2015.
Ms. Julia shared a story of finding and letting go of attachments while promoting Shen Yun.
At the request of a fellow practitioner from Germany, she took on a project to contact local clubs to introduce and promote Shen Yun.
After some efforts, she only confirmed two introductory presentations. Ms. Julia felt discouraged, and even thought about canceling the project.
But by looking inwards, she realized that her initial motivation to take on the project was not to save more people, but to schedule enough presentations to save face. She also found the desire of showing off, selfishness and a strong competitive mentality.
On the day she realized her attachments and decided to let them go, several clubs called and invited her to come and introduce Shen Yun.
Ms. Katja had been burdened by the guilt of causing her father's accidental death for 14 years. She considered committing suicide many times and resorted to smoking and drugs to relieve the pain of losing her father. She also tried several cultivation practices, but nothing could help her resolve her guilt.
She encountered Falun Dafa one year ago and it changed her completely. The practice helped her find the meaning of life, understand the relationship between family and cultivation and see the answers to many of her life puzzles.
Following the principles of Falun Dafa, she is now living an active and responsible life.
Mr. Patrick talked about how Falun Dafa changed him from a hopeless teenager indulged in drinking, drugs and skipping class to a good, self-disciplined student. Falun Dafa also improved his memory and intelligence so that he could make good grades while he helped with selling Shen Yun tickets and studied the Fa.
Ms. Chen shared her experiences of making truth-clarification phone calls to China and helping Chinese people quit the Party.
Mr. Wang shared his experience in coordinating the promotion of Shen Yun by letting go of his attachment to fear, selfishness and ego.