Canadian Parliament Member Supports Lawsuits Against Jiang Zemin at Edmonton Rally
(Minghui.org) Falun Gong practitioners in Edmonton, Canada, held a rally in Chinatown on July 25, 2015, to support the many lawsuits filed against former Chinese leader Jiang Zemin. Parliament Member Brent Rathgeber, former chair of the Parliamentary Friends of Falun Gong, and John Kmech, a representative from Amnesty International, spoke at the rally.
Since May, more than 103,000 Falun Gong practitioners in China and overseas have filed criminal complaints against Jiang Zemin for launching and directing the persecution of Falun Gong.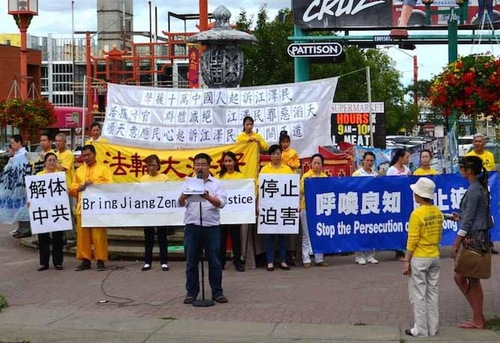 The rally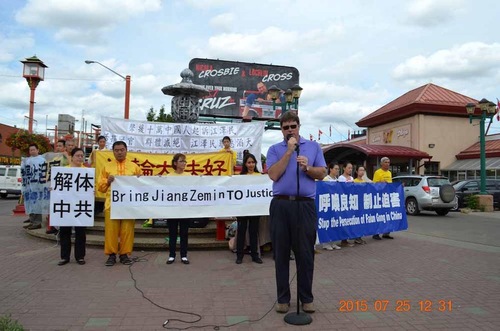 Parliament Member Brent Rathgeber speaks at the rally.
PM Rathgeber called upon the Canadians to write to the Chinese embassy, or their own PMs, requesting an end to the persecution. He said that it is beneficial for more Canadians to know about the persecution of Falun Gong, the followers of which have been tortured or killed by the Communist Party just because of their belief.
Speaking of the lawsuits against Jiang, PM Rathgeber said that although he was not familiar with the Chinese law system, he believes in the judgment of David Matas, who is a human rights lawyer. Rathgeber said if Matas believes that the lawsuits will bring positive impacts, he is supportive. Rathgeber said that the perpetrators of the persecution will eventually be brought to justice.
So far, three practitioners living in Edmonton have filed lawsuits against Jiang. At the rally, Ms. Chen, one of the plaintiffs, told her own experiences of being tortured in China.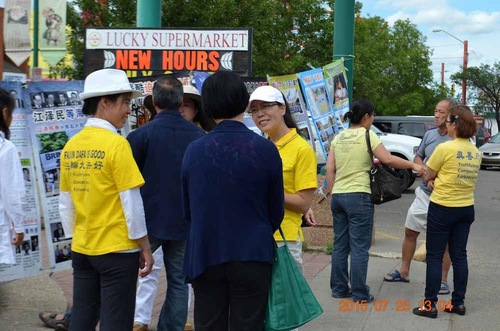 Falun Gong practitioners tell Chinese people about the lawsuits.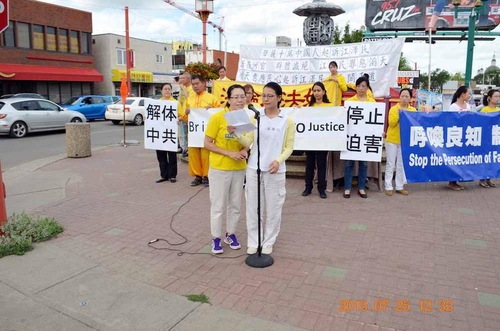 Ms. Chen, who recently filed a lawsuit against Jiang Zemin, speaks at the rally.
Local media, Global TV, and Sun Media interviewed practitioners at the rally, and covered the story. Calire Theobald, the reporter from Sun Media, published a long article on the persecution and the lawsuits.