Australia: Rallying Support for Lawsuits Against Former Chinese Dictator
July 27, 2015 | By a Falun Dafa practitioner in Australia
(Minghui.org) A peaceful demonstration on Hindmarsh Square in Adelaide, Australia on July 18, 2015 called attention to the wave of lawsuits against former leader of the Chinese regime, Jiang Zemin.
By July 23, over 100,000 Chinese people had filed criminal complaints against former dictator Jiang, who ordered the persecution of Falun Gong in July 1999.
Over the past several weeks, practitioners held events in Adelaide, Bankstown and Burwood in Sydney to let people know about the current situation in China.
Adelaide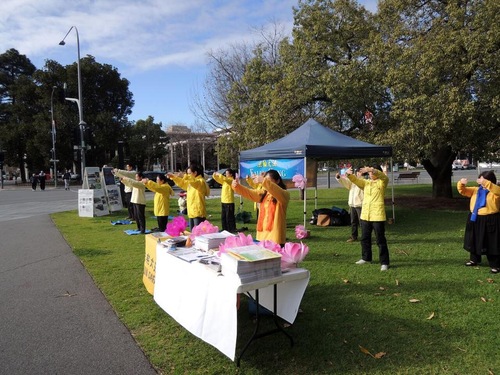 Exercise demonstration and banners showing support for thousands of Chinese people who have the courage to file lawsuits against Jiang Zemin for launching the persecution.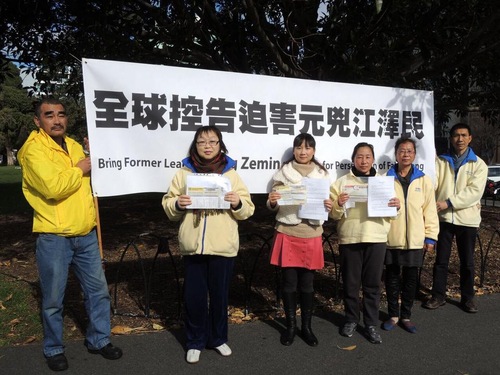 Part of the seven Falun Gong practitioners in Adelaide who have filed complaints against Jiang Zemin recently.
Since April, several major TV stations and newspapers have run stories exposing the state-sanctioned organ harvesting crimes in China. According to practitioners at the event, there seems to be more general awareness and support from the public, including Chinese who used to be deceived by the communist regime's propaganda.
Mr. Liu, a retired Chinese government official now living in Adelaide, told practitioners that he doesn't agree with Jiang Zemin's decision to persecute Falun Gong because the exercise was beneficial to people. He was frustrated that the China still is one-party dictatorship that people have no freedom to belief or speech.
Mr. Cai, an immigrant from China, took photos of the banner that read, "Bring Jiang Zemin to Justice" on his cellphone and sent them to his friends in China. "They can't see this in China," he said.
Seven Chinese in Adelaide Filed Complaints Against Jiang Zemin
Ms. Chen, one of the plaintiffs who sued Jiang, was detained in a brainwashing institute for three months in 2004 where she was deprived of sleep for days and was interrogated continuously around the clock.
Her parents-in-law passed away after being harassed by local Chinese authorities for many years.
Ms. Zhang, a practitioner who now resides in South Australia, had been arrested multiple times for practicing Falun Gong. She was sent for one year of forced labor and then three years in prison where she was tortured repeatedly including shocked with electric batons, forced abortion, beatings, deprived of sleep and more.
Radio Program Discusses Lawsuits against Jiang Zemin
On the day after the event, Radio Adelaide interviewed Ms. Mei, the spokesperson of Falun Dafa Association of South Australia, during its morning program.
After they chatted about the start and the current status of the wave of lawsuits against Jiang Zemin, the host asked if the world would see millions of people sue Jiang Zemin. Ms. Mei answered, "Yes, the day will come."
Sydney
Public events to raise awareness about the current situation in China were also held in the the suburbs of Bankstown and Burwood on July 11 and 12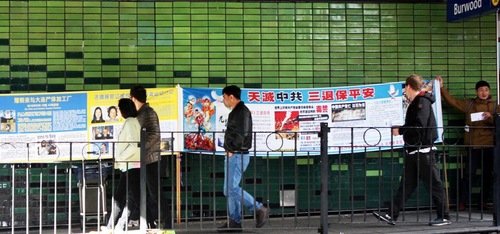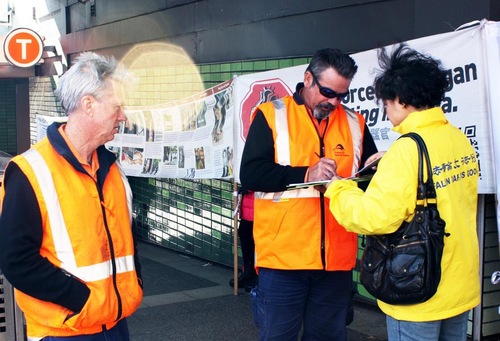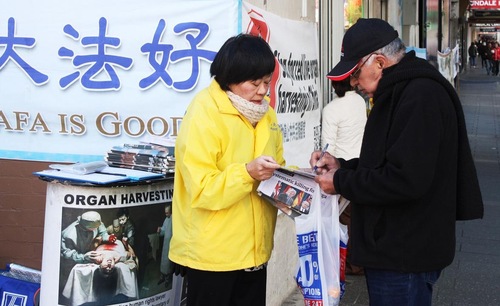 People of Sydney sign a petition to end forced organ harvesting from living Falun Gong practitioners.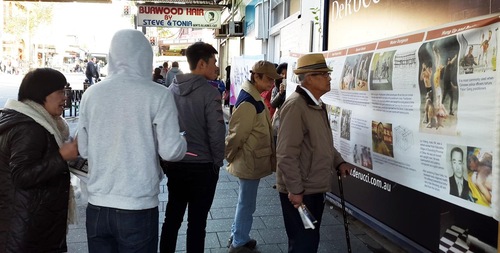 Mr. Hu, a 20-year resident of Sydney originally from Shanghai, said he wished the Chinese Communist Party would cease to exist as soon as possible.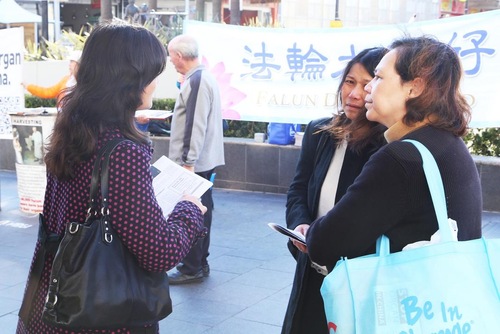 Sofia Vergins and Thai Nguyen (right) said the world should not allow the Communist regime to continue (organ harvesting) and people must bring the culprit of this evil practice, Jiang Zemin, to justice.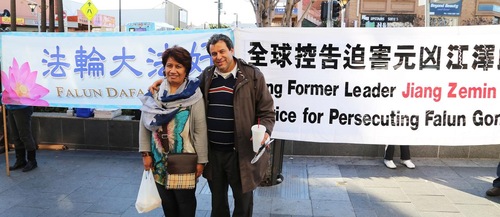 Mr. Rob Kebakouski and wife Doobinnk commented that (organ harvesting) was very cruel and wished the practitioners success in ending the atrocity.
Mr. Allan Winterbottom, former deputy mayor of Bankstown, came to the event to talk to the practitioners. He lamented that the persecution is still going-on after 16 years and said it should not happen at all. He signed the petition to stop the organ harvesting.
More than 50 Chinese in Sydney Suing Jiang
More Chinese people in Sydney filed criminal complaints against Jiang recently, pushing the number above 50, according to Falun Dafa Association of Syndey.
Ms. Zhang Fengying, who mailed her complaint to Beijing recently, said she was detained four times in China since 1999. She was beaten, humiliated, violently force-fed and suffered many other tortures. While in the Beijing Women's Forced Labor Camp, she was tortured repeatedly but underwent three blood tests, causing her to later suspect that the authorities were preparing to take her organs for transplant.
Mr. Ruan Yuanxin, another practitioner who had filed a complaint, said at the event that he was arrested and jailed many times in Beijing and Harbin City Heilongjiang Province. He was tortured and beaten many times in prisons and was forced to do physical labor for 15 hours a day with only two meals of half a steamed bun per day, barely enough survive.
http://www.minghui.org/mh/articles/2015/7/23/南澳学员"七--8231-二零"传真相-声援诉江大潮(图)-312949.html