Greece: Remembering July 20, 1999
(Minghui.org) Practitioners from Greece and around the world held activities on July 20, 2015, the day the persecution of Falun Gong started in China 16 years prior.
To help bring the persecution to an end, activities were held in two cities in Greece, Athens and Thessaloniki, to raise awareness of the brutal situation Falun Gong practitioners are enduring in China.
Athens
Practitioners first chose the Thissio area of Athens, where people from different parts of Athens like to take walks and chat, to demonstrate the exercises and distribute informational flyers to the passersby.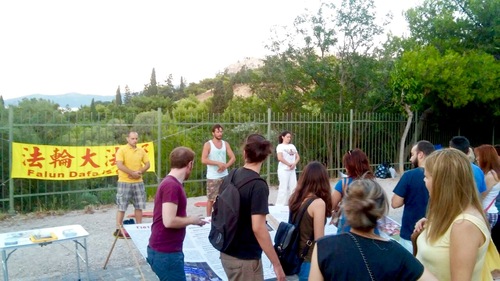 Crowds gather to learn more at a Falun Gong demonstration/display activity in Athens.
Several wanted to learn the exercises, and many were shocked when practitioners told them about the persecution and the organ harvesting crimes being carried out by the Chinese Communist Party (CCP).
One lady stopped and watched the entire exercise demonstration with deep concentration. She asked a practitioner about the practice and said that she was happy to have found it. She said, "I know what people face in China. The regime is ruthless. I want to learn this practice. I will join you at the practice site."
Another information activity was held in front of the Chinese Consulate in the Psihiko area of Athens. One woman said, "I am deeply moved by what you are doing. This persecution cannot stop people from improving. No one can keep the human soul from the truth, even in this situation these practitioners face in China. Nothing can stop them from being truthful and good, because that is why we are here in this world." She thanked the practitioners and encouraged them to continue.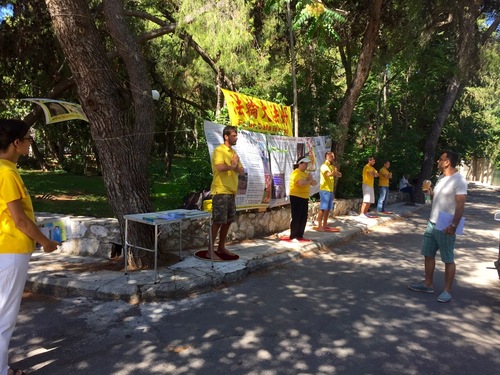 Demonstrating the Falun Gong exercises and raising awareness at the Chinese Consulate in Athens.
Many who came to the Chinese Consulate and have direct contact with China were glad to learn about Falun Gong and the situation in China, and many were interested in learning the exercises. A police officer near the practitioners wanted to learn more about the persecution during the peaceful protest. Afterwards he was happy to share his newfound information and flyers with his colleagues.
Thessaloniki
In Thessaloniki, one woman asked a practitioner about truth and the meaning of life, and they had a fruitful discussion. The woman then said, "We are so used to looking at others' faults and criticizing others and not ourselves." A practitioner added, "By looking inward, we take responsibility for our own behavior."
After hearing the facts of the persecution, one man still couldn't understand why it was happening. He was deeply moved and signed the petition.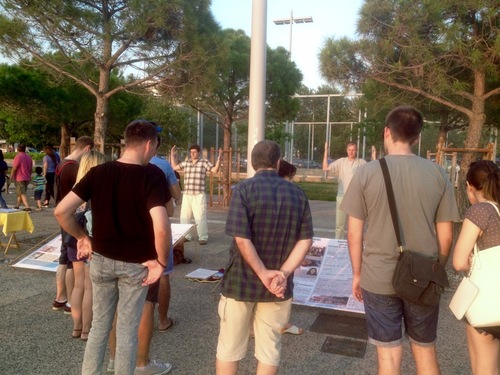 Thessaloniki: People stop to watch a Falun Gong exercise demonstration and read display boards on the persecution in China.
One woman shook her head, saying, "This is something good. Why are they being persecuted?" After talking with a practitioner she said, "Now I understand. They were awakened to the truth, and the Party wants them to be afraid. If you know the truth, the Party cannot control you anymore, and you are not afraid no matter what."