Gothenburg, Sweden: Falun Gong Practitioners Raise Awareness About the Persecution
(Minghui.org) Falun Gong practitioners in Gothenburg, Sweden, the country's second largest city, came together on July 20, 2015, to peacefully protest outside the Chinese consulate located near the city center.
Their protest marked the day, July 20, when the Chinese regime launched a campaign of persecution against the spiritual practice of Falun Gong in China 16 years ago.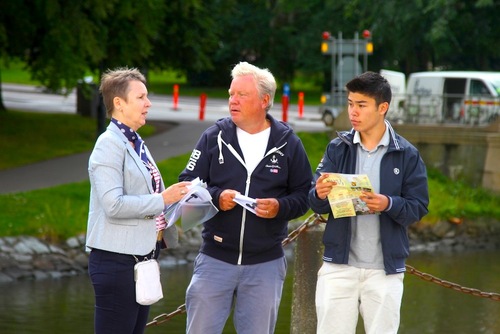 The event included demonstrations of the gentle meditative exercises and handing out printed materials with information about the persecution that began in 1999, and continues to this day.
Passersby included a tourist group from South Africa. They were appalled upon learning about the imprisonment, physical and mental torture, and forced organ harvesting that Falun Gong practitioners are subjected to. They said they had experienced human rights atrocities in their own country, but that it was nothing compared to what Falun Gong practitioners are enduring in China.
The Gothenburg practitioners have been protesting outside the Chinese consulate on a weekly basis since the persecution began, and plan to continue their efforts until it ends. Through their peaceful and persistent efforts, many of the city's 550,000 residents learned about the persecution.