Festival in York, Canada: "Your Presence Always Brings Us Good Energy"
July 19, 2015 | By a Falun Gong practitioner in Toronto, Canada
(Minghui.org) Toronto practitioners attended the York Raw/Vegan Festival in Newmarket, a town just north of Toronto, on July 11, 2015. By participating in activities both indoors and outdoors, practitioners were able to inform many people about the mental and physical benefits of Falun Gong, as well about the ongoing persecution in China.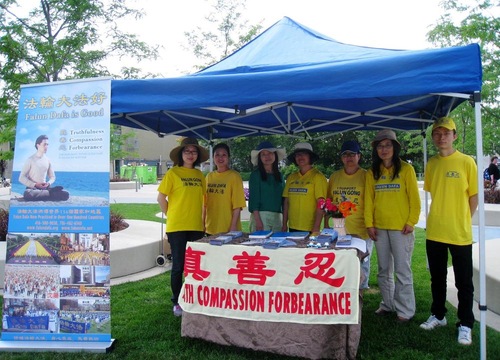 The Falun Gong booth at the York Raw/Vegan Festival on July 11, 2015
Jane Kabarguina, coordinator of the event, praised the practitioners for their efforts: "Your presence always brings good energy. I love Falun Gong, and please do come again next year!"
"The Worst Thing I've Ever Heard of"
Michael Sizer from Bradford said he had heard about Falun Gong and the persecution before. "I know it's real, but I didn't think it was this bad. Live organ harvesting—that's the worst thing I've ever heard of!" He signed petition calling for an end to the brutality.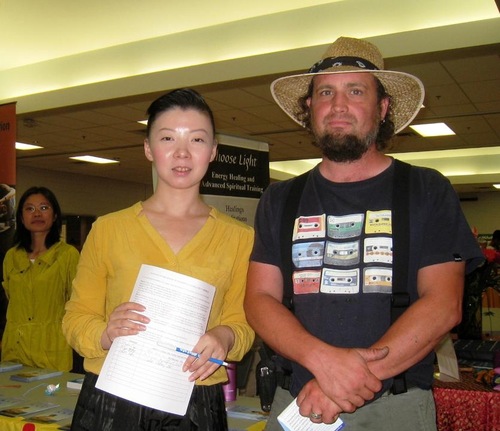 Bradford resident Michael Sizer said he supported Falun Gong.
John Calery, a musician, rode his bike to the festival. He was shocked by what is happening in China, especially live organ harvesting. "This is horrible—the Chinese government cannot collect organs from people when they are alive," he said as he got off his bicycle to sign the petition.
One lady walking by said she had learned about Falun Gong in 2000 when she was a student at Concordia University in Montreal. "I chose Falun Gong as the topic of my research paper. I did lots of research and interviewed quite a few people." She said she concluded that Falun Gong was good for individuals and for the society. "A film was later made based on the paper, and many people saw it."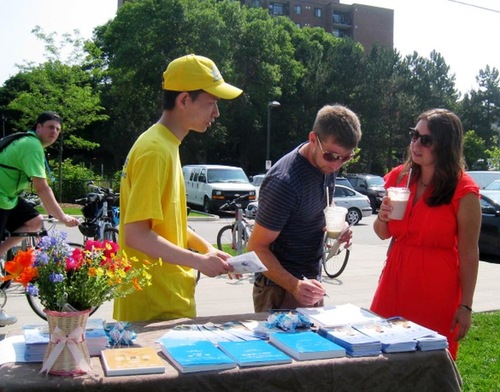 Signing the petition after learning the truth about Falun Gong
"I Hope My Signature Improves Your Situation"
Jade Nguyen from Thailand and her husband both signed the petition. "This is wrong--it violates human rights," she said. "I hope my signature improves your situation."
An older Chinese man who came with his grandson said he was visiting from China. "I am here to visit my son. Do you have any information in Chinese?" he asked
"Sure," a practitioner replied and handed him several pamphlets and newsletters in Chinese.
As the man glanced through them, he asked the practitioner how much he was paid to be there. After the practitioner explained that he was a volunteer and was there just to help others, the man nodded with respect and said he would read the information carefully.