Paris Guesthouse Owner: "The Persecution Is Awful…Awful."
(Minghui.org) Paris guesthouse owner Cecilia recently hosted a couple of travelers from Australia at her busy guesthouse. She was impressed by their demeanor, and wondered what they did to become so serene and to emanate a sense of well-being.
The Australians told Cecilia that they had been practicing Falun Gong for more than ten years, and told her about the personal health benefits they enjoyed after taking up the practice. Cecilia decided she wanted to learn Falun Gong immediately and tried the first exercise on the spot.
Paris1.jpg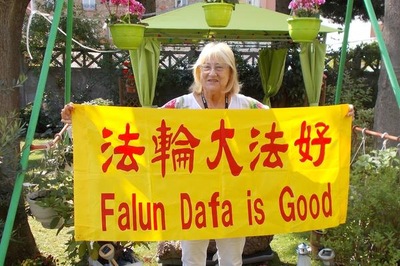 She said the exercise made her feel much more relaxed and at peace. She now wants to seek out local Paris practitioners, so that her whole family can benefit. Her husband and children have also shown interest. She thought that if her children tried it, it would help them to de-stress from their very busy lives.
This wasn't Cecilia's first encounter with Falun Gong, although she didn't know it at the time. Several years prior, she had hosted several practitioners from Israel at her guesthouse. They regularly performed the gentle Falun Gong exercises in her garden during their visit.
Cecilia said that although she suffers from several aliments, including arthritis and thyroid issues, what she is really looking for is peace in the mind and soul, and that once she achieves it there, the body will naturally be balanced.
"We have to react"
Cecilia hadn't heard a lot about the persecution of Falun Gong in China, but said, "It's awful, awful. It shouldn't exist, innocent people being tortured and they don't do any harm. We have to react so this never happens again, and bring it to the knowledge of everyone so they know. And if they know, they will react."
Cecilia was determined to tell her friends and spread the message on Facebook.She also recommended to other people that they step forward, and tells people that if everyone did one thing to stop the persecution, it would end altogether.
Cecilia said the slander spread by the Chinese regime about Falun Gong in the Chinese community needs to be clarified, and that Falun Gong practitioners are good people.
She also plans to tell her Chinese guests about the persecution of Falun Gong. She said Falun Gong brings the Chinese people many good things, and that if they stand up against the persecution, they will become stronger, and Falun Gong would be practiced freely in China.