Ms. Yu Guifang Detained Despite Precarious Health, Faints During Court Hearing
June 07, 2015 | By a Minghui correspondent from Shandong Province
(Minghui.org) Ms. Yu Guifang, 68 years old, has been detained more than 10 months beyond the legally permissible term. She has high blood pressure and had symptoms of heart attack on several occasions. Despite her precarious physical condition, the authorities continue to persecute her for her belief in Falun Gong.
On the morning of May 22, 2015, the Tianqiao District Court illegally tried Ms. Yu and her son-in-law Mr. Yang Feng, who also practices Falun Gong. Ms. Yu was brought into the court supported by two police officers.
Security was tight outside the building. A dozen police officers stood at the entrance checking the ID's of each person entering the building.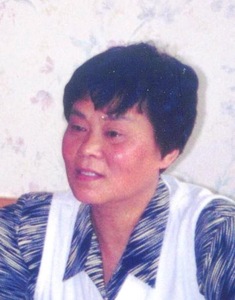 Ms. Yu Guifang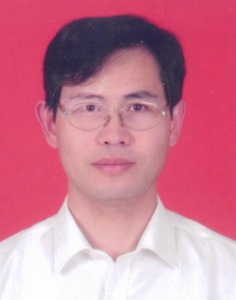 Ms. Yu Guifang's son-in-law, Mr. Yang Feng

Tianqiao District Court in Jinan City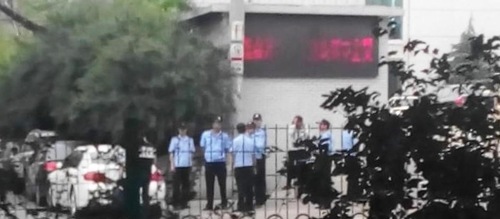 Police officers on guard outside the court
Mr. Yang's mother Ms. Feng Zhihong and a friend were the only ones allowed to observe the trial. Soon after the trial began, Ms. Yu vomited and fainted. She was quickly taken away. The judge announced that the trial was adjourned. Yang Feng was escorted to a police vehicle and taken back to the detention center. His mother was made to leave the courtroom by two female police officers.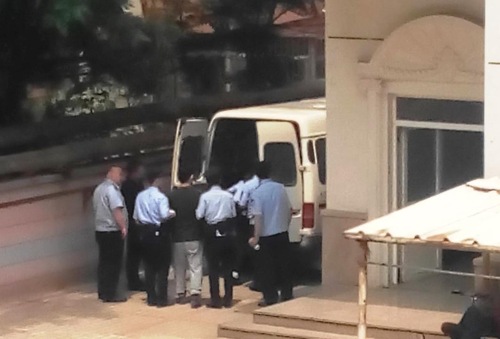 Mr. Yang Feng (middle, dressed in black top) being escorted to a police vehicle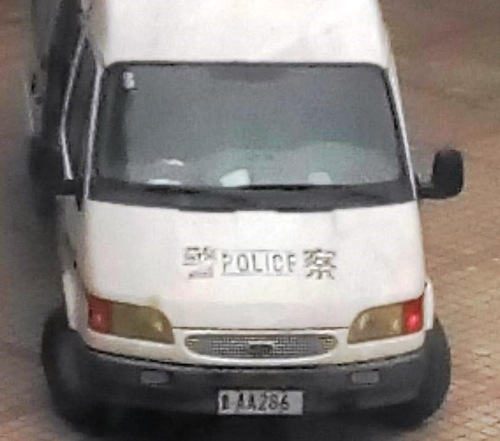 Police van used to escort Mr. Yang; car registration no. AA286
Several Falun Gong practitioners were standing outside the courthouse to show their support for their detained fellow practitioners. One of them, Ms. Xing Cuiping, was arrested and her whereabouts are currently unknown.
Fifteen Years of Persecution
Ms. Yu Guifang is a former deputy of the Weifang City Legal Bureau. Her family has been persecuted for 15 years because they refuse to give up the practice of Falun Gong.
Ms. Yu's latest arrest was on July 4, 2014. Her daughter Ms. Chen Bingnan, her son-in-law Yang Feng and his mother Ms. Feng Zhihong were each arrested at around the same time. Mr. Yang's mother was released after she had a heart attack. Ms. Chen was sentenced to three years in prison on January 13, 2015.
Related reports:15-Year-Old Sees Her Mother Sentenced to Three Years, Her Father and Grandmother Still DetainedFormer Teacher and His Family Persecuted Again