Voice of America: Falun Gong Practitioners in California File Lawsuits Against Former Chinese Dictator
(Minghui.org) Falun Gong practitioners in San Francisco protested in front of the Chinese Consulate on June 23, 2015 to condemn the Chinese Communist regime's torture of practitioners in China, reported Voice of America.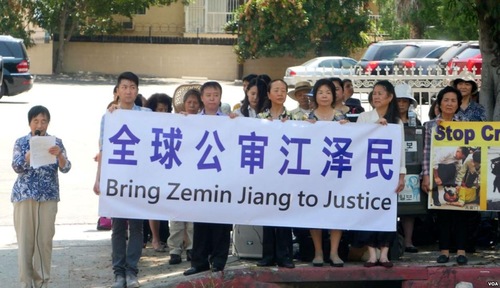 Falun Gong practitioners display a banner saying "Bring Zemin Jiang to Justice," referring to the former Chinese dictator who ordered the persecution campaign.
Three of the practitioners are taking legal action against former dictator Jiang Zemin, who ordered the persecution of Falun Gong in China in 1999.
One of the plaintiffs, Ms. Shi Zhenghua, had been jailed for 9 years in China because she practices Falun Gong. Her criminal complaint against Jiang lists homicide, intentional injury, deprivation of freedom of belief, unlawful deprivation of personal property, and many more.
Wu Yingnian, a professor of statistics at the University of California, explained the background of the lawsuits.
"The three Falun Gong practitioners from mainland China have mailed their criminal complaints against Jiang Zemin to the Supreme People's Court and the Supreme People's Procuratorate," said Wu. "They want the Supreme Procuratorate to bring up the lawsuit against Jiang."
Wu said the three complaints were a part of over 10,000 filed against Jiang in the past month.
Plaintiff Zhang Jin, an architectural designer, had been jailed for 8 years in China for his belief in Falun Gong. "People had sued Jiang Zemin in China before. But they were arrested and jailed. Courts had always dismissed the cases. However, the regime issued a new policy recently claiming that all cases will be processed," said Zhang. "Now you [the regime] claim to govern the country based on law, so we file lawsuits against [Jiang] based on the law. Let's see if [the communist regime] will honor its own policy."
In China, the communist regime continues to carry out its campaign to eradicate Falun Gong, which it labeled an "evil cult" as part of its propaganda used to incite public hatred of the group.
Professor Wu said police harassed Falun Gong practitioners who had filed their complaints in Jiangsu and Gansu provinces, but later released them. They had not received any acknowledgment of their cases from the Supreme Procuratorate and Supreme Court yet, according to Wu.
Li Shuying, a retired high school teacher and one of the plaintiffs, holds confidence in the lawsuits against Jiang. "I believe it will work. It is not just me. There are 100 million Falun Gong practitioners in China. All of them have suffered some degree of persecution," said Li.
"I can't give you an accurate prediction," said Zhang Jin. "I wish the result would come as soon as possible. It will let China move forward from [the persecution] quicker."