129 Falun Gong Practitioners in Hebei Province Sue Jiang Zemin
June 15, 2015 | By a Minghui correspondent in Hebei Province, China
(Minghui.org) One hundred twenty-nine Falun Gong practitioners from Shenzhou, Hebei Province have filed criminal complaints in China's highest court against Jiang Zemin, the mastermind of the persecution of Falun Gong. The filings were mailed to the Supreme People's Procuratorate at the end of May.
Most of the plaintiffs are farmers whose health and morals improved after they started to practice Falun Gong. However, due to Jiang's persecution, these law-abiding citizens have been arrested, imprisoned, and jailed in detention centers, forced labor camps and brainwashing centers for their belief. They have suffered mental and physical trauma, including torture.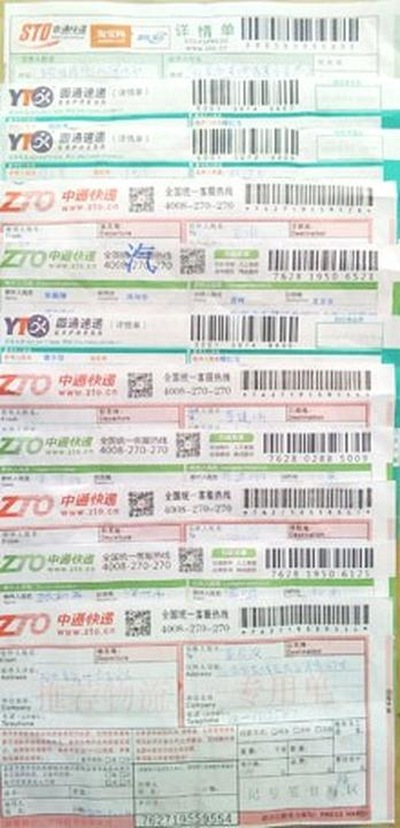 Stacks of Express Mail receipts from Falun Gong practitioners for lawsuit documents mailed to the Supreme People's Procuratorate
According to the practitioners' complaints, Jiang's campaign to eradicate Falun Gong constitutes genocide and crimes against humanity. The complaint documents list the devastating facts of the persecution suffered by the individual practitioners.
Mr. Yan Zhongshun died in the persecution. He was jailed many times and brutally beaten. He was extorted for large sums of money and lived under house arrest before he passed away. His family suffered greatly, and were the ones who prepared the complaint.
Ms. Wang Feng Gai, 56, was imprisoned for three years. Police ransacked her home on the night of March 12, 2001 and jailed her for 9 months before she was sentenced to prison. Her mother-in-law became so stressed and frightened as a result, that she later passed away. Her two children were brought to the police station that night and were intimidated. They were forced to leave school. In 2007 Ms. Wang's home was ransacked again.
Mr. Song Yongdong, 70, was sent to a forced labor camp for three years in October 1999. He was jailed for more than three months before the Beijing Olympics. He was subjected to extortion and harassed on multiple occasions.
Ms. Xie Xiuwen, 70, was arrested seven times and jailed in detention centers and brainwashing centers. She was extorted for approximately 50,000 yuan (approx. $8,056).
Ms. Liu Yanli, 50, was arrested three times and jailed twice. She was forced to flee her home for more than a year to avoid persecution. Her home was ransacked and she was extorted for more than 10,000 yuan (approx. $1,611).
Ms. Cheng Fulan went to Beijing to appeal for justice for Falun Gong on May 25, 2011. She was arrested and jailed in a detention center for four months and in a forced labor camp for nine months. She was also jailed for 11 months in Inner Mongolia.
Mr. Sun Chonghuai, 68, was jailed twice and sent to a brainwashing center once. He was extorted for 18,000 yuan (approx. $2,900).
Ms. Chen Xinling, 65, was arrested for appealing for Falun Gong. She was tortured and pressured to give up her belief. Her family was extorted for 5,000 yuan (approx. $806) to secure her release. Ms. Chen was later jailed in a brainwashing center for one month in 2003 and then extorted for 2,000 yuan. It has been an agonizing ordeal for her family.
Ms. Xiong Yunchen, 74, was repeatedly harassed by local officials. She was extorted for 10,000 yuan (approx. $1,611).
Ms. Zhang Yunhui, 67, was also harassed repeatedly. Her copier, MP3 player and Falun Gong books were confiscated. She was extorted on different occasions for a total of 45,000 yuan (approx $7,250). She was also forced to clean the streets.
In addition, Guo Jingchun, Cheng Dafeng, Qin Guifang, Jia Xinkui, Zhang Xiuhua, Zhang Xiaoniu, Su Xiaoshang, Liu Xiaohe, Feng Yanming, Feng Yanling, Feng Cunwang, Zhang Pingjun, Feng Lu, Jian Xin, Liu Lanshang, Zhang Xiaolong, Kang Shushen, Cheng Xianglan, Guo Xingzhi, Gong Xiangtian, Kang Zengmian, Chen Shuxiang, Cheng Lingjun, Gong Congying, Zhang Xiuwen, Kang Jinliang, Li Shujuan, Geng Jingshang, Gao Xiaoniu, and Kang Cunduan jointly filed complaints against Jiang.
Background
In 1999, Jiang Zemin, as head of the Chinese Communist Party, overrode other Politburo standing committee members and launched the violent suppression of Falun Gong.
The persecution has led to the deaths of many Falun Gong practitioners over the past 16 years. More have been tortured for their belief and even killed for their organs. Jiang Zemin is directly responsible for the inception and continuation of the brutal persecution.
Under Jiang's personal direction, the Chinese Communist Party established an extralegal security organ, the 610 Office. The organization overrides police forces and the judicial system in carrying out Jiang's directive regarding Falun Gong: to ruin their reputations, cut off their financial resources, and destroy them physically.
Chinese law allows for citizens to be plaintiffs in criminal cases, and many practitioners are now exercising that right to file criminal complaints against the former dictator.