Retired Navy Commodore Sues Former Chinese Dictator for His Role in Persecution of Falun Gong
June 14, 2015 | By a Minghui correspondent in China
(Minghui.org) A retired PLA Navy Commodore recently mailed a criminal complaint to the Supreme People's Procuratorate, charging former Chinese dictator Jiang Zemin with launching the brutal suppression of Falun Gong that led to his tremendous suffering.
Commodore Zhou Yi, 79, retired as an associate professor at the Naval Aeronautical and Astronautical University. He alleges that Jiang violated his constitutional right to freedom of belief and opened the door to his illegal arrest and false imprisonment for doing nothing wrong. As for the persecution of Falun Gong in general, Zhou says Jiang had committed genocide, torture, and crimes against humanity.
Mr. Zhou asks the Supreme People's Court to order Jiang to issue an open apology for slandering Falun Gong to incite public hatred, and redress the suffering inflicted upon the founder and practitioners of Falun Gong, including Mr. Zhou and his family.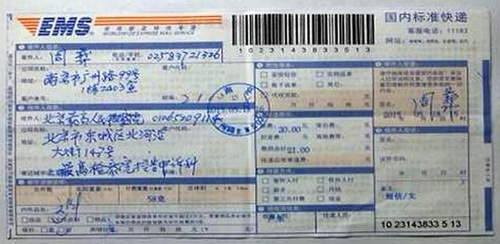 The express mail receipt for Mr. Zhou Yi's complaint sent to Supreme People's Procuratorate.
Imprisoned for His Belief
Mr. Zhou retired early due to poor health, and began practicing Falun Gong in 1995, after which he reported improvement in his physical and mental health. Nanjing police in Jiangsu Province arrested him in March 2009, and held him in a detention center, where his health deteriorated. He was released on medical parole that June.
The Gulou District Court tried Mr. Zhou along with two other practitioners a month later, charging him with "sabotaging law enforcement using a cult organization"–the standard line used by the communist regime to sentence Falun Gong practitioners in carrying out Jiang Zemin's directive to eradicate the practice.
The court sentenced Mr. Zhou to a three-year prison term in November 2009, with four years of probation [meaning there would be no prison if the convicted passes probation].
Unlike other people allowed to serve probation at home, Mr. Zhou was ordered to spend the next four years at the Gulou District Judicial Office, where he was handcuffed and shackled, and forced to wear a prison uniform every day. He wasn't released until late 2013.
Mr. Zhu summed up his probation experience, "The way I was treated during the probation period was an extreme insult and humiliation to me. I hold Jiang Zemin responsible."
Background
In 1999, Jiang Zemin, as head of the Chinese Communist Party, overrode other Politburo standing committee members and launched the violent suppression of Falun Gong.
The persecution has led to the deaths of many Falun Gong practitioners during the past 16 years. More have been tortured for their belief and even killed for their organs. Jiang Zemin is directly responsible for the inception and continuation of the brutal persecution.
Under his personal direction, the Chinese Communist Party established an extralegal security organ, the 610 Office, on June 10, 1999. The organization overrides police forces and the judicial system in carrying out Jiang's directive regarding Falun Gong: Ruin their reputations, cut off their financial resources, and destroy them physically.
Chinese law allows for citizens to be plaintiffs in criminal cases, and many practitioners are now exercising that right to file criminal complaints against the former dictator.