Ukraine: Falun Dafa Activities Reported in TV News
June 14, 2015 | By a Falun Dafa Practitioner in Ukraine
(Minghui.org) From May 29 to 31, Falun Dafa practitioners from Ukraine, Russia, Belarus, Canada and the Netherlands attended the "2015 Ukraine Falun Dafa Experience Sharing Conference" in Kiev.
In addition to the conference, practitioners put on a performance for the public. The performance included: "celestial maidens" dancing, dragon dancing, waist drummers and Falun Dafa exercise demonstrations. A peaceful protest was also held in front of the Chinese Embassy to expose the persecution of Falun Dafa and to call for an end to the persecution happening in China.
TV 7 of Odessa reported the events in a June 2 news broadcast.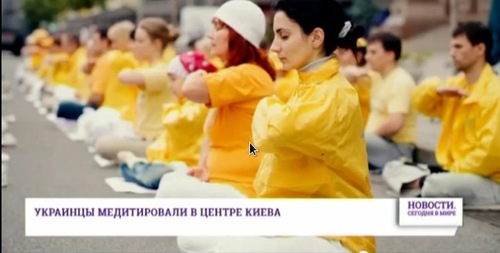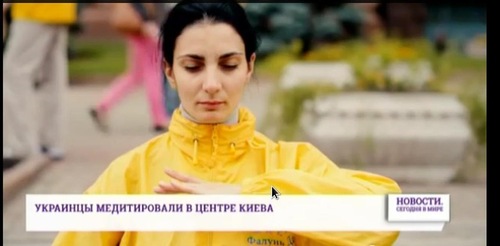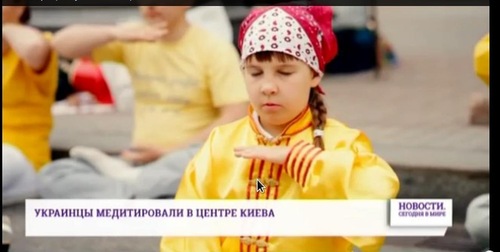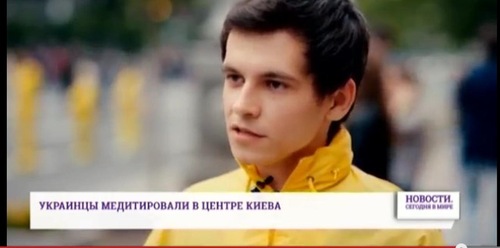 Screenshots from the TV 7 news report about Falun Dafa activities in Kiev
Nine-year-old practitioner Alena had practiced Falun Dafa exercises since she was 6 and began to read the major work of the teaching Zhuan Falun when she was 7.
She said that 3 years of daily exercises and meditation helped her to concentrate and do better in school.
Ardul came from a city in battle zone where he could hear fire exchanged between the government forces and separatists every day. He said practicing Falun Dafa enabled him to control the negative thoughts and to face the reality rationally without excessive fear and anxiety.
A bystander watching the Falun Dafa activities said that he was inspired by the meditation demonstration where the practitioners could relax during the day time in a busy street and suggested that the exercise could certainly help people to handle the pressure in life and work.