Switzerland: Art Exhibition "Allows People to See the Reality of the Persecution"
June 14, 2015 | By a Falun Dafa practitioner in Switzerland
(Minghui.org) The Art of Zhen, Shan, Ren (Truthfulness-Compassion-Forbearance) International Exhibition, successfully wrapped up a two-month long exhibit in Winterthur, Switzerland.
The exhibition was described by it's official site as, "...an extraordinarily moving, intimate, and inspiring exhibition detailing both an inner spiritual life and an outer human rights tragedy. Realistic oil paintings and Chinese watercolors from mostly Chinese artists give a unique insight into the spiritual discipline Falun Gong, also called Falun Dafa."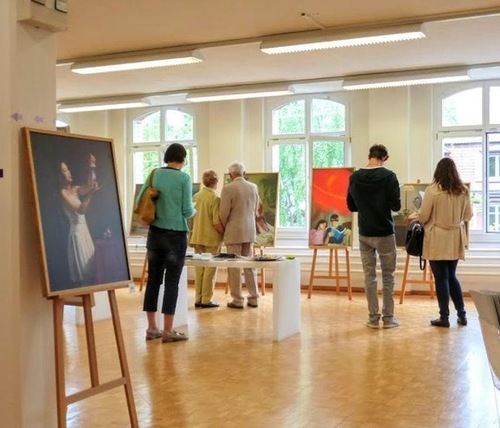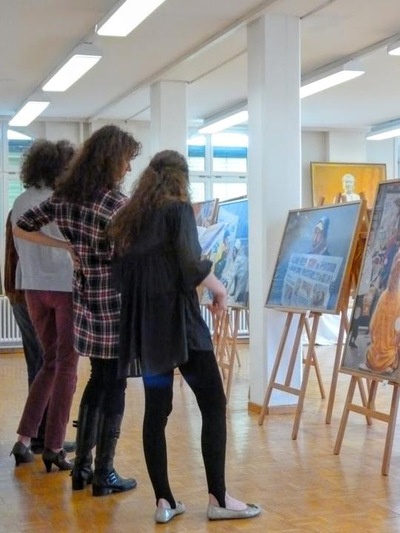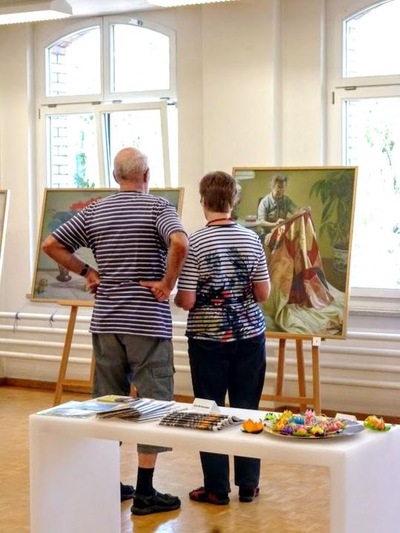 Visitors at The Art of Zhen, Shan, Ren (Truthfulness-Compassion-Forbearance) International Exhibition in Winterthur, Switzerland.
The 52 pieces on display evoked various emotions in people. Some of their comments are listed below.
Surprised by the fact that the Chinese communist party (CCP) had killed over 80 million Chinese people, a lady from a former communist country in eastern Europe sympathized with the plight of Falun Dafa practitioners.
The gentleman accompanying the lady pointed out that much like the tearing down of the Berlin Wall, the Chinese communist regime won't last forever.
An older lady brought up the persecution of the Christians under Nero in Rome, and compared it with the current persecution of Falun Dafa practitioners in China. Before leaving, she signed the comments book, stating that the CCP had destroyed traditional culture. In her opinion, Falun Dafa practitioners are China's hope of revival.
One gentleman remarked that the beautiful scenes depicted in the paintings are one aspect which is quite interesting. But stories of Falun Dafa practitioners however, are another, more profound aspect, which he found compelling.
The father of a family of four who toured the exhibition said that the exhibition is raising awareness of the true happenings in China, and allowing people to see the reality of the persecution. He feels that the exhibition is playing a positive role in exposing the persecution.