Celebrating Falun Dafa Day at the University of Michigan
May 09, 2015 | By Minghui correspondent Xu Jing
(Minghui.org) Falun Gong practitioners in Ann Arbor celebrated Falun Dafa Day on the University of Michigan campus on May 2, 2015. They did the exercises together and then mounted a photo display that featured Falun Gong being practiced around the world and shots detailing the persecution of Falun Gong in China.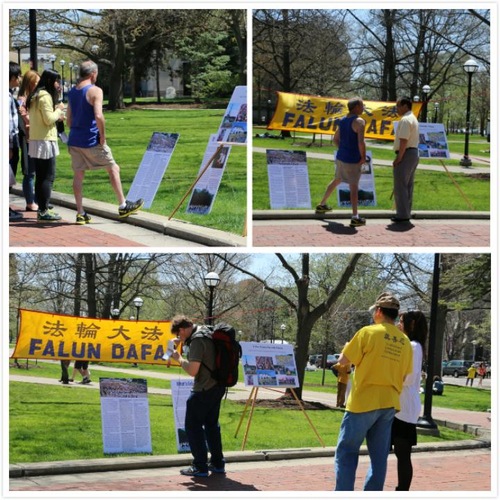 Falun Gong practitioners talk to visitors at the photo display.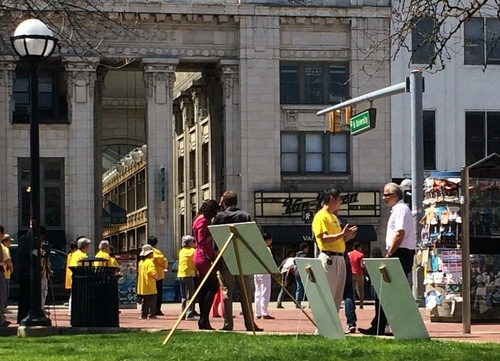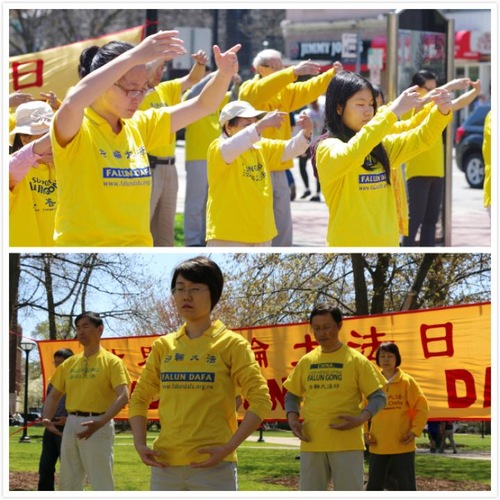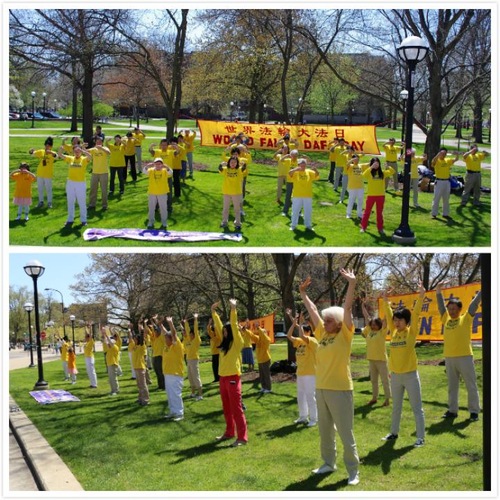 Falun Gong practitioners do the exercises in University of Michigan on May 2, 2015.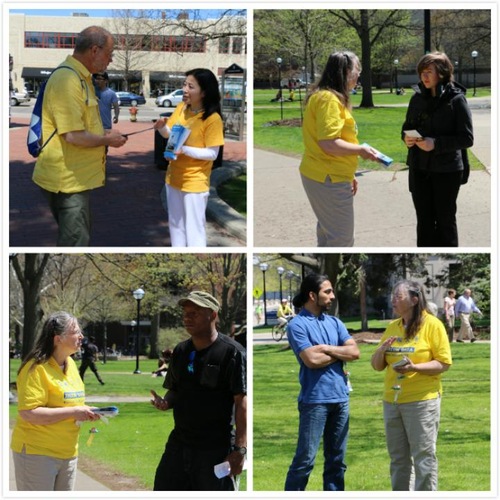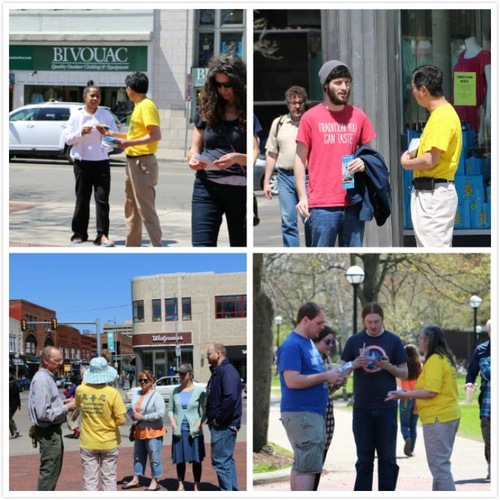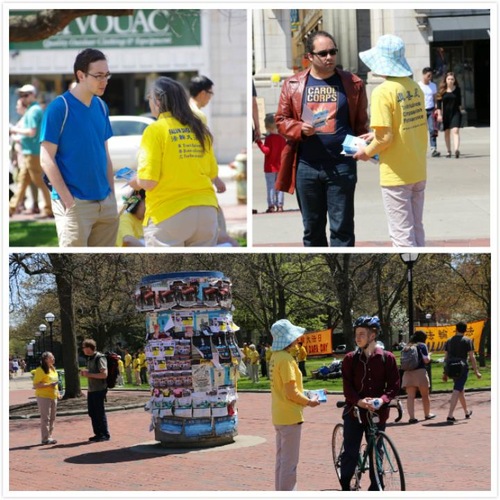 Practitioners telling people about Falun Gong at the University of Michigan.
It was commencement week, and many graduates and their families were on campus. Fascinated by the beautiful group exercise, they stopped to watch.
At one point the practitioners gathered in front of the Rackham Building, where Master Li had given a lecture during the Great Lakes Fa Conference in 2000, and had their photo taken. With their palms together in front of their chests in a gesture of respect, they said in unison, "Falun Dafa is great! Happy Birthday, Master! Greetings on World Falun Dafa Day!"
Learning the Falun Gong Exercises
Two sisters happened by the group exercises. The younger one asked if she could participate. When told "of course," she immediately took off her graduation gown and followed along until the exercises were completed.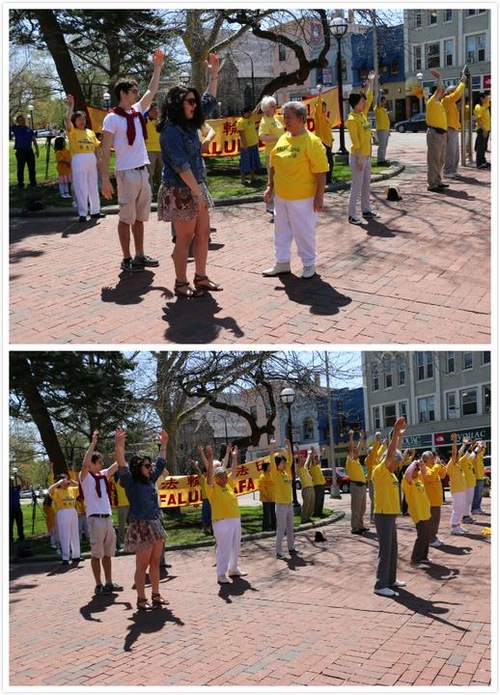 Students learn the exercises.
A graduate of the School of Music said she felt a great sense of energy. She also participated and said she felt great afterwards. She thanked the practitioners for giving her such a remarkable opportunity.
An Indian couple passed by during the fourth exercise. The husband said he could feel the energy from the top of his head to his feet. He took some introductory materials with him and planned to learn Falun Gong in India. He had heard about it in his home country, but today's experience convinced him to learn it.
A Chinese family told practitioners that they would read the informational materials and quit the Chinese Communist Party to be safe. The father said he had done so already.
Several Chinese visitors thanked the practitioners and took pictures of their group exercises.
A Group Exercise Site for 20 Years
The exercise site at the University of Michigan was established 20 years ago. Falun Gong practitioner Mr. Xu said, "Many people did the exercises at the Chinese school before July 1999. Only a few remained after the persecution was launched. Some people laughed at us. Some were sympathetic but dared not approach us. Some tried to have the university administration shut down our site.
"But we know that Falun Gong is righteous. Our strong faith helped us through that difficult time. More and more people joined us along the way."
Mr. Xu added, "Sixteen years have passed since the persecution began. As in other places around the world, more and more exercise sites have been established in Michigan."